It is undeniable that, over the last few years, the popularity of fashion as a status commodity has increased on a global scale. In addition (and either as cause or consequence), in most places in the world the platforms in which sartorial talent are displayed have become increasingly more diverse and more numerous. Whereas a decade ago only a few capitals held fashion weeks to display women's ready-to-wear (as opposed to the more exclusive haute couture) during two times of the year, and to mirror the main seasons pairings (Spring/Summer and Autumn/Winter), these days most large cities hold at least one fashion showcase per year. In addition, the two-season womenswear calendar has given way to what feels like an ongoing schedule of fashion weeks that has grown to include showcases for menswear, childrenwear, Pre-Fall and Resort collections, to name the most popular categories.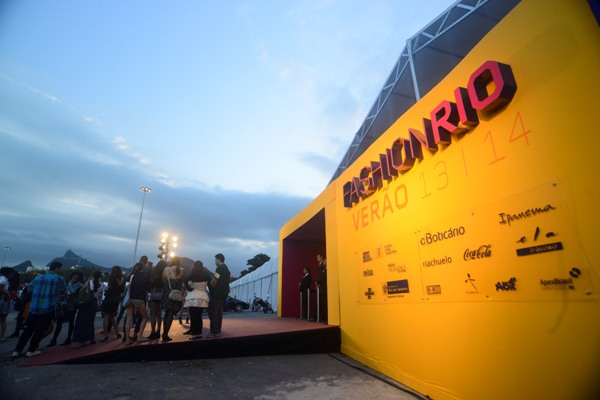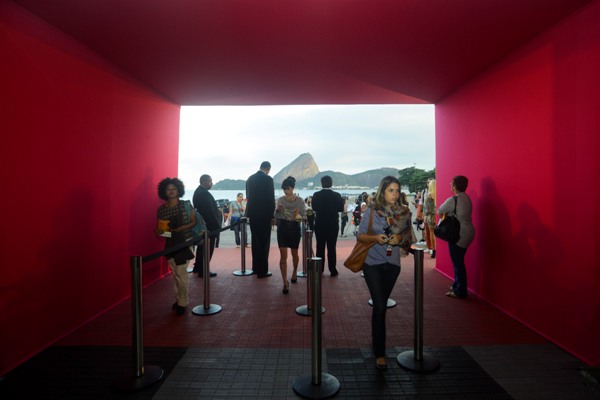 Fashion Rio Spring/Summer 2014
As a major global economy that sees no sign of abating in the face of worldwide recession, Brazil has not been immune to this phenomenon. If São Paulo has been considered the sartorial capital of Latin America with an influential fashion week established in the mid-1990s, Rio de Janeiro has grown to achieve a deserving status of its own on the global fashion arena, with its own sartorial showcase first created in 2001. To confirm this growth, on its twenty-third edition Fashion Rio held an impressive showcase of collections for Spring/Summer 2014 that displayed that 'Cariocas' (as the inhabitants of Rio de Janeiro are called) are a sartorial and business force not to be dismissed.
The fashion designers and brands that chose to exhibit their collections in Rio de Janeiro proved that they are able to engage in a global discourse about fashion and, in some cases, use a sophisticated vocabulary. Either the products of large designing teams or evidencing individual talents, the runway shows that took place during the last edition of Fashion Rio confirmed the vigour for which Brazilian fashion has recently become known. Amongst those individuals and labels that stood out during the latest edition of Fashion Rio, Filhas de Gaia, Andrea Marques, Maria Filó, Herchcovitch, Blue Man, Lenny Niemeyer and R. Groove are certainly worth paying attention.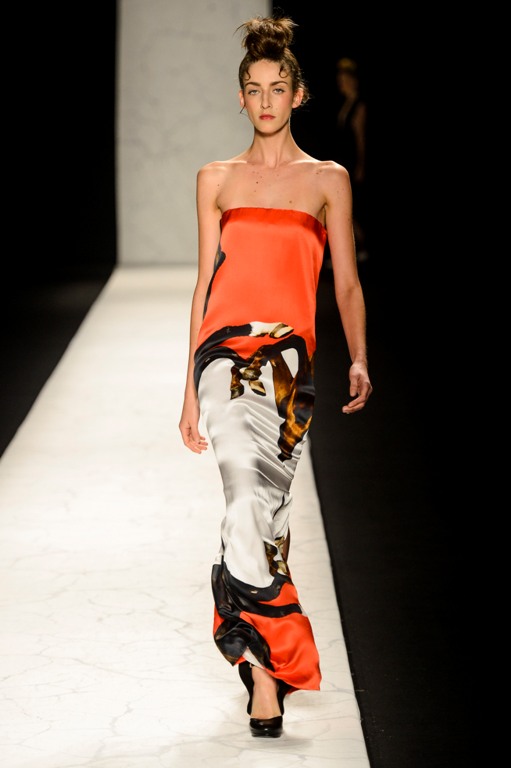 Filhas de Gaia Spring/Summer 2014
Renata Salles and Marcela Calmon, the designers behind Brazilian label Filhas de Gaia, claimed that their Spring/Summer 2014 womenswear collection had been influenced by the traditional and glamorous polo fields of Andalucía. To achieve this, their runway show was structured around four sections: column dresses with equestrian motifs, minimalist looks in black and white, two-toned pieces, and dresses with large fabric flowers. Owing to their flowing qualities that flatter the female silhouette, silk and satin were the preferred fabrics and came in a predominant palette of black and white that was highlighted by greens, red, fuchsia and blue. However, and despite the conceptual inspiration based on luxury, the designs were highly accomplished in garments that revealed a very proficient command of sartorial techniques in tropes such as large ruffles, layered fabrics and playful asymmetric sleeve lines. In particular, sinuous silk dresses with equestrian prints and fitted black and white dresses that combined evening wear with sportswear (namely by fusing a conventional white column shape with a black raglan sleeve) confirmed why Filhas de Gaia have remained a consistently successful label over the years.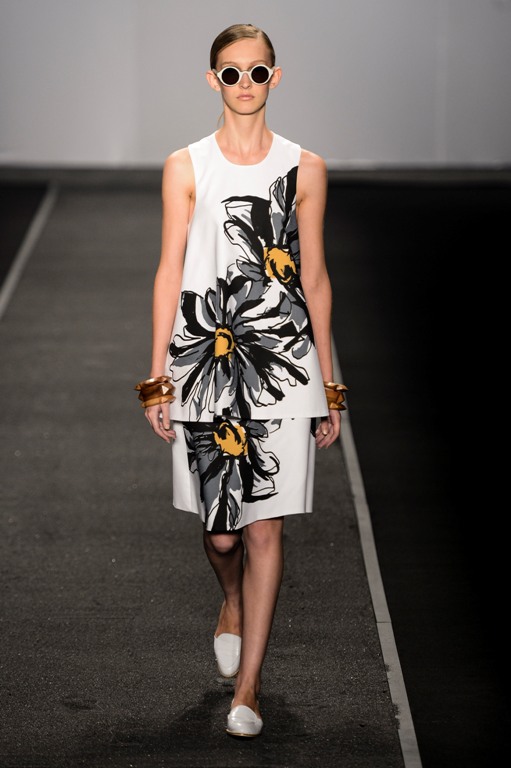 Andrea Marques Spring/Summer 2014
Brazilian fashion designer Andrea Marques attempted to reinterpret minimalist fashion by imbuing her garments with demure geometric and floral prints on flowing, sensual fabrics. The result, unveiled in form of 25 carefully edited looks, was a discreetly feminine collection comprising shorts, jackets, trousers, tops and an array of dresses made from heavy cotton, crepe, silk, zibeline and lace (occasionally adorned with embroideries) in a palette of white, black, yellow, blue and clay. Those who have followed Marques's most recent collections noticed that the colours and patterns of this latest offering (namely the large floral prints, and the black and white diamond patterns) did not differ much from her previous range. However, for Spring/Summer 2014, the designer added futuristic horizontal ombré stripes and an effective layering of geometric patterns that evoked minimalist art movements from the first half of the twentieth century. In addition, boxy A-line shapes and boyfriend blazers in fabric blocks with elongated collars only served to highlight the predominantly fluid and feminine silhouettes.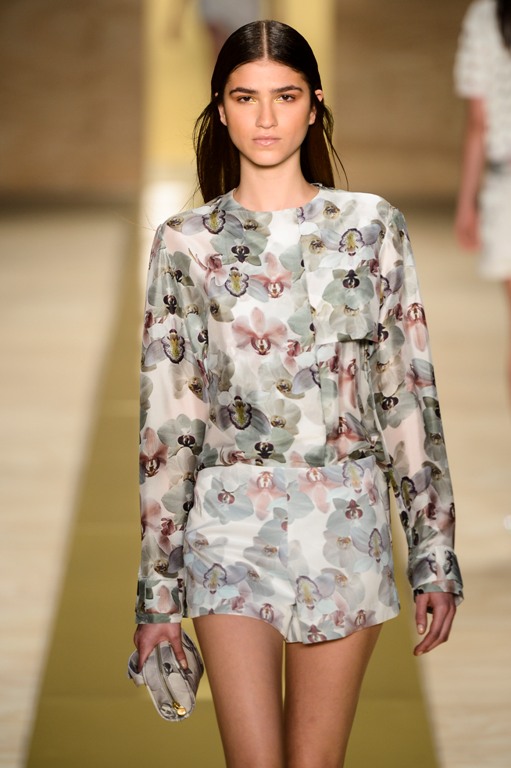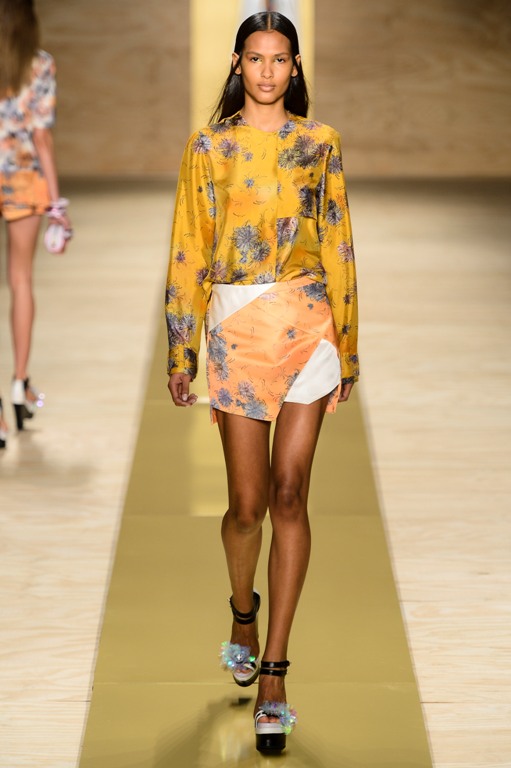 Maria Filó Spring/Summer 2014
By the last day of Fashion Rio Spring/Summer 2014, most people who attended the numerous runway shows agreed that label Maria Filó presented one of the strongest womenswear collections in a display of sartorial ingenuity that confirmed its position as one of the most influential and creative fashion brands in present-day Brazil. Founded in 1997 by Célia Osório in Rio de Janeiro, Maria Filó is currently under the creative direction of Roberta Ribeiro, Osório's daughter.
For her collection, Ribeiro found inspiration in floral designs and in the symbolism that flowers have in Thai culture and religious rituals, and translated her underpinning concept through a most poetic sartorial vocabulary. The appreciation for what could have been considered yet another fashion commonplace resulted in a succession of stunning prints and three-dimensional flowers delicately handmade like origami pieces from silk zibeline and sewn onto the garments. In addition, the conceptual interpretation of the textures found in the manufacturing of basketry and weaving (as a representation of the objects that contain flowers and garlands) was masterfully interpreted in the geometric layers of patterns in flowing satin and in woven knitted pieces. And to strengthen the multi-dimensional role that clothes can have as the embodiment of a sensorial connection of the body with the enveloping empirical world, textures, patterns and colours were brought together in beautiful metallic jacquards and in embroidered flowers and birds applied onto woven or printed fabrics.
If floral patterns have been used as a sartorial trope for centuries, they have certainly been celebrated (with varying degrees of success) by numerous designers over the last couple of years. With its Spring/Summer 2014 collection, it is safe to say that Maria Filó is joining Paul Smith, Dior and Stella McCartney as one of the labels that has produced some of the most accomplished floral patterns witnessed over the last few seasons.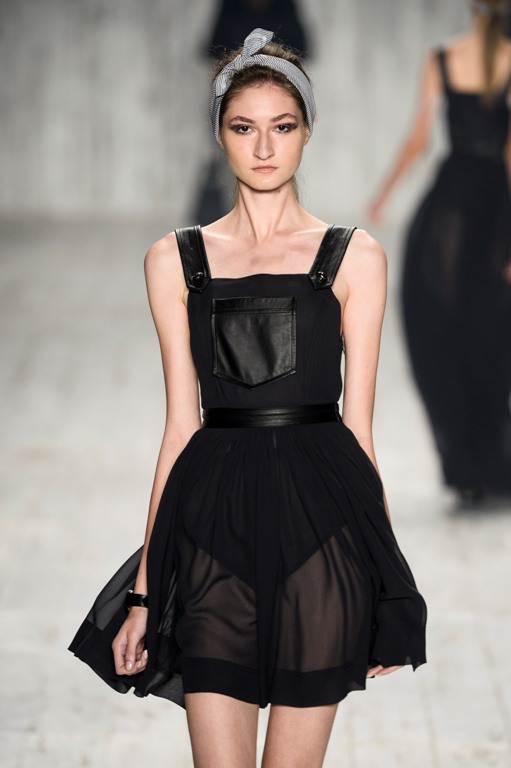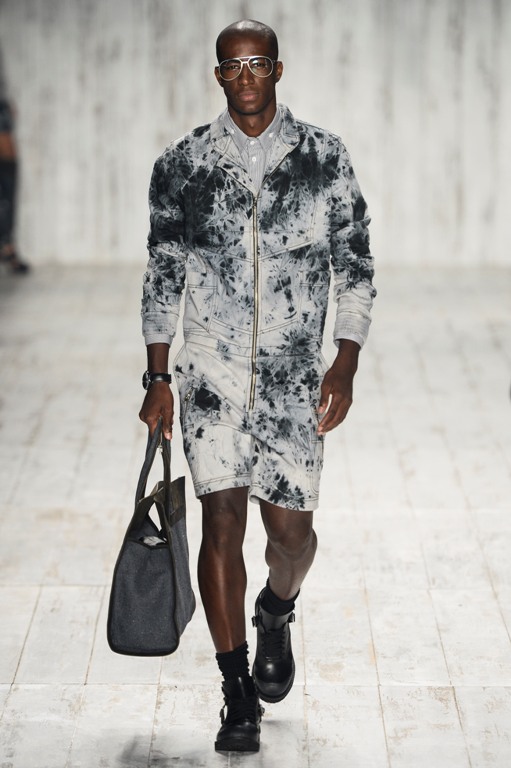 Herchcovitch Spring/Summer 2014
Alexandre Herchcovitch, whose eponymous main line of women's ready-to-wear has been one of the highlights of São Paulo Fashion Week's official calendar for years, chose Fashion Rio to unveil the Spring/Summer 2014 collection for his diffusion line Herchcovitch. Aimed at younger male and female consumers who appreciate creative design and good-quality clothes at a more economical price point, the collection was inspired by the clothes worn by coal miners, oil and field workers, and portraits of the inhabitants of the American Wild West taken by photographer Richard Avedon during the 1970s and 1980s.
As expected of Alexandre Herchcovitch, undoubtedly one of the most talented fashion designers currently working in Brazil, the collection's garments stood out for their impeccable tailoring, virtually flawless stitching and attention to detail. However, if for his main line Herchcovitch normally opts for luxurious fabrics, for this label he chose to juxtapose rougher materials such as mixed leather and coated denim against more delicate organza, tricoline and silk chiffon, which on occasion were printed with delicate florals. Denim was the predominant fabric, providing a youthful connotation to the collection in pieces as diverse as dresses, overalls, trousers and tops, in dark blue denim or in reinterpreted tie dye or stone-washed patterns. In addition to shades of blue, the colour palette also comprised brown, black, white and lemon yellow, whereas details such as patch pockets, metal buttons and a general absence of collars evoked the utilitarian inspiration to the collection (and Herchcovitch's own approach to fashion) while remaining highly elegant. In addition, bags came in different sizes and shapes, from the ones inspired by lunch or tool boxes to larger leather totes to extra-large travel bags.
In Brazil, where beachwear is a sartorial force to reckon with and an individual consumer can purchase large quantities of different swimsuits and bikinis per season, many designers have focussed their entire careers on this fashion category. However, very few brands have attained (for varied reasons) the popularity and esteemed reputation achieved by Blue Man and Lenny Niemeyer.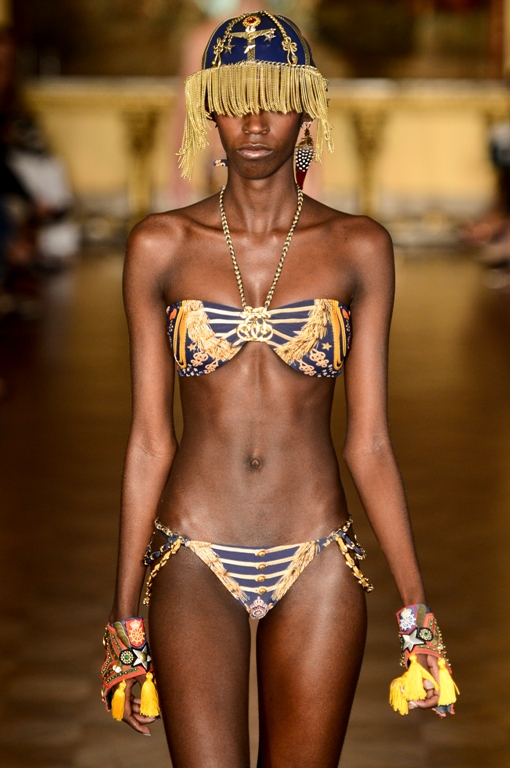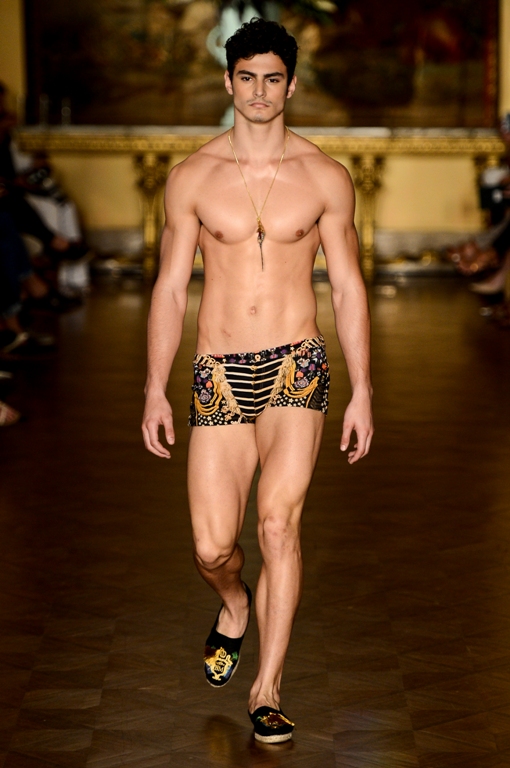 Blue Man Spring/Summer 2014
Blue Man unveiled its Spring/Summer 2014 collection in the lush and luxurious surroundings of Palácio São Clemente in the Botafogo neighbourhood of Rio de Janeiro. The venue for the runway show, a palace that was built in the eighteenth century as the residence of a Portuguese aristocratic family and now houses the Portuguese consulate, is a veritable majestic example of the Tropical Baroque aesthetic and a most adroit setting for Blue Man's seductive collection.
Under the creative direction of Thomaz and Sharon Azulay (whose father David Azulay founded the label in the early 1970s by selling the original - and now iconic - side-tied bikini), the collection explored the combination of typically Brazilian fauna and flora with Baroque ornaments found in Portuguese tiles and palace architecture as a reflection of the historical period when the Portuguese court settled in Brazil to escape the Napoleonic invasions and made Rio de Janeiro the capital of the empire. The result achieved by Blue Man was an exciting range of beachwear and accessories in bright colours and detailed patterns that, while combining Rio urban beach culture and historical references, will undoubtedly prove to become popular when they hit the stores later in the year.
For Spring/Summer 2014, Blue Man promises fluid pieces in transparent silk for lounging on the beach or by the pool that contrast with structured shoulder and waist lines in bathing suits, shirts and dresses. The influence of Hawaiian surf prints and the brand's seminal relaxed approach to swimwear can be noticed in frayed denim bikinis and in bodysuits with vivid colours and patterns. And to anchor the lighter fabrics and cheerful designs, Lycra, denim and neoprene provide a successful balance to a collection that had the audience delirious and looking forward to another hot Rio Summer.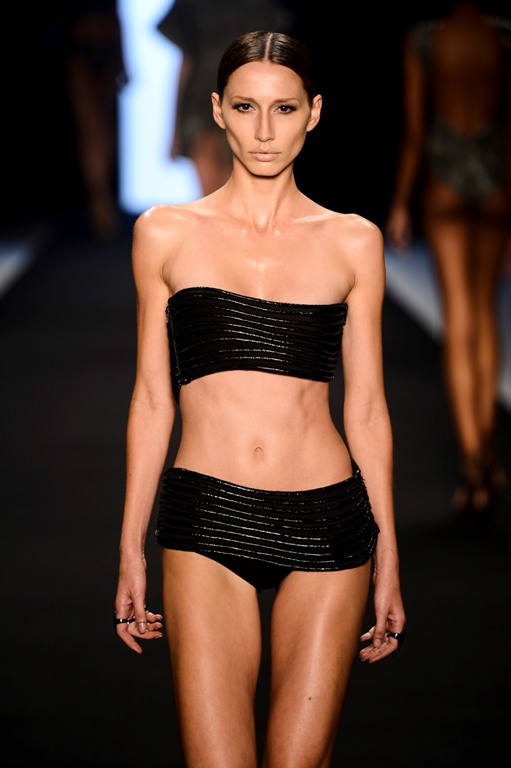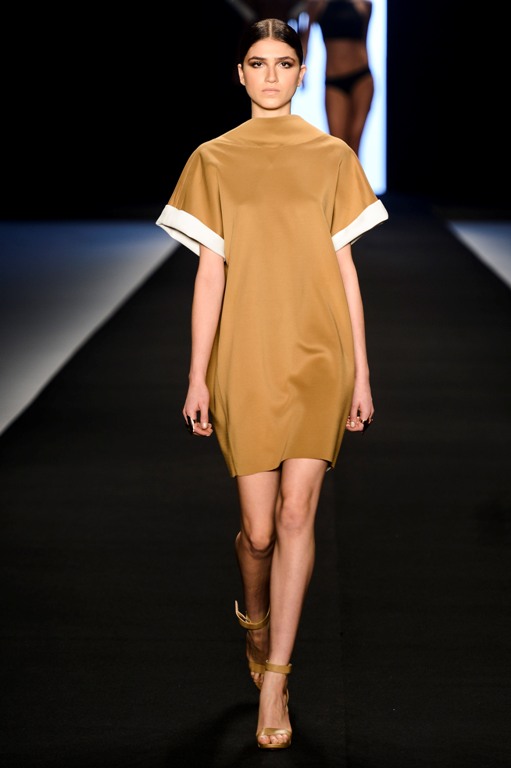 Lenny Niemeyer Spring/Summer 2014
Lenny Niemeyer, who founded her eponymous label and opened her first store in the affluent neighbourhood of Ipanema in Rio de Janeiro in 2003, has been a regular (and much anticipated) participant of Fashion Rio. Her network of stockists comprises not only 18 freestanding Lenny Niemeyer stores in Brazil but also influential international retailers such as Harvey Nichols, Selfridges, Au Bon Marche, Barneys New York, Neiman Marcus and Saks Fifth Avenue.
For her Spring/Summer 2014 collection, Niemeyer found inspiration in the visual effects that light creates when it reflects on different textures. In addition to single-toned garments where white, black and caramel predominated, the collection featured prints with ombré effects and layers of colours and textures in Lycra fabrics worked across original asymmetric shapes. The result was a highly accomplished range of beachwear pieces with distinctive details such as ruffles on skirts and bikini tops, high collars and voluminous sleeves in swimsuits and dresses. Even though the most common opinion that followed the show was that the pieces displayed had been produced exclusively for the runway and not for her stores, there was no doubt that Lenny Niemeyer's Spring/Summer 2014 collection went beyond having an advertorial purpose to ultimately confirm her most gifted creative talent as a fashion designer.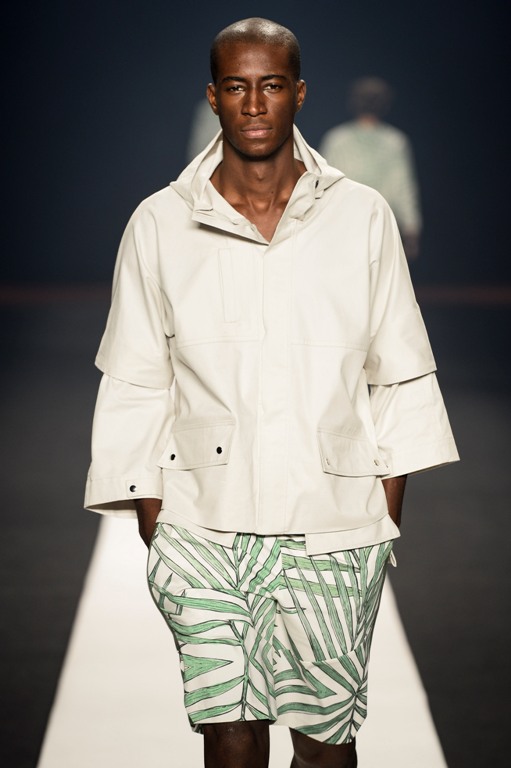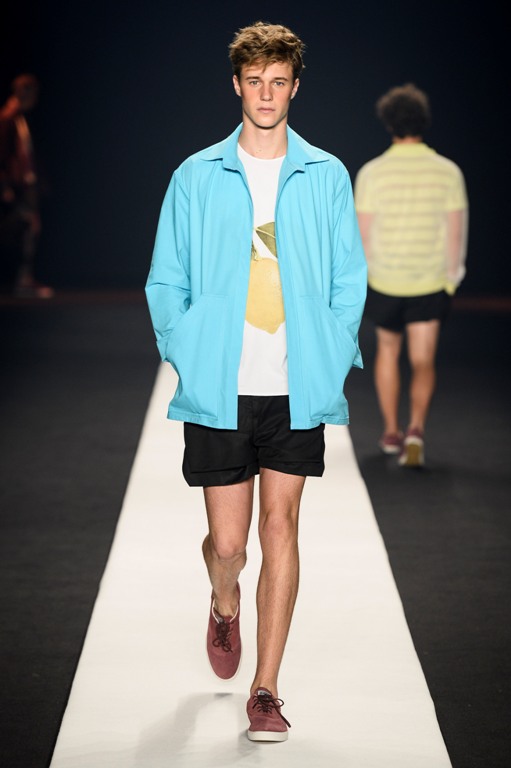 R. Groove Spring/Summer 2014
For those who have at least a passing interest in the fashion designed and produced in Central and South America, it is undeniable that the menswear offering originating from that part of the world is far from offering creative and original options. In Brazil, where male consumers still show a very conservative approach to fashion and are reluctant to adopt new sartorial concepts, menswear brands tend to opt for commercially viable looks and colours that end up being reproduced with little variations season after season. Within this context, the collection that the label R. Groove presented during Fashion Rio in April 2013 stood out for its fresh and inventive designs in what can be regarded as possibly the most accomplished menswear collection displayed during any of the Brazilian fashion weeks for Spring/Summer 2014.
Under the creative direction provided by Rique Gonçalves, R. Groove offered an accomplished collection where traditional tailoring was very subtly deconstructed to augment its creative potential. Appealing to a young male consumer, garments made of wool and cotton fabrics featured a neutral palette of black and white that was highlighted by playful tropical fruit and bamboo leaves prints and a symbiosis of faded and bright colours, such as beige, khaki, mint, moss green, lemon green, pale pink and orange. The silhouettes were casual yet very sophisticated with relaxed cotton jackets with no shoulder pads, layered sleeves, reinterpreted blazers in sleeveless forms tucked into trousers, blousons with sharp panels and stitching and round-collar jackets.
If, for quite a few years, São Paulo Fashion Week has sustained its primacy as the Brazilian fashion showcase par excellence, Fashion Rio has indubitably secured its own firm place when discussions about global fashion take place. If the relationship between the two showcases might have been a divisive one for a long time, these days they share a strongly complimentary coexistence in the international fashion arena.
(Photographs courtesy of www.ffw.com.br)