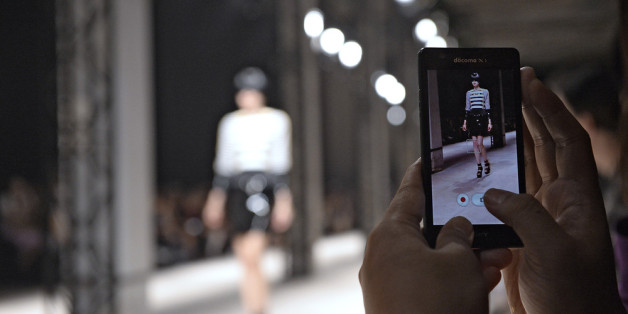 Catwalking via Getty Images
Organised every year since 1999 in Fortaleza (the capital city of the north-eastern Brazilian state of Ceará), Dragão Fashion Brasil is a platform for new and established fashion designers to show their creations accompanied by a public series of lectures, debates, performances, seminars and practical workshops about the importance of fashion and associated creative industries. In addition, the showcase also involves the region's buoyant manufacturing industry (which includes some of the largest textiles factories in the world, responsible for employing 115,000 people, producing 116,000 tonnes of fabric, and making 600 million garments a year) in the form of sponsorships and collaborations with emerging designers.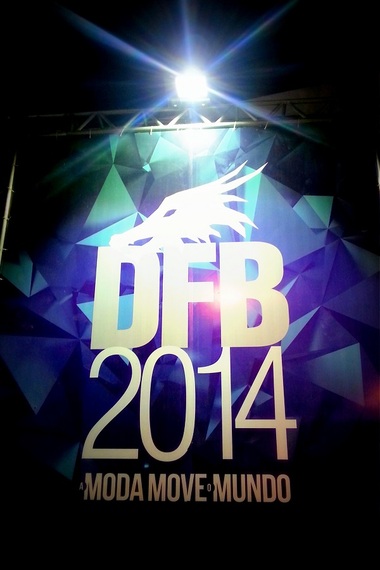 Photograph © The Style Examiner / João Paulo Nunes
Between 23 and 27 April 2014, over 45,000 participants made the most of the latest edition of Dragão Fashion Brasil by attending at least one of the 40 runway shows or by taking part in dozens of presentations and hands-on activities. If most fashion creations demonstrated interesting treatments of experimental concepts, when it came to their execution proficiency levels unsurprisingly varied. However, a large number of designers stood out for their accomplished results and for demonstrating the benefits of quality and creativity to the betterment of society.
In womenswear, the reinterpretation of a traditional ultra-feminine perspective of fashion could be observed in the collections proposed by Kalil Nepomuceno and Ivanildo Nunes. In their designs, long voluminous evening dresses featured layers of chiffon and lace and the silhouettes were overall accentuated in voluptuous hourglass shapes. Drawing from this principle, but allowing a more dynamic fluidity generated by ornamented fabrics, Lino Villaventura presented a collection with a dramatic colour palette that combined dark earthy tones with off-whites, and print came in the form of ombré gradients, abstract florals and animal skin prints. And, in typical Villaventura fashion, large pleats, bejewelled pins and beaded stitching provided textured contours by manipulating the layering and hanging direction of delicate fabrics such as gauze and silk.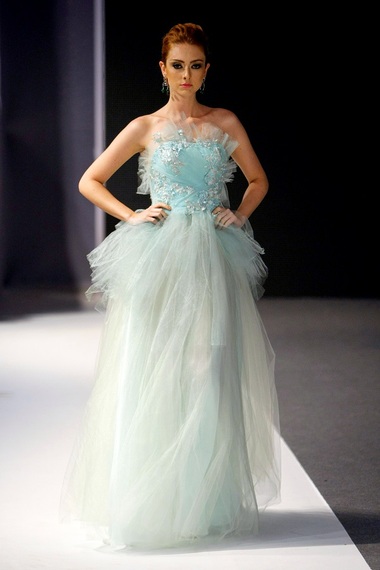 Kalil Nepomuceno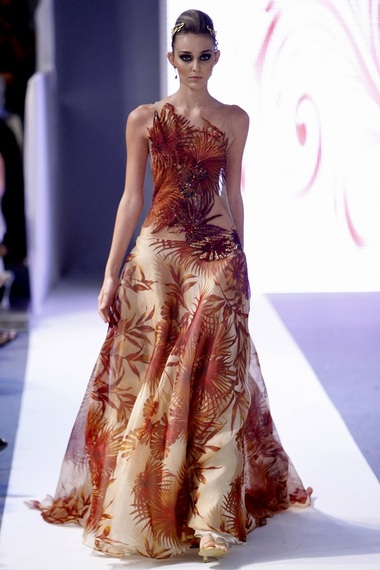 Ivanildo Nunes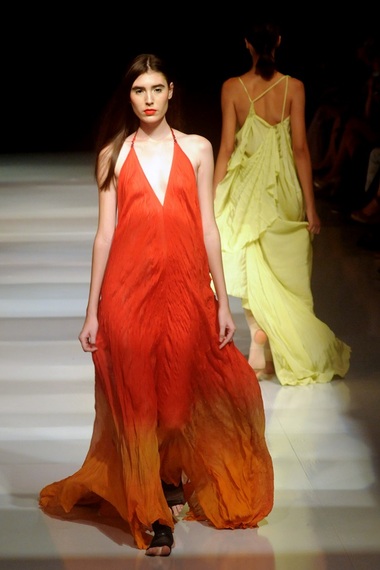 Lino Villaventura
London-based Italian designer Nico Didonna accepted the invitation made by the organisers of Dragão Fashion Brasil and presented a collection underpinned by the notion of wrapping. Plain off-white, royal blue, red, anthracite or hand-painted dresses made from jersey, viscose, or crepe highlighted the natural curves of the body while adjusting to, rather than shaping, the silhouette. Also playing a key role in this broad category, Mark Greiner and Roberto Dias worked together on a unique contemporary reinterpretation of local folklore that relied on strong original touches such as highly structured shoulders and a good treatment of noble fabrics (including chiffons, soft leathers and jacquards), even if, on a few occasions, the final results were let down by the actual styling of the runway presentation.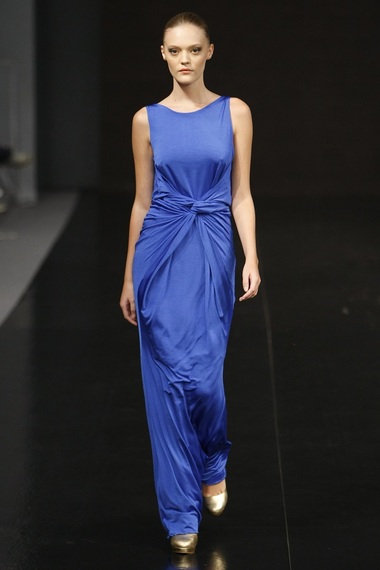 Nico Didonna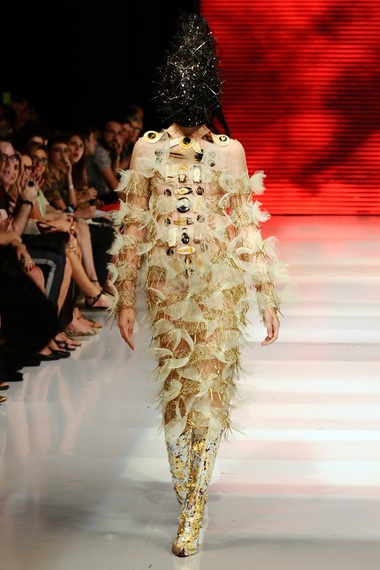 Mark Greiner and Roberto Dias
However, it was when designers opted for exploring minimal lines and structured silhouettes that womenswear collections were at their most successful during the 2014 edition of Dragão Fashion Brasil. In this sense, Vitorino Campos's fusion of streetwear tailoring with luxurious fabrics (unveiled just a few weeks earlier during São Paulo Fashion Week), Carol Barreto's asymmetrically fastened garments and structured cuts (that contrasted with oversized crocheted jewellery pieces), Jefferson Ribeiro's geometric exercises in an elegant colour palette of white, lemon and crimson, and Gisela Franck's deconstructed garments made from casual soft fabrics with applications of collage-like layers all contributed a new vocabulary towards the lexicon of Brazilian women's fashion.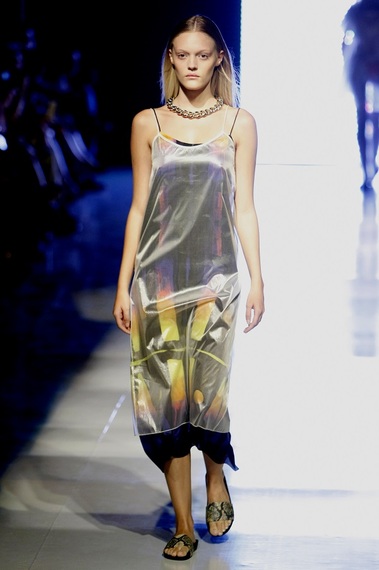 Vitorino Campos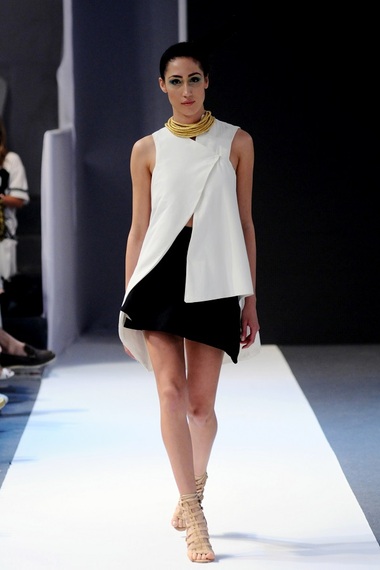 Carol Barreto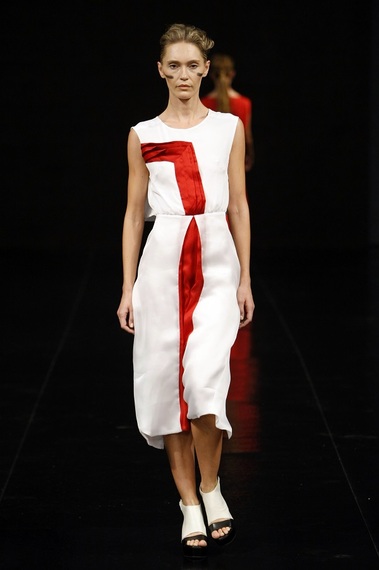 Jefferson Ribeiro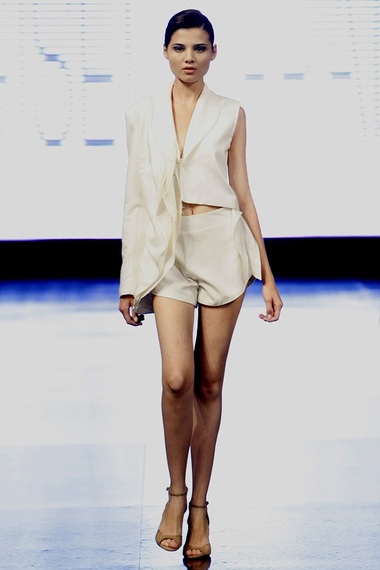 Gisela Franck
In menswear, the most accomplished collection was the one that guest designer Nuno Gama presented on the very last day. Well-established in his native Portugal (where he founded his eponymous label in 1991), Gama chose to exhibit an edited version of his Autumn/Winter 2014 collection, where textures and rich materials (including fox fur, snakeskin, astrakhan, leather and thick wools) provided the material frame to extremely fitted cuts.
Currently enrolled in Milan's Istituto Marangoni, young designer Jonathan Scarpari took a break from his fashion studies to return to his native Brazil and show his latest collection during Dragão Fashion Brasil. Entitled 'B-24', the collection drew inspiration from the idea of incorporating the genetic code into the design of unique garments in order to highlight the importance of individuality. This was achieved by working fabrics such as softened leather through hand-woven three-dimensional houndstooth patterns. In addition, Brazilian and Italian cool wool and organic silk were used in fitted tops, tailored shirts, jackets, trousers, and overalls that showed the influence of recent menswear designs by the likes of J.W. Anderson while audaciously and confidently attempting to push forward the boundaries of conventional tailoring.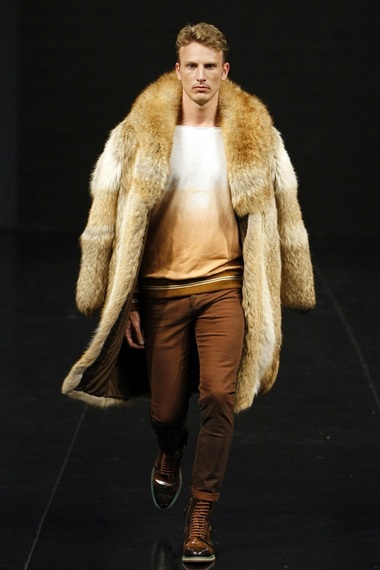 Nuno Gama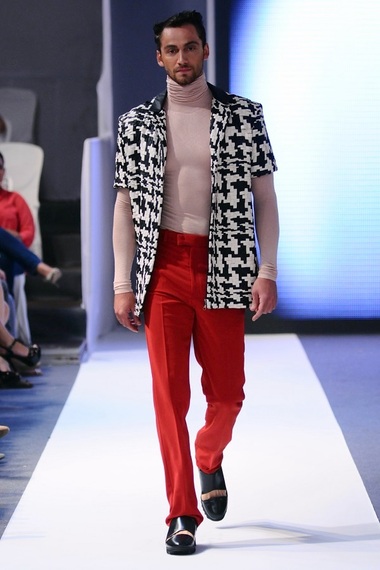 Jonathan Scarpari
Rather than focussing on a single collection, like most designers opted to do in Fortaleza, renowned Brazilian menswear designer Mario Queiroz showed 27 looks that he had designed throughout his 18-year-old career, ranging from conventional suiting and casual staples to more confidently daring kaftans, sleeveless jumpsuits, gold shorts, and sequined espadrilles. Pushing the boundaries quite a few steps further, Weider Silveiro and Jadson Raniere displayed the collection that they presented to inaugurate their label 2|Dois in October 2013. Both alumni of the São Paulo-based creative platform Casa de Criadores, Silveiro and Raniere investigated the potential of deconstructed tailoring, androgynous identities, and the influence of 1980s Japanese designers in details such as exposed stitching and frayed fabrics, elongated sleeves balancing cropped waist lines, oversized leather biker jackets, and abstract patterns inspired by the futuristic graphic artwork created by Peter Saville for Joy Division's 1979 album Unknown Pleasures.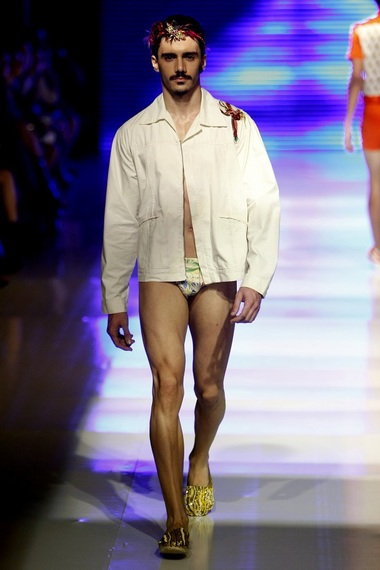 Mario Queiroz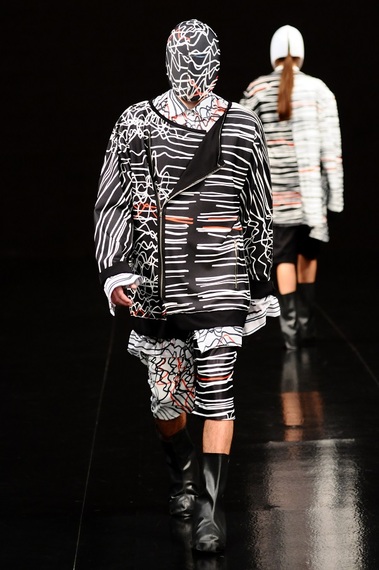 2|Dois
(Unless otherwise stated, photographs are courtesy of Dragão Fashion Brasil)