When discussing the consequences of the Arab Spring situation in North Africa, historian Rashid Khalidi noted that, if and when democratisation happens in this part of the world, it will be independent of the West; in such context, political independence in Arab states will replace Western interference. However, and if one is to take the latest edition of Fashion Week Tunis (that took place in the Tunisian capital between 28 May and 2 June 2013) as a micro-scaled representation of the relationship between the political and the social, it is clear that the creativity revealed during this event owed much to the dialogues established not only between designers and artists in the Maghreb but also between creative voices located worldwide.
Of those who pushed conceptual sartorial boundaries during Fashion Week Tunis 2013, Moroccan designer Amine Bendriouich (a graduate from ESMOD Tunis who also trained in Paris and currently runs his label Amine Bendriouich Couture & Bullshit between Casablanca and Berlin) worked with Moroccan (but London-based) artist and photographer Hassan Hajjaj to develop a very beguiling range of garments for men. The blazers designed by Bendriouich with colourful prints conceived by Hajjaj featured contrasting lapels and crossed layers of fabric but, most importantly, they incorporated kitsch religious iconography and texts from Catholicism that were carefully translated across the garment's contextual design; for example, certain words and images (such as hearts) were positioned by Bendriouich in specific parts of the garment to confirm or question their meanings when layered over the physical parts of the body that they literally or symbolically interpreted. As a consequence, the creative tailoring entailed a careful cutting of patterns and stitching together of the blocks of colourful wax cotton fabrics.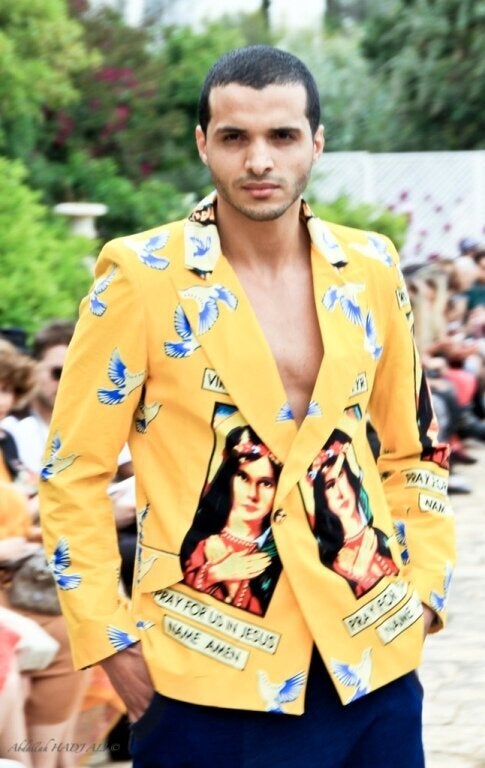 In womenswear, Nedra Chachoua (originally from Tunisia but presently based in Vienna) displayed the fresh and invigorating collection Musa Paradisiaca that she produced for her graduation show from the University of Applied Arts in the Austrian capital. Chachoua's garments featured a bright palette of white, mint and light brown shades across flowing shapes that paid homage to Tunisian traditional clothes. At the same time, the collection embraced playful designs, including embroidered palm trees, banana prints and trompe-l'oeil wood veins that engendered a feeling of texture and depth.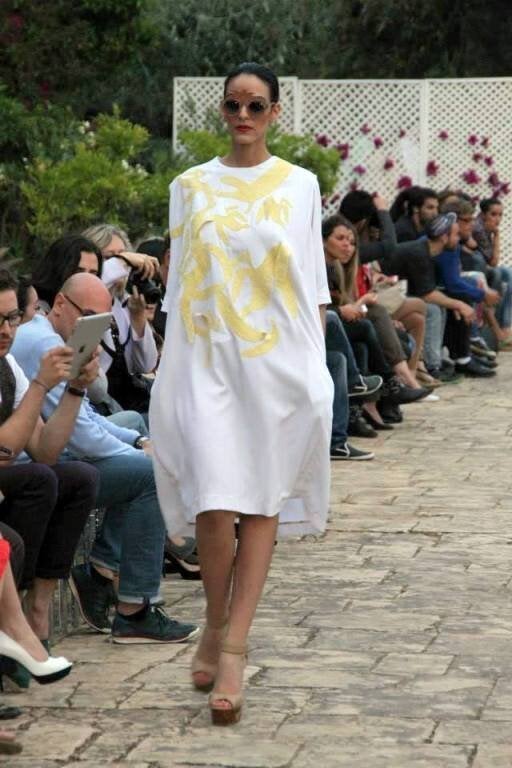 At the other end of the sartorial spectrum, Tunisian fashion designers adopted bright colours and patterns and shimmering materials in designs that evoked a cultural acceptance of garish clothes for women of certain social strata in defiance of conservative religious views. In accessories, Rayhana offered a lavish show in the Cathedral Saint-Louis of Carthage (also known as the Acropolium) to reveal her latest ranges of jewellery and handbags. In addition to incorporating traditional motifs such as the 'hand of Fatima', Rayhana also explored innovative shapes to present her own idea of luxury for modern Tunisian women. Her jewellery pieces featured not only silver and other semi-precious materials, but also amethyst, coral, agate and turquoise, while her bags were made of woven fabrics and pleated silk.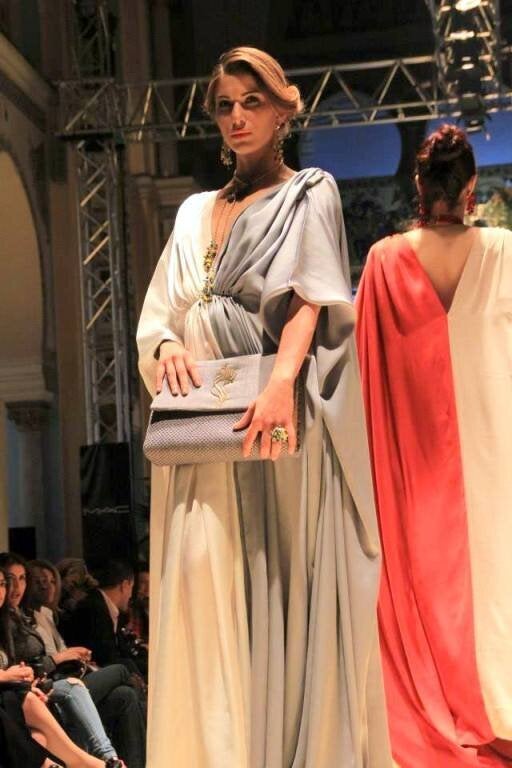 Of the many designers who celebrated a maximalist approach to fashion, Haytham Bouhamed and Ali Karoui clearly produced the most accomplished collections. Kuwait-based Bouhamed presented his range of dresses in a sumptuous room of La Marsa's city hall. This was a collection that addressed the taste of affluent female consumers in the Middle-East that has commanded the direction that fashion has taken in this part of the world. Like many of his fellow designers, Bouhamed resorted to layered chiffons, dresses with long trains and abundant sequins and beading work. However, what set him apart from his contemporaries was his accomplished technique, evident in his adroit pattern cutting, sewing and embroidering methods.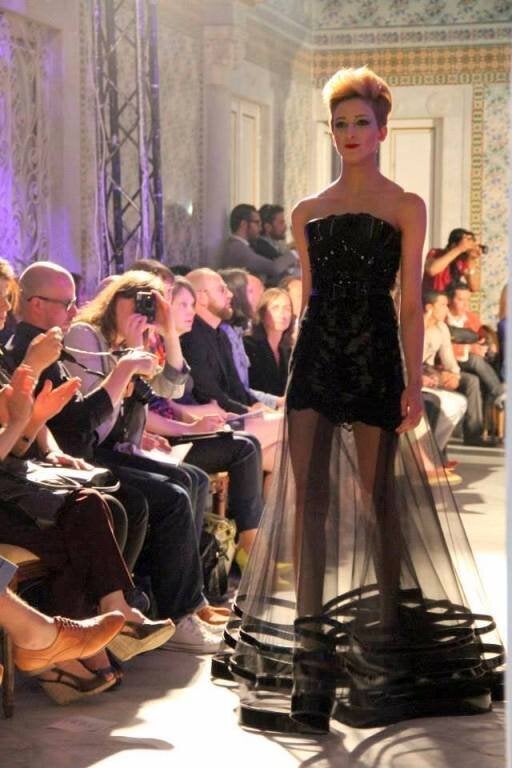 Ali Karoui found inspiration for his luxurious runway show not in local traditions but in the late sixteenth century European folklore tale of the Little Red Riding Hood (which became celebrated worldwide in the nineteenth century by the brothers Grimm). The display (which at times resembled a pastiche of a Victoria's Secret runway show) took place in an Acropolium packed with local celebrities and included the most glamorous models that took to the runways of this year's Fashion Week Tunis. The long opening sequence of the show depicted a threatening natural world as the oppressive stage for a solitary woman (identified solely by her shadow) and two caged women dancing at the entrance of the runway show. In contrast to this opening, the collection's display portrayed human victory over nature (as a metaphor for the importance of the individual winning over religious and societal repression) and a celebration of freedom of expression. This was noticeable in the revealing cuts (namely strapless dresses, mini lines and elongated slits in long skirts), exuberant lace and floral prints, and fluid silhouettes that have made young Ali Karoui a famous name amongst Tunisian women who dare to bare their bodies in public.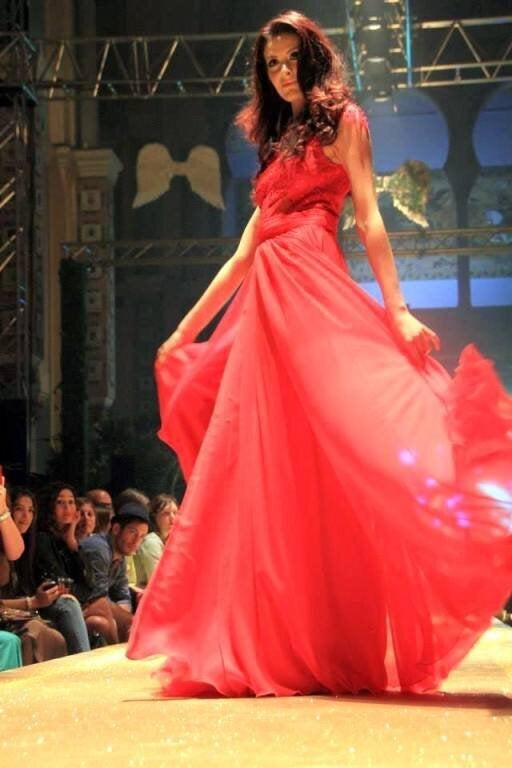 Despite the diversity of approaches to fashion, it was clear that the collections exhibited during Fashion Week Tunis illustrated how Tunisian politics and society are at a crossroads facing the need to carve a third way between traditional and progressive religious and ethical mores. If interference (as Rashid Kahlidi puts it) between local and international fashion designers, journalists and buyers is to take place it will be to the benefit not only of Tunisia but to all those involved in the fashion industry worldwide. Fashion Week Tunis 2013 did show that it has to potential to play an important role in the competitive calendar of international fashion weeks; however, and like Tunisia's political situation, only once its position in relation to its global counterparts has been understood and embraced can it flourish to become an accomplished sartorial showcase.
(Photographs courtesy of Fashion Week Tunis)