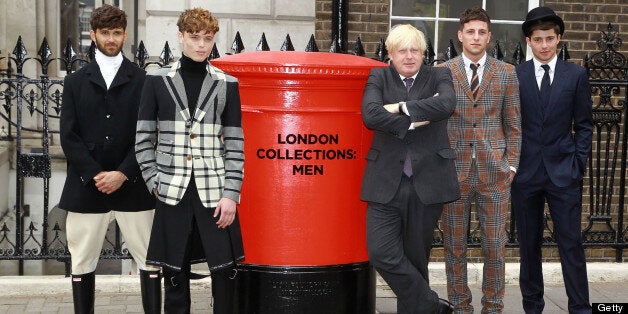 By 15 June 2013, as London Collections: Men kicked off an intense calendar of runway shows and presentations of menswear collections for Spring/Summer 2014, fashion journalists and buyers from all over the world had arrived in the British capital with invigorated expectations about its sartorial talent. Four days later, as they hurriedly packed their bags and moved onto Florence, Milan and Paris, the general opinion was that London-based designers keep getting better not only at what they do but at presenting their fashion, accessories and footwear collections in more compelling and professional formats. Not only did the number of buyers attending London Collections: Men (or LC:M, as it is often shortened in fashion parlance) increased 55% compared to last year, but the many presentations and runway shows unveiled highly accomplished collections where textured, patterned and bright looks reigned supreme.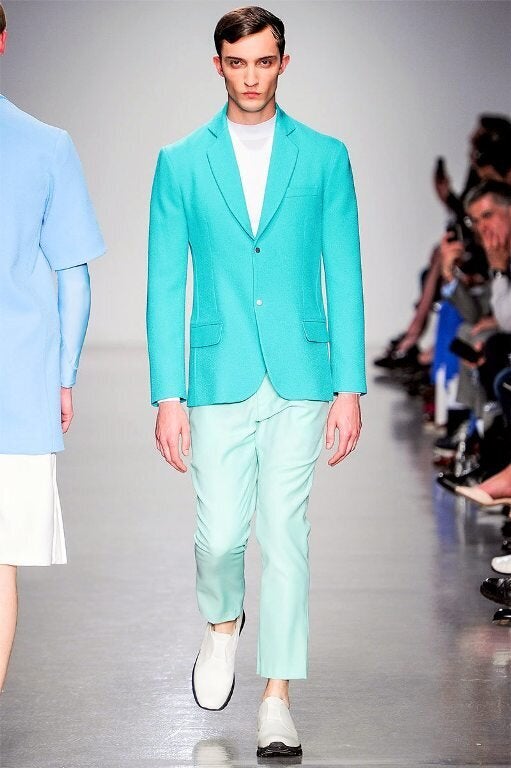 Owing to the appreciation for a rich national textile industry that between the early 18th century and the 1920s contributed in large part to the wealth of England and Scotland, Great Britain (and London in particular) has for a long time attracted talented designers who appreciate working with fabrics and their textures. Amongst those who belong to this group, Pringle of Scotland, Nicole Farhi, James Long and Alan Taylor certainly stood out during the last LC:M.
Pringle of Scotland has kept an enviable global reputation as one of the foremost luxury knitwear manufacturers in the world since it was founded in 1815 in the Scottish borders (known as the birthplace of the British knitwear industry. For its Spring/Summer 2014 menswear collection, head of design Massimo Nicosia drew inspiration from the brand's Scottish heritage that made it renowned worldwide. This was evident in the reinterpretation of traditional tartan, kilting and intarsia that, combined with experimenting with new treatments and fabrications, created original textures. The result was a collection featuring seductive vertical and horizontal pleats, seersucker fabrics, waffle knitwear, woven effects and jacquards with a highly tactile dimension.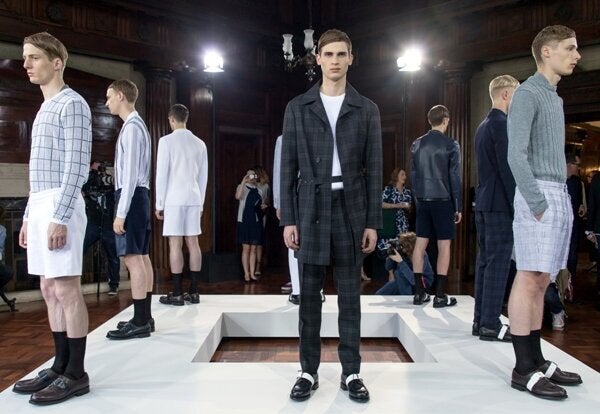 At Nicole Farhi, Joanna Sykes resorted to a pale and faded colour palette (that included slate, sand, khaki, cornflower blue, canvas whites and light shades of grey) in textured fabrics such as soft leather, rough suede, jute, linen, terrycloth, pique mesh, interlock jersey, jacquard and tweed. In addition, by layering garments made from contrasting fabrics, Sykes enriched the silhouettes and reinforced the feeling of texture.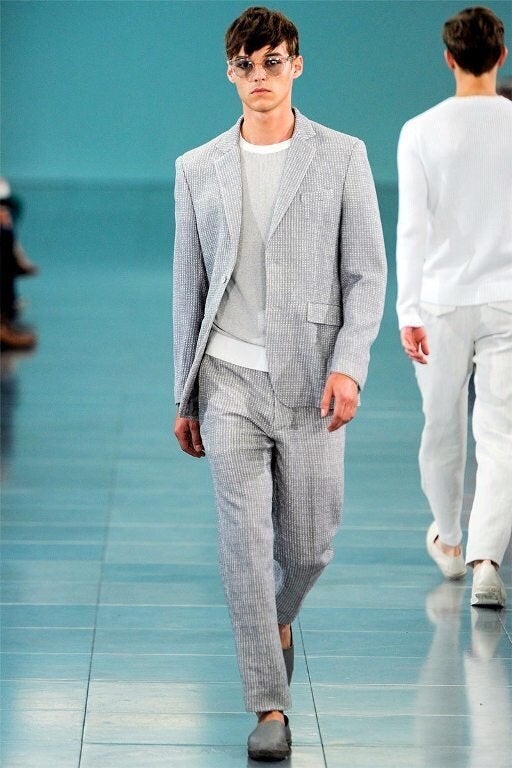 James Long is no stranger to working with textures, which he particularly learnt to appreciate during his student days at the University of Northampton and his visits to local leather factories that allowed him to experiment with off cuts. A subsequent MA course in Menswear and Accessories at the Royal College of Art in London cemented his passion for textured materials, leading to a growing interest in knitwear made from metallic fibres combined with diverse wools (and often with added embroideries) to create sculptural looks. For Spring/Summer 2014, Long explored the shapes of cycling outfits by combining fitted Lycra pieces with voluminous garments made from textured fabrics such as rubberised denim or leather bonded with satin. In addition, three-dimensional shapes were generated by resorting to embossing effects resembling quilted fabrics, embroideries on sweatshirts and coats with layers of mesh woven with wool.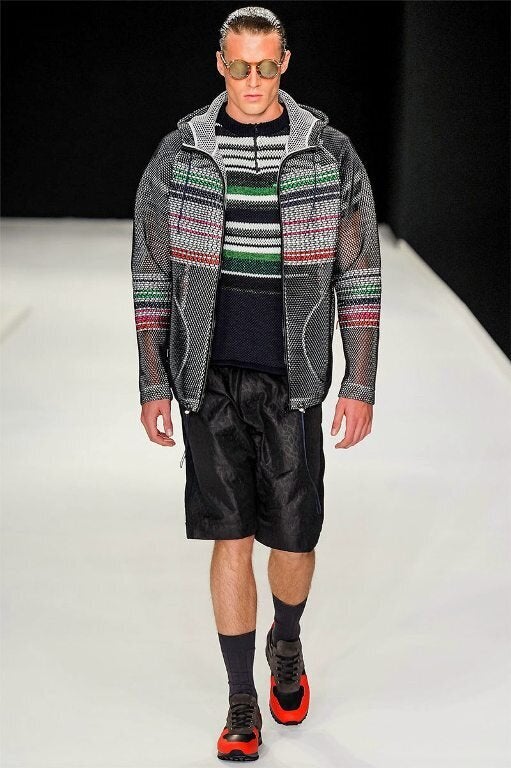 One of the revelations of LC:M was, without a doubt, young designer Alan Taylor, whose collection (presented alongside Craig Green and Bobby Abley as part of the MAN platform to support emerging talent) stood out for the sophisticated way in which it explored the notion of juxtaposition. Drawing inspiration from the paintings of Francis Bacon, Taylor used hand-painted grey linen alongside traditional Irish Magee Tweeds and folded layers of black organza to highlight combined textures and reinforce the idea of concurrence between modernity and tradition.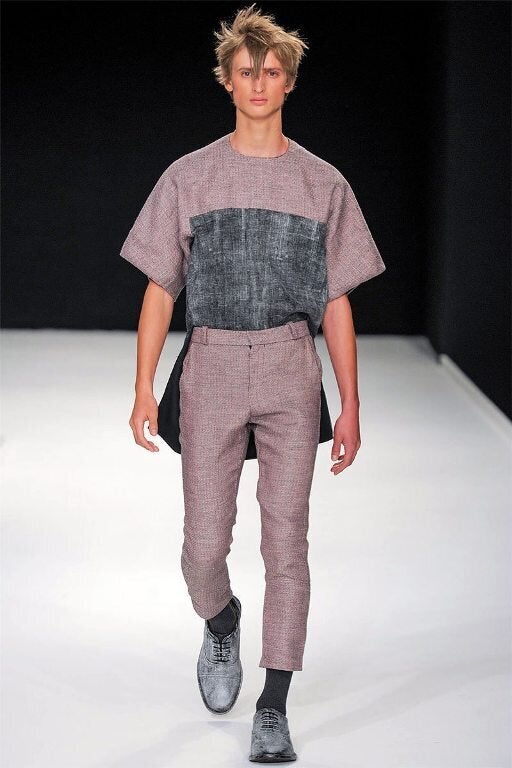 If texture was ubiquitous throughout LC:M's shows, the way in which designers celebrated colour and pattern was certainly far from unavoidable. Of the many designers whose collections mastered the power of colour and print, the ones to highlight include Christopher Raeburn, Oliver Spencer, Hardy Amies, Christopher Shannon, Kay Kwok, Agi & Sam and Jonathan Saunders.
Christopher Raeburn (whose menswear and womenswear collections seem to get increasingly more confident and accomplished with time) found inspiration in Britain's military history and in the stoicism of the British soldiers who formed the World War Two's Long Range Desert Group (LRDG). In addition to experimenting with smart fabrics, Raeburn resorted to colours and patterns to evoke the world of the armed forces such as camouflage and desert lizard designs, prints of satellite images of the desert, a muted pink that evoked the Land Rovers used by the LRDG, and vivid shades of blue that suggested military regiments and honours.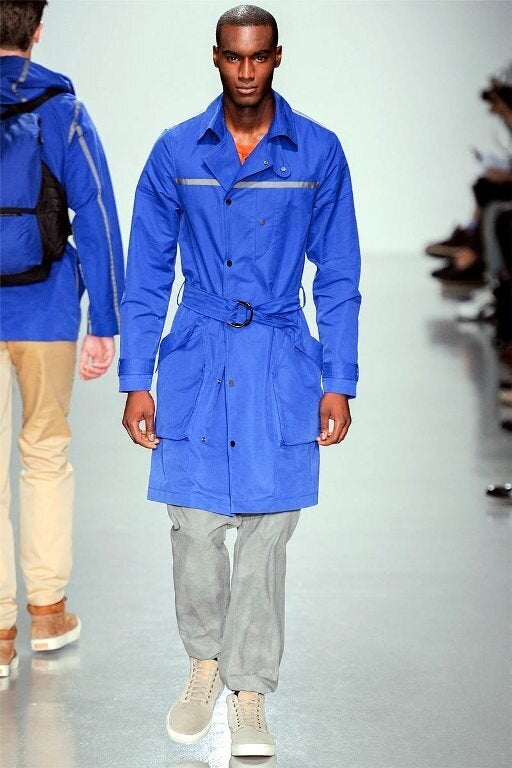 For his Spring/Summer 2014 garments, Oliver Spencer drew inspiration from the work of artist Jean-Michel Basquiat. To suggest the influence of the American neo-expressionist painter's early graffiti art, Spencer developed fabrics that underwent over and under-dying and bleaching techniques to reach a muted colour palette of faded red, burnt orange and different shades of blue. Other light and playful patterns, such as large madras checks, discreet florals and horizontal stripes contrasted with starker navy and cobalt hues.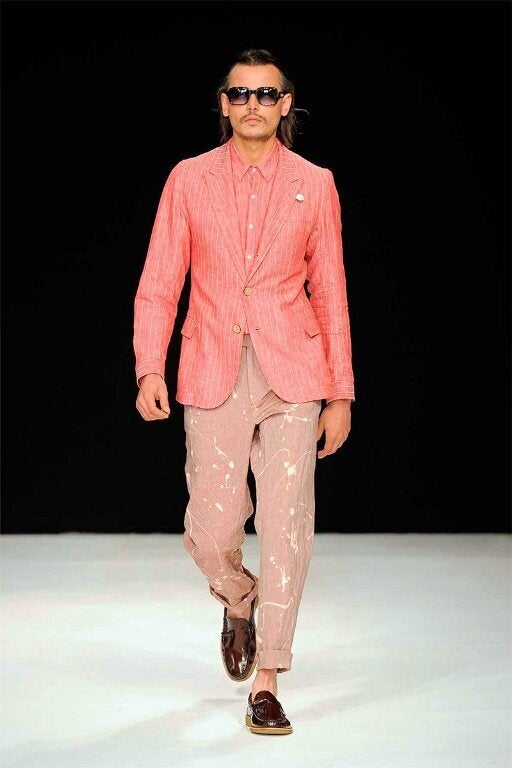 Hardy Amies focussed on appealing to young consumers through a small collection of 12 looks inspired by the work (and particularly the colour combinations) produced by graphic designer and filmmaker Saul Bass. The influence of 1950s design could be seen in the graphic stripes of shirts and on monogrammed ties and pocket squares. The collection reinterpreted formalwear codes by combining formalwear with casual garments and accessories in a colourful palette that included French navy blue and bone grey and accents of bright red and burnt orange.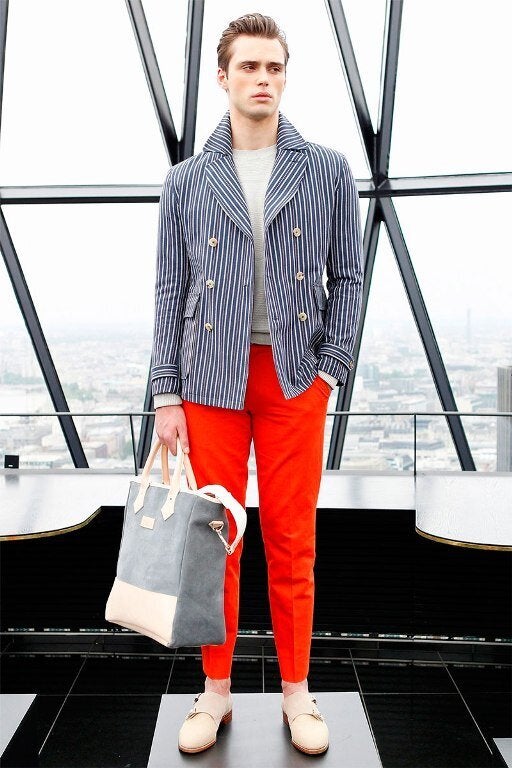 Young designer Christopher Shannon presented what was probably his most mature collection to date. Inspired by the aesthetic associated with the 1980s club scene of Liverpool and Manchester (namely the clothing worn by clubbers and the graphic design used in promotional flyers), Shannon used translucent rubber fabrics and knitwear featuring optical prints and fluorescent colours.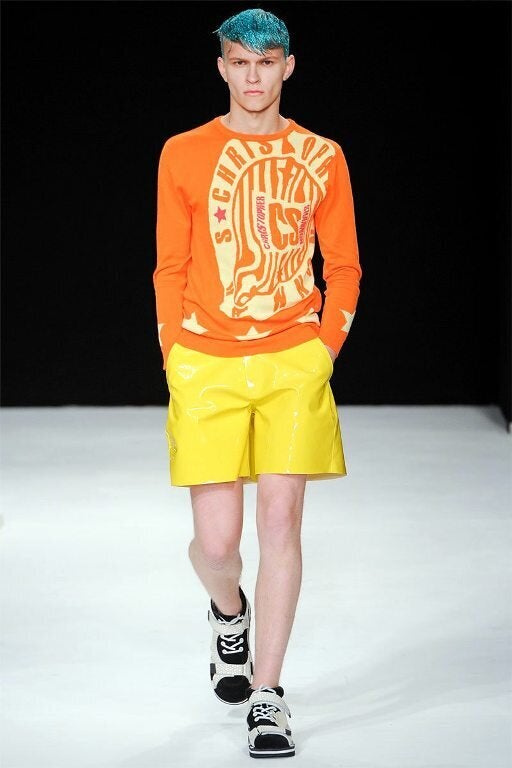 Kay Kwok's award-winning graduation collection from the London College of Fashion's MA Fashion Design Technology Menswear in 2012 stood out for its leather and neoprene textiles displaying bold shades of red, purple, orange and midnight blue and digitally printed spray-paint patterns with starburst zigzags, colour grading, and tie dye effects. A year later, and with support from GQ China, Kwok unveiled his inaugural menswear collection during LC:M featuring a number of design processes and fabric choices previously seen in his MA collection, namely two-piece suits and outerwear made from fine neoprene digitally printed with hypnotic gradations of red and blue.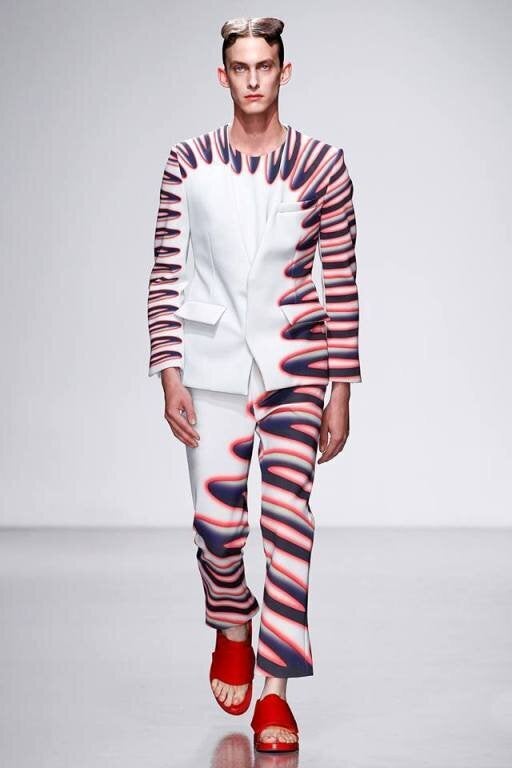 Agi & Sam proved, once again, to be one of the most exciting menswear labels currently working in London. For Spring/Summer 2014, Agape Mdumulla and Sam Cotton resorted, as it has become typical of their collections to bold colours and prints to illustrate a day in the life of an old man in London and the world that surrounds him. Bold oranges and blues were prevalent in a collection that also highlighted textured and three-dimensional fabrics.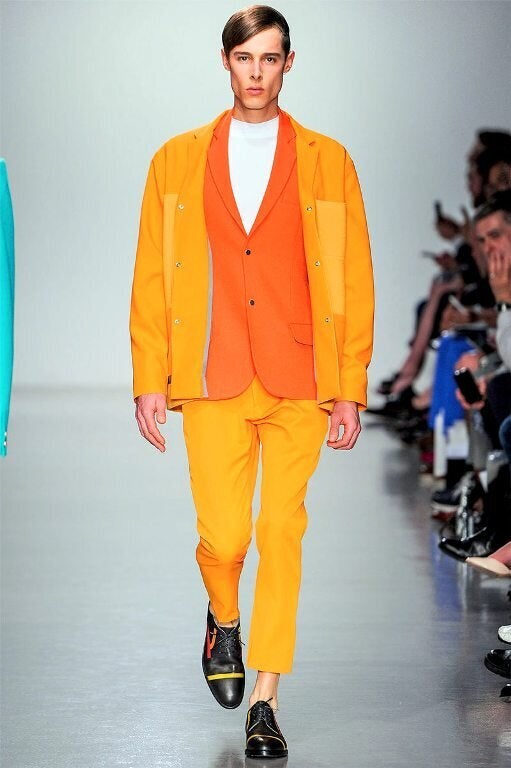 The secret of Jonathan Saunders's menswear success has relied on a straightforward formula that he put to good use once again in his Spring/Summer 2014 collection: traditional shapes of menswear that are deviated from their normality by a clever and stupendous command of colour and print. Saunders's collection included menswear staples such as single-breasted suits, shirts, T-shirts, cardigans, raincoats, blousons, trousers, shorts and an array of ties and bags in the most diverse combination of colours in monochromatic, striped and ombré effects, the occasional enlarged floral print and Saunders's trademark circular designs.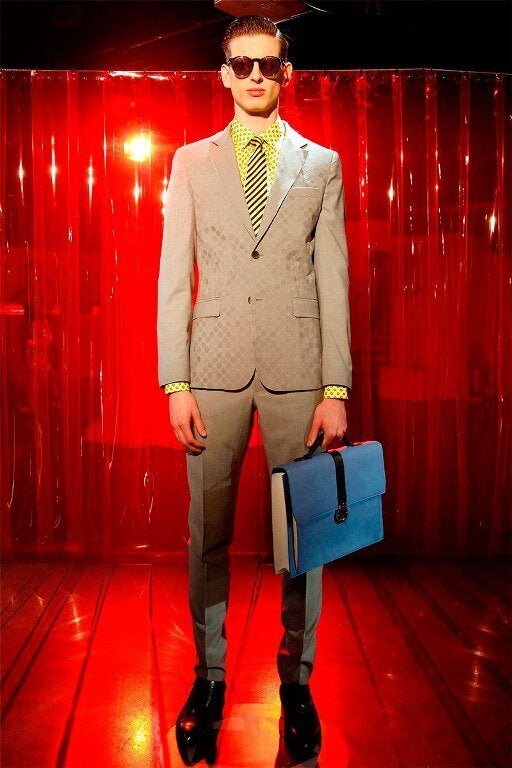 In essence, Jonathan Saunders's clever approach to men's fashion summed up the ingenuity that London fashion keeps reinvigorating. The Spring/Summer 2014 collections presented during LC:M certainly confirmed that London-based menswear designers should be congratulated for continuing to produce fresh looks through an intelligent and original command of colour, pattern and texture.
(all images courtesy of the respective designers)