After the hectic calendar of the major fashion weeks for Autumn/Winter 2013 is coming to an end and hundreds of fashion presentations have taken place, it becomes timely to pause and look back in order to re-examine the designs by emerging talent, appreciate once again the accomplished collections by established designers, and analyse any significant paradigmatic shifts in the fashion world.
As far as London Fashion Week was concerned, there is little doubt that a feeling of pride in British heritage and a look back into its sartorial history were undoubtedly at the root of the extremely accomplished womenswear collections unveiled during London Fashion Week in February 2013. When reliving the collections shown in the British capital, it is difficult not to conclude that the sum of such outstandingly creative parts paved the way to a collective manifestation of excellence that will most certainly go down in history as one of the best fashion weeks that London witnessed in recent years.
To understand the cause of such exquisite displays of creativity and technical aptitude, it might be relevant to remember that 2012 (the year when London-based fashion designers started developing and perfected the themes, colours and fabrications for their Autumn/Winter 2013 collections) was a period of fertile and vibrant ingenuity that mirrored a collective feeling of pride evident in the London 2012 Olympic Games, the celebration of Queen Elizabeth II's diamond jubilee, or an important royal wedding. Furthermore, almost all London designers examined nostalgic definitions of womanhood throughout the centuries to create exceptional and enriched reinterpretations of fashion trends and concepts.
Herewith, my personal highlights of the outstanding talent presented during London Fashion Week Autumn/Winter 2013.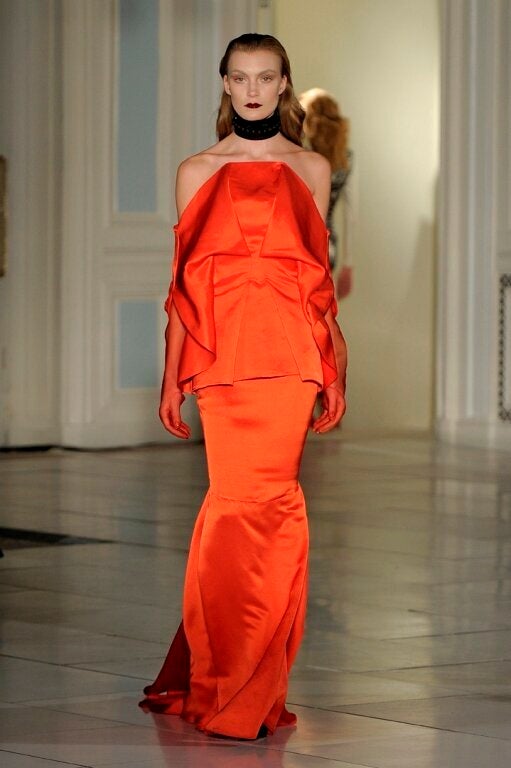 Fyodor Golan Womenswear Autumn/Winter 2013
The first day brought with it the first runway show ever by celebrated label Fyodor Golan. Entitled 'Belle de Jour', after Luis Buñuel's 1967 film that featured actress Catherine Deneuve interpreting an ingénue discovering the ways of the world, the collection, shown in the lavish ballrooms of London's Savoy Hotel, explored the transition between adolescence and womanhood. Wim Delvoye's sculptures, with their seemingly contradictory scales and proportions that are resolved in the final perception of each piece, and J.S. Sargent's 'Carnation, Lily, Lily, Rose' painting, also inspired the states of personal evolution leading to feminine confidence and maturity explored by fashion designers Fyodor Pdgorny and Golan Frydman.
States of childhood and playfulness were evident in the details of traditionally youthful and voluminous sartorial garments such as girly A-line skirts, oversized pleat detailing, or in the iconic Smiley faces embossed on black leather pencil skirts and jackets. In contrast, silhouettes were made narrower and sophisticated by resorting to sumptuous fabrics (some of which produced by luxury mills Piacenza and Saydam) such as silk blends, crape organza, cashmere and leather in a palette of black, burnt orange, carmine and bronzed mango. Finally, the transition into mature womanhood was illustrated through sartorial details such as layering of delicate silks and gauzy chiffons, gentle ruffles around necklines, hand-drawn prints and rich three-dimensional embroideries.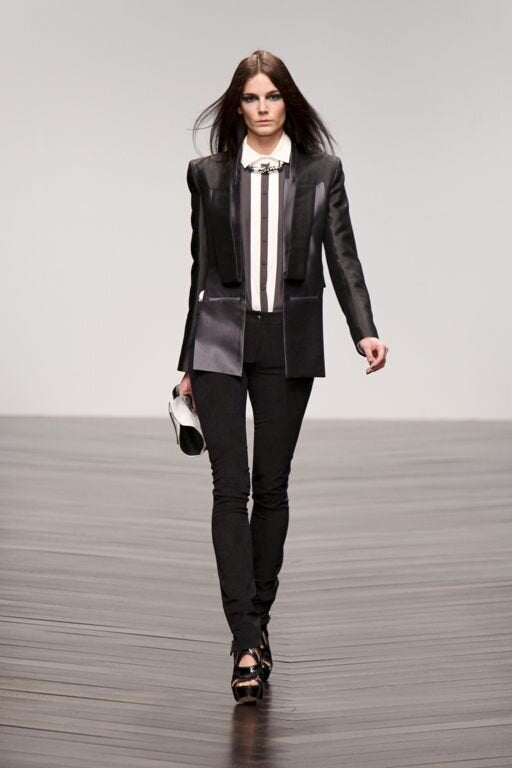 Jean-Pierre Braganza Womenswear Autumn/Winter 2013
Unashamedly inspired by a fantastical world of science fiction where women belong to a superior tribe, Jean-Pierre Braganza's 'Starkonnen' collection featured samurai silhouettes and dramatically long dresses, skirts and coats to convey female power, wisdom and elegance.
The accomplished collection featured flowing lines and elongated silhouettes made possible by Braganza's trademark sharp shoulders, asymmetrical lines, voluminous pleated trousers and sleeves, floor-length chiffon printed skirts, and draping effects. Fabrics included luxurious silk blends in jacquard, chiffon and satin, as well as heavier velvet boucle and laser-engraved white leather. Colour-block panelling layered in angular shapes combined black, petrol blue, silver, white and peach with prints that conjured a fantastical world through an array of abstract dragon scales and universe formations depicted in geometrical arrangements of circles and lines.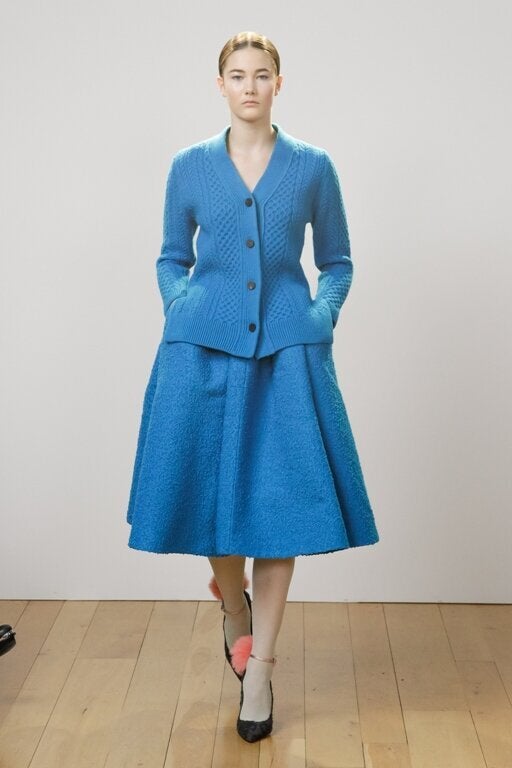 Eudon Choi Womenswear Autumn/Winter 2013
Marking a departure from his previous collections, where minimalist angular prints and tailoring played writ large a creative role in their sartorial direction, Eudon Choi presented an exuberant and highly accomplished collection of womenswear where colours and textures worked perfectly to create elegantly feminine silhouettes. Titled 'Varykino', the collection was presented in the form of an intimate salon show accompanied by music performed live by klezmer band She'Koyokh.
Inspired by Julie Christie's character Lara in the film Doctor Zhivago, Choi mixed Russian folk costume, art and culture in a strong collection with a palette of white, black, moss green, burgundy, pink, vermillion and cerulean blue. In addition, ornate fabrics and prints such as lace-effect jacquards, boucle, leather, died fur, shearling, velvet bows, metallic threads and Swarovski embroideries in floral shapes provided rich undertones to elegant bell dresses, pleated cotton blouses and chiffon skirts, wide-leg trousers, cocoon coats and fitted cardigans and jackets.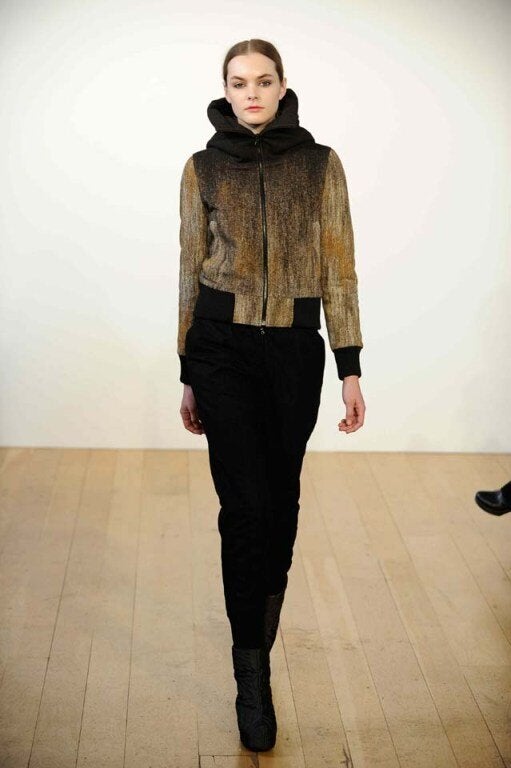 Christopher Raeburn Womenswear Autumn/Winter 2013
For those who have been following British fashion designer Christopher Raeburn's career over the last few years and had been impressed by his mastery of technologically advanced fabrics and tailoring, his latest offering of womenswear came as a breathtakingly pleasant surprise that confirmed the British designer's sartorial ingenuity and technical capability. Entitled 'Optics', the very feminine collection drew inspiration from the Maunsell Sea Forts (the World War II naval defence structures off the coast of England) to create a palette suggestive of naval suiting and the rusty texture of derelict buildings while evoking desolate landscapes and bleak seaside areas devoid of humanity. The atmosphere of the collection's presentation, unveiled in an intimate salon show format, echoed this barren setting, with an original audio soundtrack recorded on location from reverberating ocean sounds.
For Autumn/Winter 2013, Raeburn's talent for sourcing, designing and creating pioneering fabrics was more evident than ever in an exclusively developed felted wool fabric that stood as a natural move forward from the laminated lace he used in his Spring/Summer 20013 garments, in a seductive bespoke degradé where the grains in the wool created a textured gradient pattern that morphed from blue or rust to grey, and in rain-resistant fabrics made possible by the addition of Teflon. Highlights included a military blouson inspired by a 1950s battle dress jacket (but with a contemporary twist in the form of a boxy shape and fluorescent trim), a jumpsuit and a belted Mac that were complimented by heavier pieces in charcoal checks and subdued florals re-appropriated from vintage fabrics.
This collection also broadened Raeburn's offering of separates to include form-fitting dresses and skirts made from Russian Breton knitwear. Military-grade mesh fabric was also widely used layered over pink lining to add a graphic and feminine edge to bomber jackets and parkas, whereas quilted outerwear pieces such as jackets and gilets were lined with recycled materials in a variety of iridescent colours. The landscape that inspired it might have been bleak, but Christopher Raeburn's latest collection allowed many people to rediscover a bright talent whose credentials as womenswear designer were confirmed as being more solid than ever.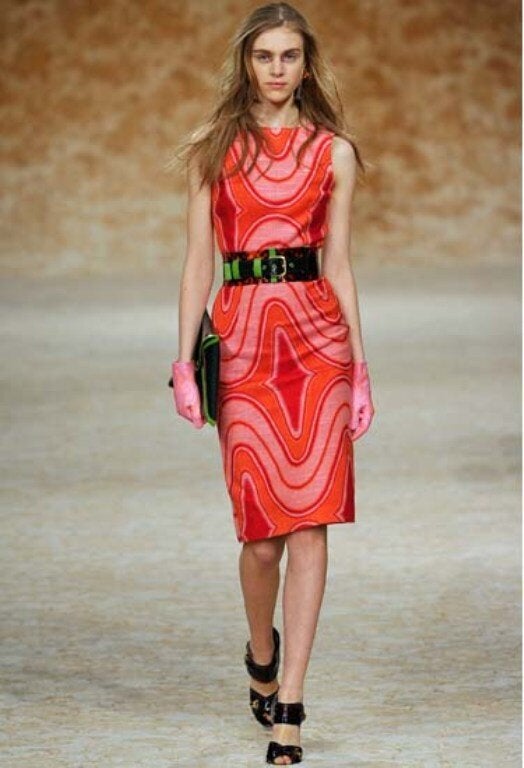 House of Holland Womenswear Autumn/Winter 2013
Over the years, Henry Holland's fashion collections have secured a reputation of being irreverent owing to their bright colours and whimsical designs anchored by a permanent tribute to youth culture. However, for his Autumn/Winter 2013 range, Holland clearly decided to enjoy himself and invite the audience of his runway show (that took place on the top floor of a car park in London's Soho) to share his appreciation for the UK rave subculture that embraced a second Summer of Love in 1989 and continued to dance to acid house tunes into the early 1990s.
Instead of feeling nostalgic for this carefree period, House of Holland celebrated its exuberance by featuring colourful psychedelic prints from the 1970s that the late 1980s reclaimed, jewel coloured palettes of tonal ruby, emerald and sapphire, dashes of neon in shearling trims and floor-length zips, Martini glass prints that hinted at the importance of retro designs in setting alternative sartorial codes, and crystal embellishments that came across as witty in their conscious naivety. Garments such as bomber jackets, 1970s trench coats, sweat shirts, denim jackets and hoodies came in textured fabrics such as silk fil coupé, printed and embellished wool crepes, printed stretch and patent leather, and grey marl embellished with Maribou designs contributed to this celebration of subcultures and their role in influencing style. If one could argue that such a concept was not entirely original in the context of London's vibrant fashion scene, Holland's rigorously cut garments and confident combinations of playful materials and prints made this an outstanding collection that confirmed him as one of the most exciting designers currently working in the British capital.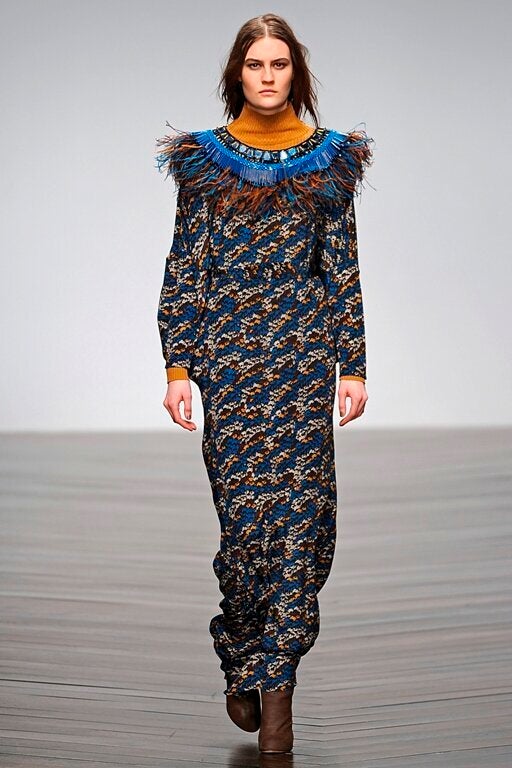 Issa Womenswear Autumn/Winter2013
To the onlookers who stand outside the main showcase area at Somerset House after Issa's runway presentations that unveil the brand's womenswear collections during every London Fashion Week, a collective feeling of exuberant cheerfulness seems to emanate as the doors open and envelope their private space with contagious energy. The Brazilian designer always relies on uplifting house music by Leo Greensalde and on models (such as Cara Delevingne and Jordan Dunn) that sport smiles and an upbeat attitude that relies on carefree dancing rather than rigid strutting of the catwalk. Issa's last show was no exception, with an audience of fashion critics, buyers and celebrities embracing a pervading sentiment of shared sartorial joyfulness.
Inspirations for the collection came from the rugged landscapes and habits of native Navajo Indians and were manifest in bright geometric designs from woven blankets and wide colourful brushstrokes that mirrored wild rivers, rolling hills and sprawling valleys. However, this was ethnic deluxe at its most lavish height, as evident in flowing caftans made from silk chiffon, in feathers that came to life in woven jacquards, abstract monochrome lace designs and herringbone shapes, and in regal crepe de chine dresses embroidered with plumes, beaded fringes, cut mirrors and crystals that suggested tribal headdresses. At the same time, the fluid silhouettes conveyed a contemporary sense of sophistication, through garments such as trousers with front pleats, circle skirt dresses, fitted jackets, flared jacquard dresses, slim-fit silk shirts, neatly fitted or flowing trousers, and dresses with open backs.
Despite the tribal influences, Issa did not forget London's fashion heritage and its incessant dialogues with distant influences: ponchos, fur coats, large hats and belts, wide-lapelled velvet suits, voluminous suede coats lined with shearling and turtle necks worn under sleeveless dresses provided a subtle nod at the British capital's Swinging Sixties and colourful 1970s and how those periods adopted exotic landscapes and cultures, in a way not dissimilar to Issa's own integration with London's fashion world.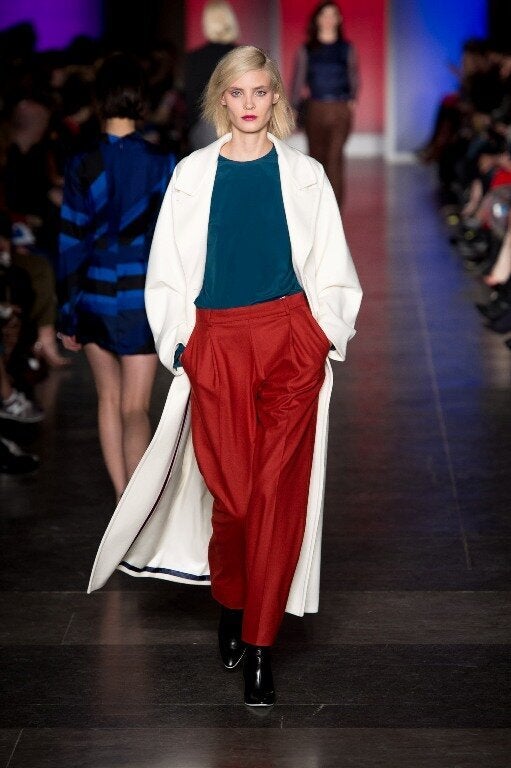 Paul Smith Womenswear Autumn/Winter 2013
Paul Smith confirmed his role as doyen of British fashion with a well-tailored collection made from luxurious and colourful fabrics. In a show that opened the Tate Britain gallery to an avid private audience on a cold evening, Smith used the neoclassic arches and pediments of the building as a stage set to display a number of dresses and shirts with similar prints. The language of architecture was writ large not only in these drawings but also in the predominance of graphic colour blocking and in the angular shapes of sharp trousers and overcoats, only broken by seductive ruffles in blouses and in a few fluid silhouettes.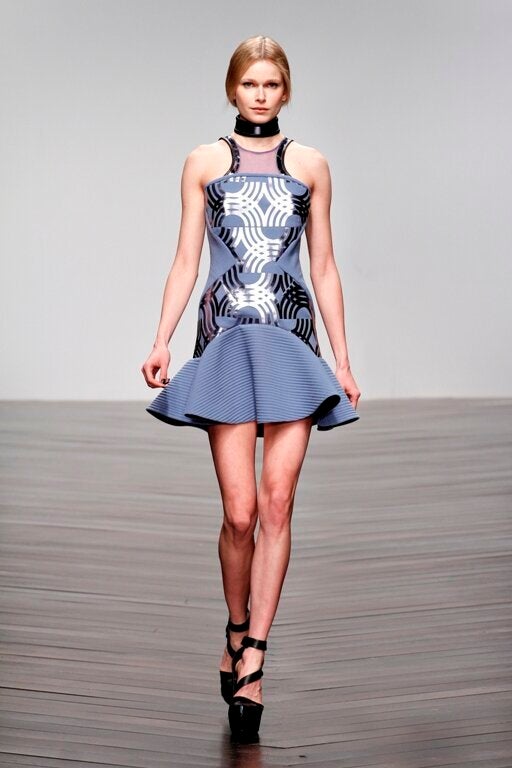 David Koma Womenswear Autumn/Winter 2013
For his Autumn/Winter 2013 womenswear range, David Koma found inspiration in the futuristic concepts that couturiers André Courrèges and Pierre Cardin imbued into their collections in the early 1960s to create a new and confident woman. However, Koma's interpretation of the dynamic space age featured contemporary touches that transformed the geometry of masculine and boxy A-line shapes into feminine silhouettes through the juxtaposition with circles of different scales and fabric combinations. This was elegantly achieved through a myriad of layers of Vinyl-like discs, circular leather collars, zips that opened to reveal concentric flashes of skin and high necklines in metallic leathers.
The notion of circularity extended seductively throughout the collection in coats whose dimensions closed at waist level to open once to create a large neckline or twice to create a subtle double lapel. Equally, concentric padded circles and semi-circles, and horizontal zippers could be seen under the triangular folds of biker jackets' lapels and thick belts, stressing the opposition between geometric figures. The combination of contrasting elements continued in a palette that mixed black with bright red, teal, midnight blue and nude in textured fabrics such as laser-cut leather, organza, quilted wool and flock print.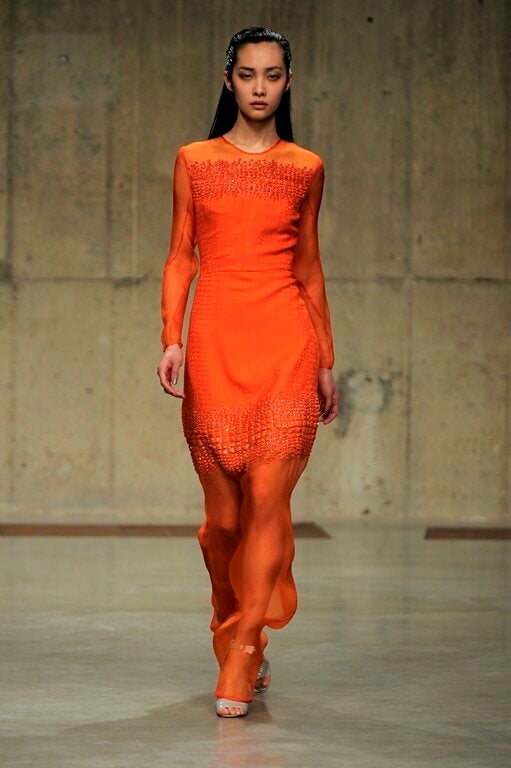 Richard Nicoll Womenswear Autumn/Winter 2013
As fashion designer Richard Nicoll worked on his inaugural menswear collection for Autumn/Winter 2013 (which he showed to considerate critical acclaim during the 'London Collections: Men' showcase in January 2013), he ended up finding some of the inspiration to develop his womenswear collection, which he unveiled a few weeks later during London Fashion Week in a runway show styled by Sophia Neophitou in the industrial setting of the Tate Modern gallery. Taking his first men's collection as a starting point, Nicoll's Autumn/Winter 2013 womenswear designs were enriched with a menswear sensibility that captured utilitarianism, timelessness luxury, and minimal classical tailoring.
Guided by a personal brief that he named as 'fabrics in disguise', Nicoll used fabrics that imitated other fabrics, in a veiled simplicity that ultimately reflected a sophisticated approach to mastering sartorial creativity not only at material level but also conceptually. The elegantly minimal garments (that brought to mind the most accomplished collections by the likes of Giorgio Armani or Celine) resorted to fabrics such as cashmere, angora, nappa leather, jacquard, intarsia herringbone, wool denim, stretch cady, viscose satin, printed crepe and embroidered organza in a variety of greys, blues and whites, custard, orange, vermillion and nude.
The collection's silhouettes revealed the inspiration of traditional male tailoring in stark opposition to feminine shapes, with wide pants, suits, all-in-ones with dropped waist lines, skirts with flowing effects made possible by carefully positioned slits and accentuated waist lines that contrasted with boxier masculine shapes. However, it was the final section of the show, with its incredibly feminine dresses made from layers of embroidered organza, that Nicoll confirmed himself as one of the most talented fashion designers currently working from London.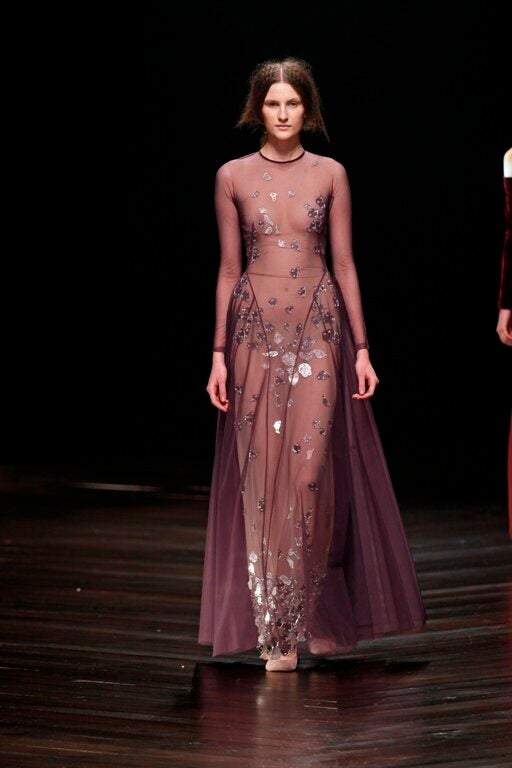 Marios Schwab Womenswear Autumn/Winter 2013
Marios Schwab worked with Tunisian artist Nja Mahdaoui to develop a series of exotic graphemes that were used as visual elements throughout his latest womenswear designs. Titled 'Calligrams', the collection (particularly in its first section) explored the linguistic structure of poetry transposed into visual form and adopted to illustrate the contours of the body in graphic embossed velvets against ornate lacquered laces and embroidered PVC.
In spite of the focus on how calligraphy can be used as a design trope, Schwab's talent was at his best in sections of his runway shows that explored flowing fabrics in long dresses or cape-like structures with sharp cuts and interruptions. Playing with the concept of proportions, the collection contrasted examples of high and low cuts in ethereal shades of smoke and dove grey against rich oxblood, stark emerald and petrol blue that evoked the Russia of the Czars. In addition, Swarowski crystals and shattered antique mirrors embellished delicate fabrics while anchoring their lightness with shimmering weight.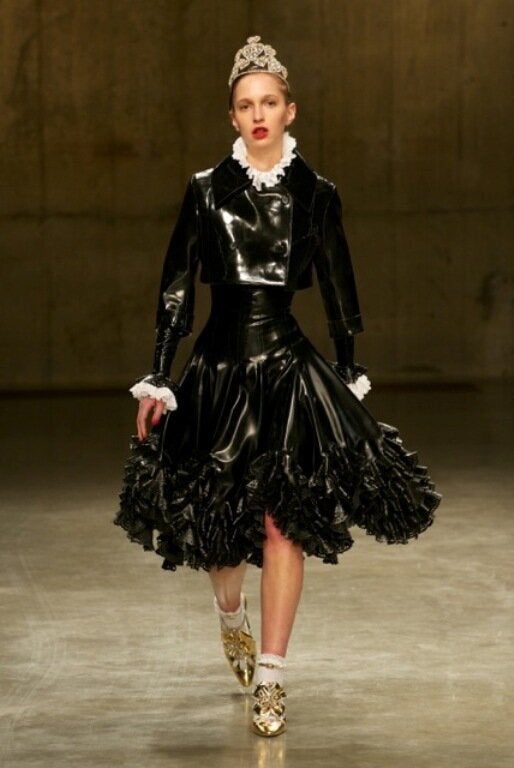 Meadham Kirchhoff Autumn/Winter 2013
If Meadham Kirchhoff never fail to please the audiences who turn up for their runway shows in a faithful and almost religious manner and always leave with the certainty that the duo command one of the most creative labels currently producing fashion in London, there was little doubt that their Autumn/Winter 2013 womenswear collection took them to a new and higher conceptual echelon.
Shown in the industrial setting of Tate Modern's Tanks, the 'Helter Skelter' collection brought to life themes previously explored by Edward Meadham and Benjamin Kirchhoff, namely the severe contrasts between black and white, the layers of lace against black velvet, or the fantastical imagery that evoked the dark undertones of literary narratives where young females undergo a process of personal development, from Enid Blyton to Daphne du Maurier to Colette. However, with their latest collection, the designers took these themes one step forward in a celebration of femininity in all its dimensions.
A veritable parade of breathtaking garments embodied Meadham Kirchhoff's reinterpretations of traditional shapes of womenswear, such as luxurious white wool overcoats, knitted cardigans, skirts and jackets in gold and black jacquard, Elizabethan shirt collars, Edwardian lace prints and flowing 1950s dresses. This suggestion of sartorial normality was enriched by plastic materials and vinyl ruffled pieces in a contrasting process that questioned not only the conventional role of fashion as a way to clad the body, but also represented the social veneers of respectability with which a woman's behaviour is imbued and constrained throughout her life. In this sense, the 'helter skelter' becomes a metaphor for personal growth, and Meadham Kirchhoff's collection a subversive and clever representation of the different roles that women assume throughout their lives, with images of the child, the ballerina, the kitchen maid, the housewife, the Vamp and the ingénue colliding in an enthralling spiral of rich representations and meanings as they circled the audience.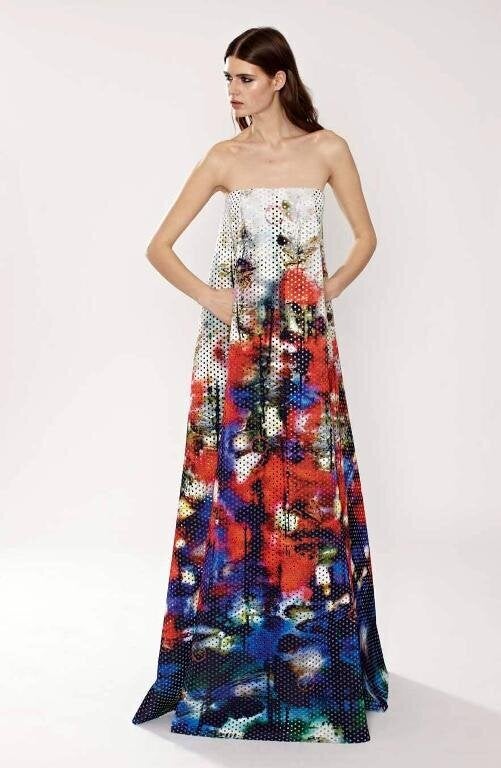 Teatum Jones Autumn/Winter 2013
And, last but definitely not least, my last highlight of the latest London Fashion Week went to Teatum Jones. In my (albeit reduced) experience of attending fashion runway shows, salon events and presentations to review collections of clothes, accessories and shoes, I have struggled to encounter designers as technically proficient, passionate about their work and with an elevated yet modest emotional intelligence about the processes behind sartorial creation as Catherine Teatum and Rob Jones, the duo behind the label.
On 19 February 2013, they returned to the Dorchester Hotel (where they had previously shown their Spring/Summer 2013 range) to unveil their fifth collection. Titled 'To My Youth... How We Laughed in Darkness' (after the titles of a poem and a novel by Vladimir Nabokov that served as inspiration), Teatum Jones's womenswear collection for Autumn/Winter 2013 proved to be utterly poetic in its successful attempt to portray femininity and innocence as existing within a seemingly enchanting landscape of colourful flowers and butterflies (as captured by Nabokov the lepidopterist, and as respectfully dissected by Catherine and Rob in countless hours of study in London's Natural History Museum). If many designers would have depicted such budding states of female emotional and physical maturity through literal representations of femininity, Teatum Jones cleverly opted for imbuing their collection with intensely beautiful layers of meaning that reveal not only a heightened perception and command of their own original concept but also an intelligent and critical knowledge of womenswear that circumvents historical sartorial commonplaces very adroitly. According to this reasoning, garments made from polkadot fabrics are not just examples of traditional feminine fashion design but are, essentially, a reflection of the patterns of the butterfly wings captured in a net or a jar. Similarly, the laser cut bonded viscose used in a number of garments of the collection is not a mere representation of Teatum Jones's command of technical skills; instead, it suggests the pins poignantly inflicted on the dead butterfly as a way to suspend its beauty as an illusion of life.
Ultimately, and on a very practical level, this sophisticated approach to womenswear meant that garments such as the apparently plain jersey and viscose dresses and the opulent patent coated wool coats with panels of virgin wool or tulle became, on a closer look, extremely strong examples of Teatum Jones's talent that could easily exist within the realm of haute couture. For their respect for ideas, intelligent command of conceptual narratives and highly accomplished cut, Teatum Jones's outstanding creative skills deserve a much closer look by the fashion industry.
(All images provided courtesy of the respective designers)