As another commercially successful fashion week comes to a halt in the British capital, it is useful to look back on the collections that are expected to make an impact on trends for Spring/Summer 2013. If they are to become inspirations to high street designs and to the work of other designers, next year we are to find an array of bright colours and floral patterns, elegant contrasts between whites and ivory and black, cat suit silhouettes, elongated shapes in the form of voluminous maxi and column skirts and dresses, elaborate layering processes that will reinterpret textures and structures, and inspiration from Edwardian shapes and from 1960s portrayals of futurism.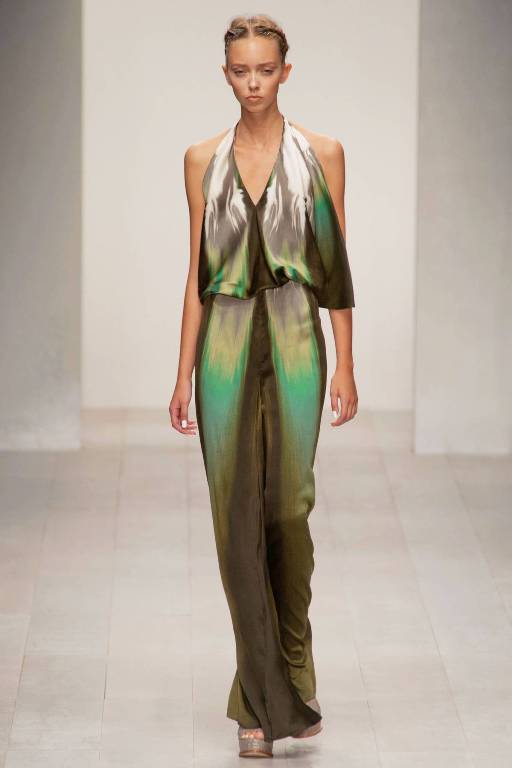 Maria Grachvogel Spring/Summer 2013
Although the press release for London-based designer Maria Grachvogel's Spring/Summer 2013 womenswear collection claimed that it would offer "the futuristic simplicity of a clean silhouette transformed by the infusion of details and prints evoking a cosmic, ethereal beauty", the garments displayed to the journalists and buyers who gathered to see the show on 14 September 2012 revealed a rather different, yet equally optimistic and wondrous, narrative. These were clothes most definitely anchored in effective reinterpretations of past and current sartorial lines that, while not owing much to future visions of fashion realms, deserved to be praised for being effective displays of accomplished creativity.
Evening dresses, tunics, jumpsuits, raincoats, cropped trousers, and sleeve scarves incorporated elegant draping techniques that evolved into pleats, twists and folds over the neckline and waist, which contrasted with rigid and yet elegant sartorial tropes such as tailored wide leg trousers or fabric panelling. Fabrics of a sheer nature (namely organza, polyurethane-covered chiffon, silk, satin, and light cottons) featured prominently, and came in stylish colour-blocking combinations of black and white, abstract prints inspired by natural textures and luminosity, or in a seductive palette that comprised slate grey, white, opal blue, sunlight yellow, opal pink, and shades of green and red. In addition, Grachvogel incorporated swimwear into her collection for the first time.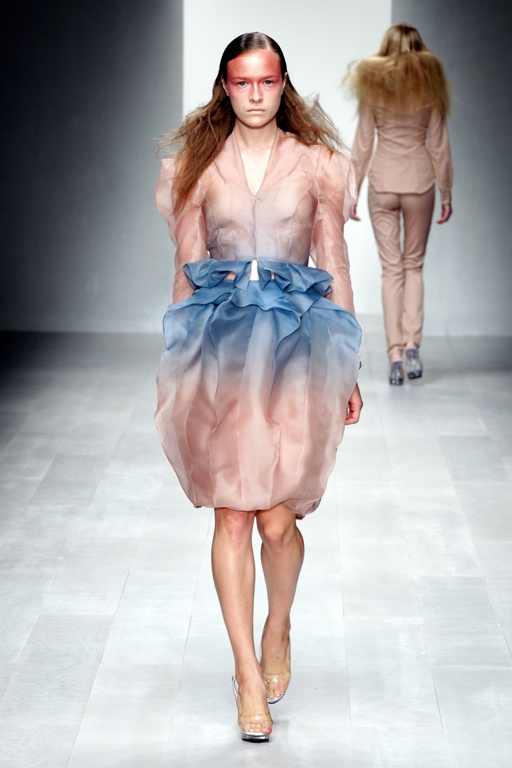 Corrie Nielsen Spring/Summer 2013
For her Spring/Summer 2013 collection, London-based fashion designer Corrie Nielsen sought inspiration in how flowers and plants have been depicted throughout the ages by artists (such as contemporary Japanese computer graphics illustrator Makoto Murayama) and in the architectural environments in which botanists have captured world flora for scientific analysis and public displays. Called 'Florilegium' (a Latin word that has acquired several meanings over the years but that for Nielsen refers to the primeval definition of gathering of flowers), the collection explored the intricate textures and patterns of petals, sepals, stamen and anthers and recreated them in luxurious fabrics.
Featuring an array of sheer fabrics, silks, and soft leather in ivory, champagne, grey, pinks and blues, the collection included features already familiar to those who have been following Nielsen's career, namely voluminous rigid peplums, high-neck blouses in metallic silk, rolls of chiffon, pleats that created dynamically fluid forms, and an abundance of bows and tied fabrics on blouses or the top of dresses that balanced shapes when mixed with fitted trousers or billowing skirts. In addition, highly sculptural and dramatic techniques like exaggerated square-shaped shoulders, fabric ribboned at waist level or at the bottom of wide skirts and dresses, and swathes of finely layered silk contributed to an ambitious collection that, once again, illustrated Nielsen's intention to be known as a couture designer. However, if most garments in the collection confirmed that Nielsen does have what it takes to reach this stage, others posed questions about the legitimacy of this desire.
It is undeniable that Nielsen mastered the late Victorian and yearly Edwardian representations of woman as flower: bulbous shapes and ombré colour gradient in blouses, skirts and a wedding dress with large sculpted petals were undeniably very successful in the way they suggested the natural world. However, Nielsen's literal interpretations of flora and the spaces to exhibit it, such as a black dress with flattened rolls of fabric that were supposed to depict petals when open, or a representation of the Palm House of Kew Gardens with folds of leaves wrapping around a transparent glass-like bodice, did have a touch of the incongruous about them, and should have been edited out of the runway show.
All in all, this was a beautiful collection that drank from the natural world and paid homage to couturiers such as Cristobal Balenciaga, Vivienne Westwood, and John Galliano by resorting to the structural shapes that they have used and made popular for decades.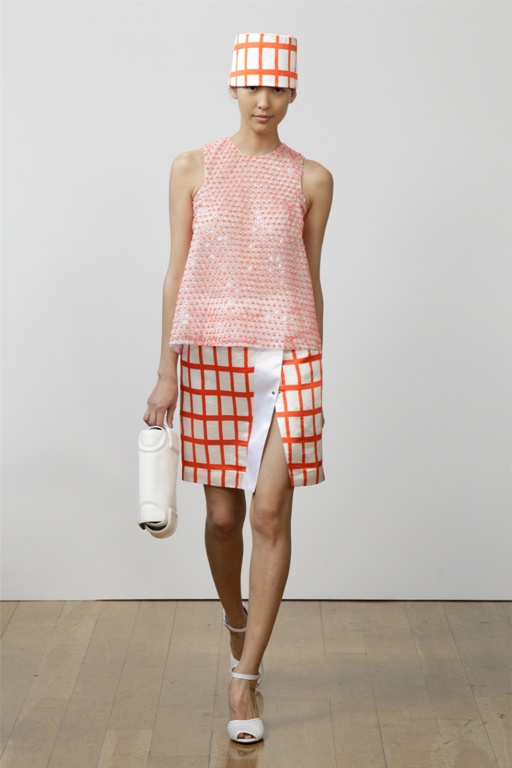 Eudon Choi Spring/Summer 2013
To display his collection for Spring/Summer 2013 (and the fourth as part of London Fashion Week's official calendar), Eudon Choi opted for an intimate salon show. With the title 'Space Oddity', the range of garments combined influences from science fiction and films, namely Stanley Kubrick's '2001: A Space Odyssey' (1968) and Michelangelo Antonioni's 'Blow Up' (1966), and investigated the romantic take on futurism as engendered by 1960s popular cultural interpretations of what the twenty-first century would look like.
Minimalist and clean lines were emphasised by full silhouettes while including signature contrasting fabric blocks of textures and colours. In addition, iridescent culottes with a sporty feel contrasted with elegant patent leather raincoats updated with dimpled lurex and exaggerated box cut tees adorned with bold geometric beading. Neoprene skirts featured in a variety of colour comonations, and a knee-length white patent leather dress was chequered to the waist with florescent orange disks. White was a prevalent hue in garments such as a cocoon coat and a dress in a textured three-dimensional mesh, and cobalt blue could be seen in cigarette trousers and in the trims of wrap skirts and dresses. A range of Perspex heeled shoes designed in collaboration with Joanne Stoker added a sci-fi feel to the collection. Ultimately, there was nothing of the oddity about the collection. In fact, a small and wondrous odyssey was witnessed and lauded by those present.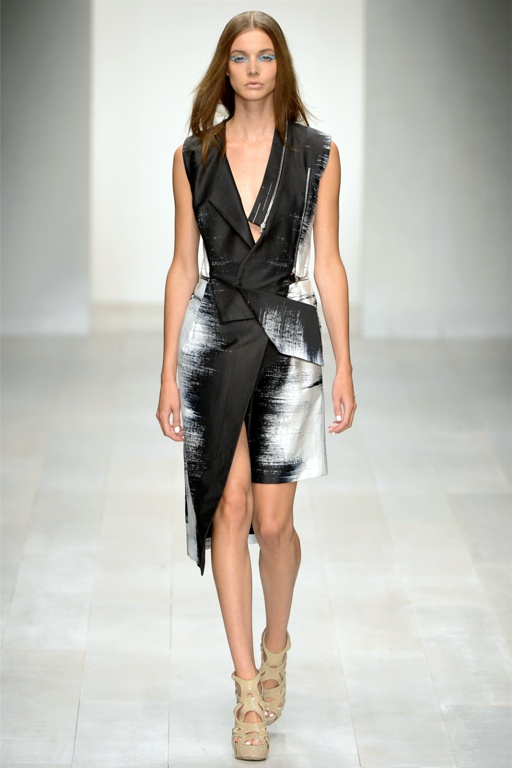 Jean-Pierre Braganza Spring/Summer 2013
For his womenswear collection for Spring/Summer 2013, Jean-Pierre Braganza unveiled a range of clothes that resulted from an enriching collaboration with Ukranian artist Zinaida Lihacheva. Prints created by Lihacheva that explored organic forms in vivid colours contrasted with the sharp angularities, intricate tailoring, and sensual draping that Braganza has been known for.
The geometry that Braganza is obsessed with was evident in precise fabric panelling, colour blocking effects, contrasts created by mixing symmetrical and asymmetrical pieces, and working angles and hems with unexpected contrasting colours. Key pieces included reinterpreted biker jackets, elegant variations of the cat suit and the tuxedo, a cape-like blouse, a trompe l'oeil panel dress, and cocktail dresses beaded with shards. Colours such as sand, black, white, and ivory were punctuated with pure red and cerulean blue from Lihacheva's paintings, while inky blue and vivid turquoise completed the palette. Jewellery by Janine Barraclough and shoes by Nicholas Kirkwood added stylish touches to the collection.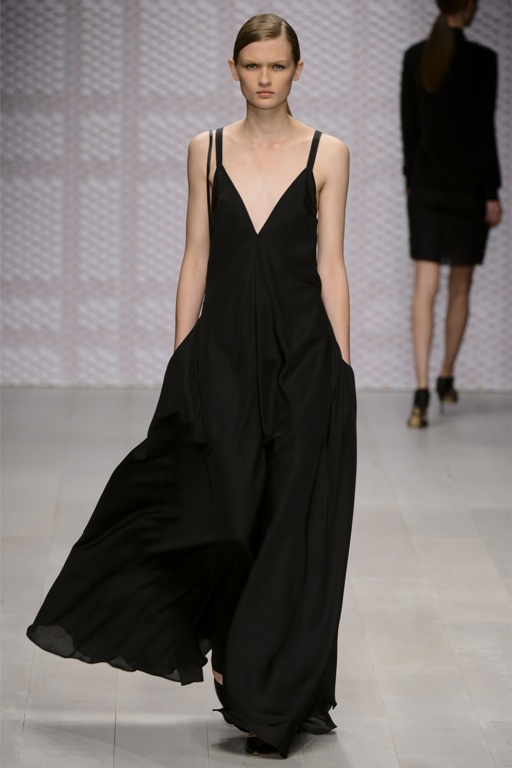 DAKS Spring/Summer 2013
Amidst the busy schedules and social furore of a fashion week, it is easy to lose track of what this incredibly creative and profitable industry can contribute to society. And it's when one witnesses a runway show by DAKS that one is reminded of the high standards of creativity, quality and commercial nous that should be innate to the fashion world. For Spring/Summer 2013, and in the year that DAKS celebrates 50 years as holder of Her Majesty Queen Elizabeth II's Royal Warrant, Sheila McKain-Waid produced yet another polished, elegant and seductive range of garments that appealed with avidity to an audience of UK and international buyers and journalists.
With a personal appreciation for art and architecture (she cites architect and artist Zaha Hadid as a role model), it is no surprise that McKain-Waid's latest collection (and her third) for DAKS relies so much on the languages of painting and architecture, namely the free-form handwork of Abstract Expressionist artists such as Robert Motherwell, Jasper John and Clyfford Still. And, to emphasise the relationship between fashion and art, DAKS collaborated with mixed media textile designer Aimee Betts to create hand-stitched and embroidered fabrics, and with designer Alexandra Olenska to develop the collection's delicate prints.
Expressive mark making, cross-hatched surface techniques and layered brush strokes (traditionally associated with Abstract Expressionists) have influenced the creative direction of this season's fabric choice and cloth construction. Deep sculptural v-shapes occurred frequently in front and back of dresses, and patch pockets and drawstring trouser waists evoked the casual garb worn by painters. In addition, an overall feeling of weightlessness and fluidity was used to reinterpret the creative energy associated with this artistic movement. Gouache chalky shades and natural tints and hues formed the basis of the collection's colour palette which, in its progressive transition from light to darkness (in the shape of white, ivory, rust, brown and black), explored the notions of opacity and transparency.
In addition to light garments and slouched cape-like jackets, for Spring/Summer 2013, DAKS recreates traditional house styles such as the trench coat and the parka in non-traditional semi-opaque fabrics such as sulk gazar and translucent nylon. The volume of these sheer pieces set against the draped softness of the daywear creates a contrast of proportions. Accents of bronze in the piping of outerwear pieces stress the idea of an almost architectural dialogue between light and heavy structures and materials in the same look. Furthermore, by layering the traditional graphic house check against fluid brush strokes, the brand reveals the intention to propel itself in a new direction.
In the accessories range, natural materials such as leather and straw paired with semi-translucent hardware reiterate the sense of lightness present in the clothes that is further accentuated by the introduction of ringback lizard skin for its complex surface pattern and luxury quality. Small box bags are worn as multiples, layering textures and colours, and adding interesting dimensions to each look.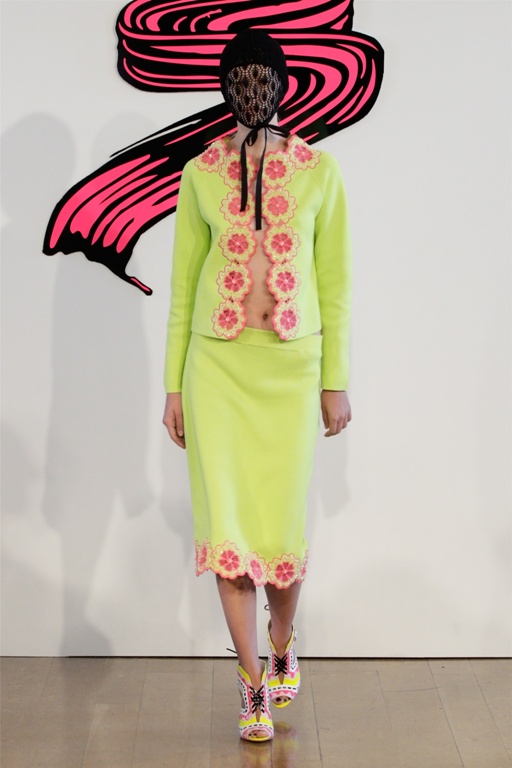 Sister by Sibling Spring/Summer 2013
It's virtually impossible not to watch one of Sister by Sibling's salon shows during London Fashion Week without smiling at the mischievousness and tremendous creative talent present in the women's garments produced by Joe Bates, Sid Bryan and Cozette McCreery. The label's Spring/Summer 2013 womenswear collection, titled 'Warrior in Woolworths' mirrored the menswear range presented in June 2012 in that it focused on the notion that the tensions inherent to class differences can be channelled towards societal regeneration by identifying the playfulness and humour that underlies criticism of public ideologies and the relativism struck between high fashion and popular taste.
To further illustrate this theme, the label used the collection to pay homage to the late musician and singer Poly Styrene and her punk rock band X-Ray Spex in outfits that blended youthful colours with old-lady cuts. In this universe, things are not always what they seem: traditional cable knits are reinterpreted by being covered with paillettes to create pattern, an argyle jacket and dress are embroidered with 10,000 bespoke colourful flower beads, and a cardigan is made from golden blister stitch jacquard with a skulls pattern. At the same time, girly elongated knitwear polo shirts and tennis dresses come in neon lime, day-glo pink or soft-colour stripes of Italian viscose, and are on occasion embroidered with cut-out flowers at hems and necks.
The playfulness of the collection continued in neon lime and black leopard prints that shimmered with a layer of sequins, and a classic pencil skirt, a shell top, knickers, a pom-pom skirt, a cocktail jacket, and a giant pom-pom coat knitted in ironic un-washable paper yarn trimmed with raffia. The Sibling 'Paint S' symbol, in a very Lichtenstein-esque pop design, was realized in sequins on crewneck tops whereas graphic sandals designed by footwear designer Sophia Webster added yet another humorous touch.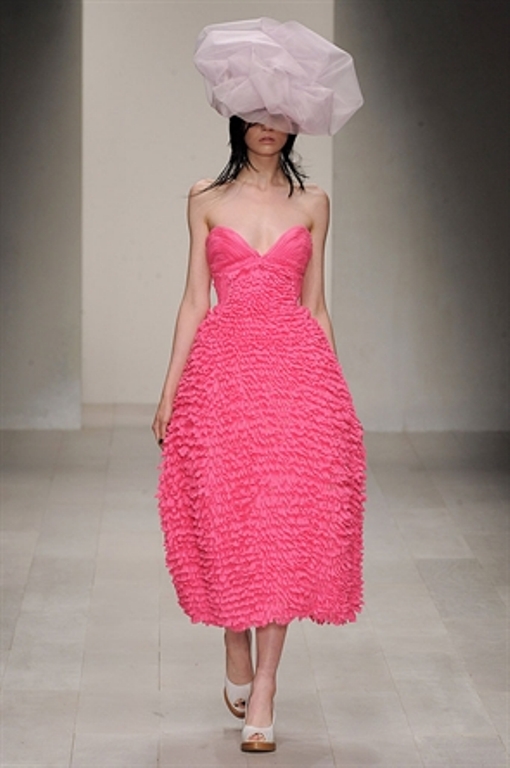 John Rocha Spring/Summer 2013
For his womenswear collection for Spring/Summer 2013, Hong Kong-born and Ireland-based fashion designer John Rocha presented an elegant exercise on balancing shapes, angles, and portrayals of the female body through exquisite and original silhouettes. The shapes chosen for the collection were sculpted in structured volumes inspired by Victorian and Edwardian dresses, and the works of artists such as Andy Goldsworthy and Richard Serra. To make this inspiration material, laser-cut surfaces were worked in three-dimensional embellishments, and appliquéd patchworks and ruffles of picot lace were added to garments. In addition, coats and short jackets in tailored organza added balance to voluminous bulbous-shaped dresses and multi-layered skirts where seemingly rough hand-knit wools contrasted with the sheer fabrics that covered them.
Inspired by the time spent in Chateau Lacoste, a vineyard and arts centre in the South of France, the collection was coloured with the light of Provence in the form of pale yellow, sky blue, rose pink and scarlet, in addition to Rocha's signature black and cream. Tints and hues were realised in layers of silk organza, chiffon summer brocades, and guipure and cobweb laces.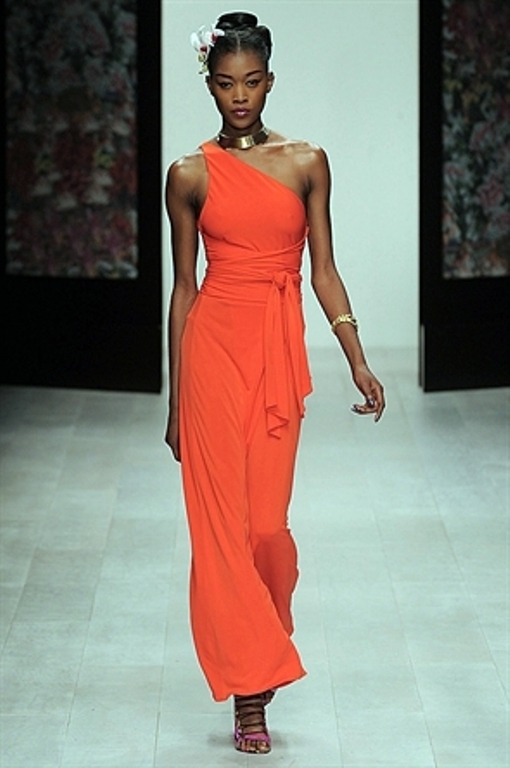 Issa London Spring/Summer 2013
Like an unrequited love declaration to the tropics, Issa London's collection for Spring/Summer 2013 was full to the brim with luxurious depictions of exoticism and feminine allure in a sartorial serenade to Latin America that filled the runway with outstanding prints, flower-encrusted embroideries, flowing silhouettes and a vivid palette that got the audience gasping with delight and cheering the designer with great excitement at the end of the show.
For next year's warm months, Daniella Helayel (the Brazilian designer behind the label) sought inspiration in "the Garden of Eden, Noah's Ark, vibrant underwater corals, passion and seduction. We started with our main theme and created mood and print boards of flowers, exotic plants, the sea, skies and corals." However, Helayel conjured a vision of femininity that went beyond those themes and also evoked the 1970s and how that decade appropriated tailoring from the 1930s and 1940s and added touches of exotic beauty and luxuriousness that were also evident in the choice of show-stealing hair styles, which included Rita Hayworth-esque chignons embellished with orchids.
Renowned models including Cara Delenvingne and Jourdan Dunn sported an array of beautiful high-volume maxi skirts and dresses, draped kimonos, fitted jersey dresses, backless dresses, plunge front dresses and Bahia-style casual dresses in jacquard, satin, crepe de chine and jersey. The vast and seductive colour palette included bright hues, and digital prints (used by the label for the first time, albeit not to their full potential) featured luxurious tropical florals and toucans.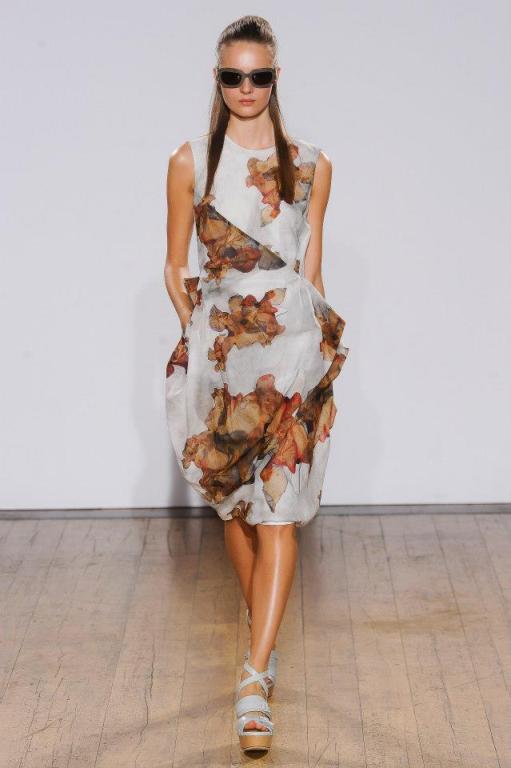 Nicole Farhi Spring/Summer 2013
To show her womenswear collection for Spring/Summer 2013, British designer Nicole Farhi opted once again for the Art Deco surroundings of the Headquarters of the Royal Institute of British Architects in London's Portland Place. With its seductive stone and wood details highlighted by faded brass and frosted glass, the interior of the building served as a very adroit scenario to a collection that inquisitively looked to the concept of layering strata to engender a stunning range of demure and yet highly elegant range of garments.
Inspired by Edward Burtynsky's photographs of the marble quarries of Carrara, and by Tuscany's light and its air that turns grey with marble dust, the collection resorted to a palette of chalk white, slate grey, almond honey, and flax yellow. Linear and sharp sequined embroideries applied in rigid vertical and horizontal layers mirrored the veins of blocks of marble, and pleating of varying scales and fabrics in shadowy tones and broken-up prints evoked the tiers of the quarry's exposed walls.
Fabrics were dry and textured, occasionally tightly woven and with a crinkled, papery feel. Fine-pleated cotton and translucent organza were juxtaposed against light-weight silk nylons, and strips of soft leather provided a balance to sheer fabrics. The accessories range also followed the theme of the collection, with sunglasses with wood finishing, heavy wedges, and belts in tones of chalk and dusty mauve grey.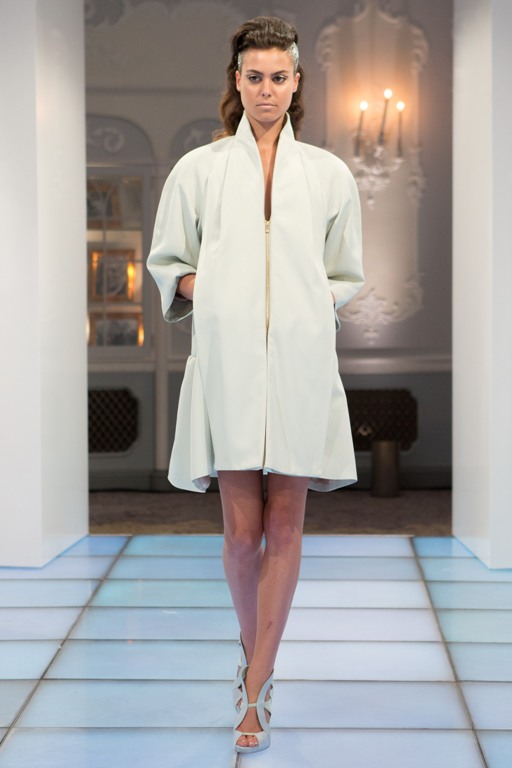 Teatum Jones Spring/Summer 2013
When a fashion label comes to the fore and swiftly reveals not only extremely competent technical expertise but also a virtually perfect command of historical sartorial and cultural knowledge, the fashion world ought to pause and learn. As opportunities like this tend to happen once in a fashion blue moon, when they do, it is almost mandatory to heed. And investigating with pleasure is what one indulges in when observing the last three collections produced by the two emerging talented fashion designers behind the label Teatum Jones who, with their Spring/Summer 2013 collection, have confirmed, once more, that theirs is an intelligent, pleasurable, and highly accomplished way to produce fashion.
Titled 'From Democracy with Love', the label's latest collection embraces the potential creativity that the perception of dualities can offer in a dialectic process of investigation, debate, and overcoming impermanence to move forward in a constructive manner. In other words, designers Catherine Teatum and Robert Jones sought inspiration from romanticised visions of the future as nostalgically engendered by popular cultural manifestations of the 1960s, a process that had been investigated in previous collections (namely their Spring/Summer 2012 range) with great success but that has unquestionably achieved its best results in this collection.
Using the global political and cultural landscapes of the early years of the Cold War as inspiration, Teatum Jones observe the exchangeable and simultaneous roles of the villain and of the hero as societal constructs engendered by nationalistic propaganda, media platforms, and cultural manifestations. This millenary and universal reverse of dualities is applied with great success to luxurious silk-blend jacquard pieces woven with ice blues, pastel mints and dashes of gold that are simultaneously traditionally and utterly modern. In addition, porcelain-like chinoiserie drawings that depict architecture and imagery related to political and nationalistic ideologies of the 1950s and 1960s are cleverly introduced as an inquisitive and humorous Willow pattern in a process that interrogates classicism and futurism in the creative realm.
Silk shirt dresses with raglan sleeves present a contemporary elegance that transports their wearer seamlessly from day to evening, whilst the concept of duality inspires double-inverted pleat dresses revealing hidden layers of printed silks and the placement of calm, clean colours against controlled linear printed panels. Pleated dresses and dramatic couture capes conjure an overall image of luxury that contrasts with, and is further highlighted by, embossed silver chrome biker jackets and two-tone copper metallics as evidences of futurism. Fabrics included cashmere, leathery viscose, silk satins, double georgettes, and feather-weight opulent chiffons.
Even though 'From Democacy with Love' (presented in the luxurious environs of The Dorchester Hotel in London) is only the label's only fourth collection, it confirms that Teatum Jones is a sartorial force to reckon with in the London fashion world.