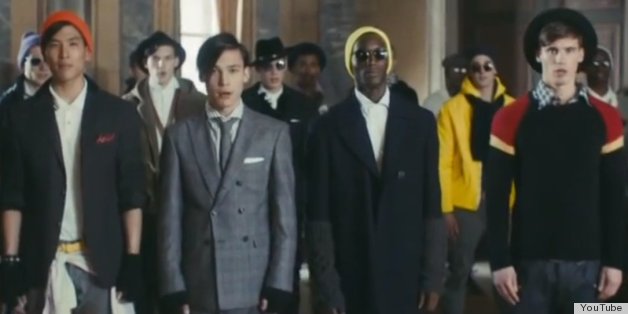 YouTube
When it comes to trends forecasting, one of the most common assumptions (and also one of the most debatable) is that, in times of economic recession, fashion tends to follow rather than direct consumers perambulating through the path of style. As the global cycle of men's fashion weeks that showcased menswear collections for spring/summer 2014 comes to an end in Paris today, the hundreds of runways shows and presentations attested that this postulation remains unquestionably accurate. However, if designers chose to incorporate sartorial looks and details inspired by informal and utilitarian purposes in pieces such as biker jackets and padded pants, bomber jackets, sweatshirts with raglan sleeves, shorts and safari jackets with patch pockets (to name a few clothing mores whose very nature could deem them afashionable), they have done so while simultaneously incorporating and reinterpreting codes of menswear in very ingenious ways.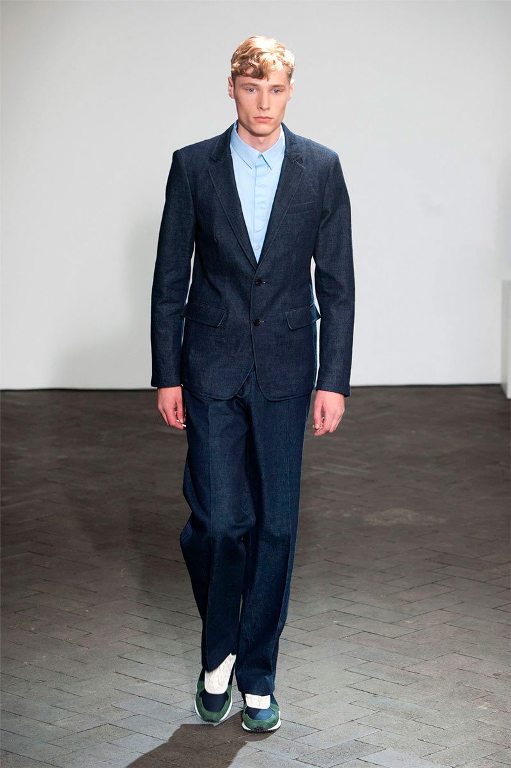 Wooyoungmi spring/summer 2014
A quick glance at the collections presented by designers and brands for next year's warmer months suggests that trends (as embodied in materials, designs and colours) hitherto associated with elitist and unwearable high fashion are giving way to a more grounded approach to menswear from the viewpoint of the end user: fabric and colour blocking, lace, floral and camouflage prints, and bright hues (such as orange, pistachio and mint) not easily accepted in many social and professional contexts are on their way out. Concurrently, utilitarian looks that evoke street and sportswear atmospheres are expected to pervade most fashion stores in garments such as denim jackets, biker jackets and trousers with padding that evoke the subculture of motor bikers' gangs, safari/hunting coats with patch pockets, and knee-length shorts with wide legs.
Furthermore, many lines of clothes, accessories and shoes will feature innovative fabrics with malleable textures that will create a feeling of fluidity and depth, reinvented denim designs (particularly in darker, unwashed versions) and soft leathers. Such materials will come in shades of blue (with emphasis on navy, cerulean, turquoise and cobalt) anchored by sombre white, grey, sand and clay.
The bomber jacket is expected to become the most ubiquitous garment for spring/summer 2014. If this garment had made appearances on the runway over the last couple of seasons, it was never as unavoidable as in the fashion shows that took place in London, Florence, Milan and Paris during June 2013. Whether by faithfully reproducing the original designs conceived for pilots during World Wars I and II (and a few decades later adopted by skinheads) or by recreating them to feature luxurious fabrics, more tailored cuts, innovative fastening formats and colourful prints, it seems that fashion designers worldwide agreed to comply to an esoteric agreement to celebrate the bomber jacket as a staple of urban style.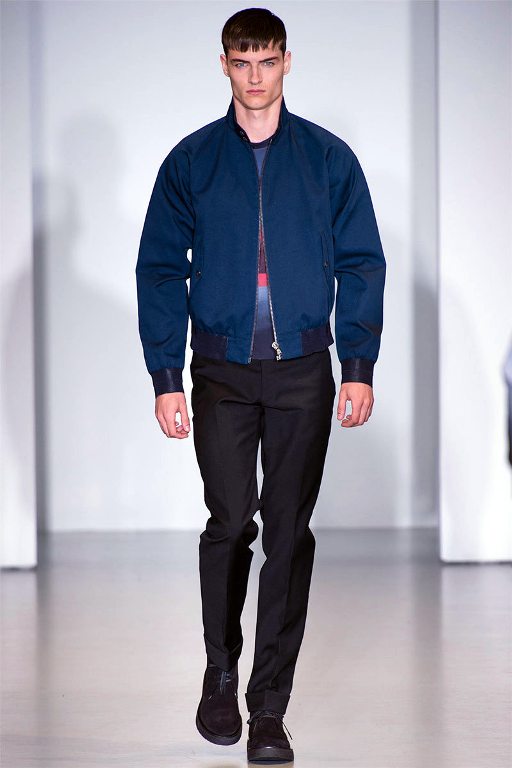 Calvin Klein spring/summer 2014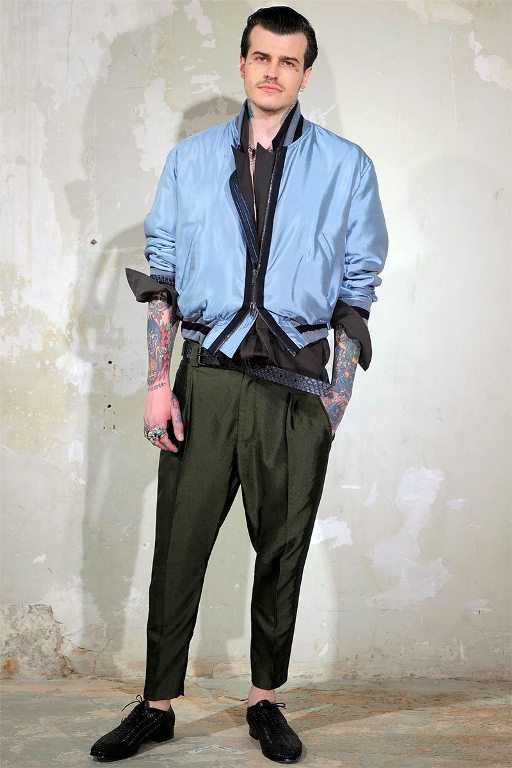 Haider Ackermann spring/summer 2014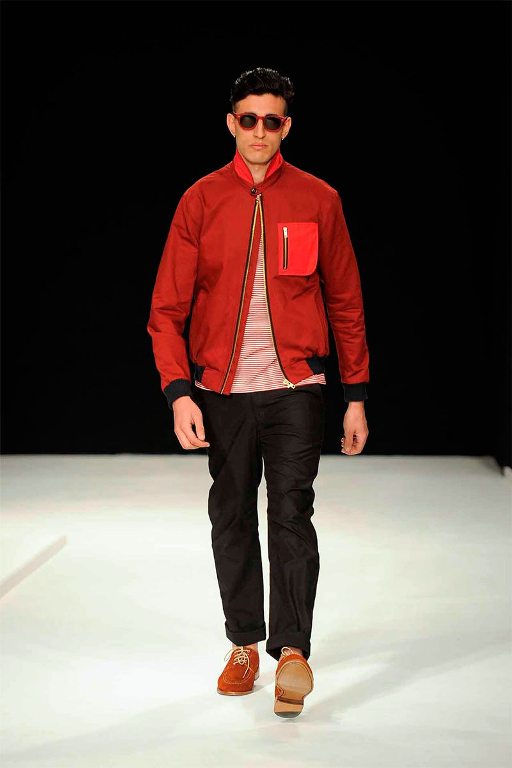 Oliver Spencer spring/summer 2014
Long shorts reaching the knee with wide shapes made possible by side buttoning or pleating will also be prevalent in most collections. While the design of such garments is undoubtedly inspired by the practical gear used in sports such as football or basketball, the espousal of voluminous cuts is also a conscious reaction against the numerous versions of fitted shorts that mid-market high-street stores have spawned with gusto over the last year or two.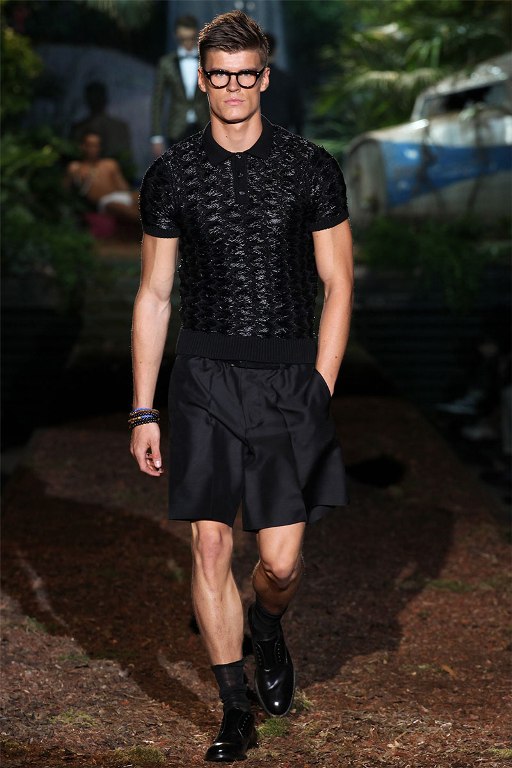 Dsquared2 spring/summer 2014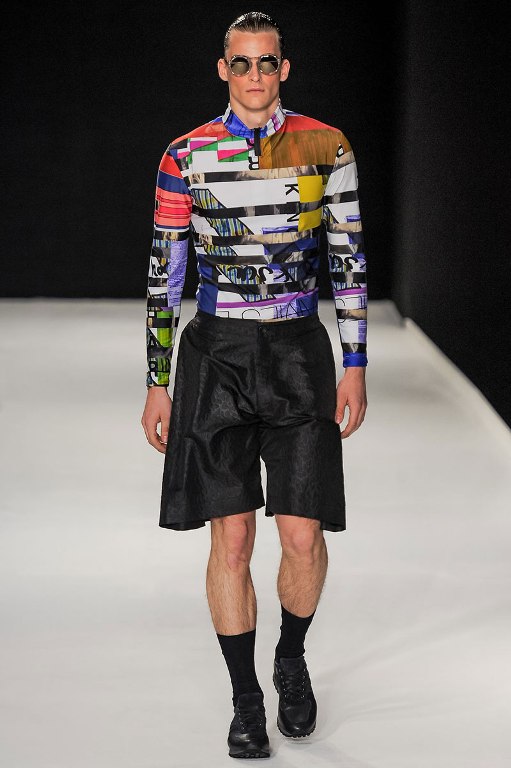 James Long spring/summer 2014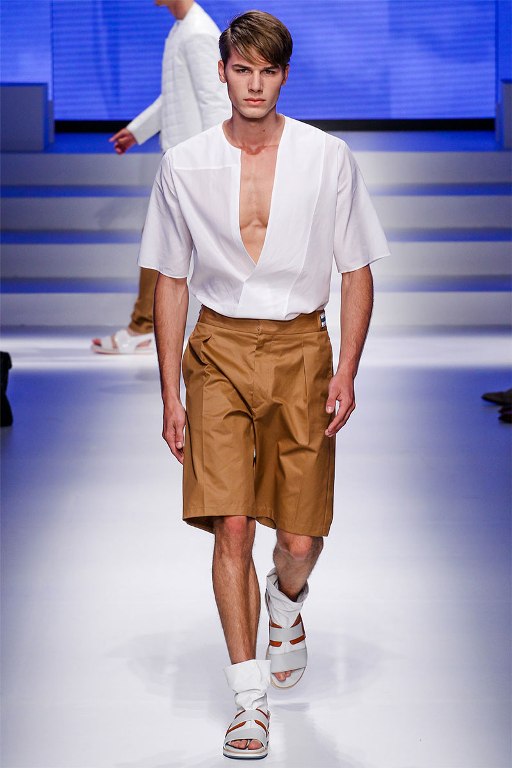 Salvatore Ferragamo spring/summer 2014
Also suggesting the influence of a utilitarian approach to fashion, fitted coats with pronounced patch pockets inspired by safari and hunting jackets will also be popular from the spring of 2014 onwards (in a clear attempt to follow on the footsteps of fashion brand Belstaff whose success relied, in large part, on developing such garments in a range of styles). Nevertheless, if the contemporary shapes of redesigned safari/hunter jackets will remain very close to their original versions, noble materials such as soft leathers and snake skins will replace rough cotton and imbue the pieces with a sense of luxury.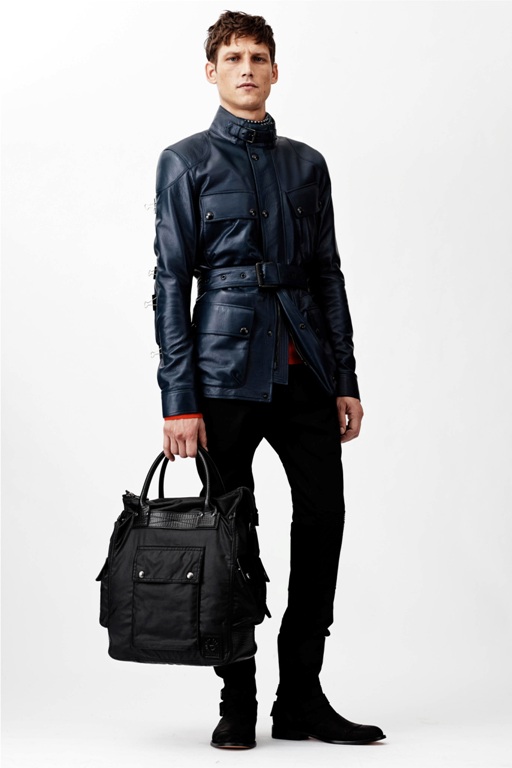 Belstaff spring/summer 2014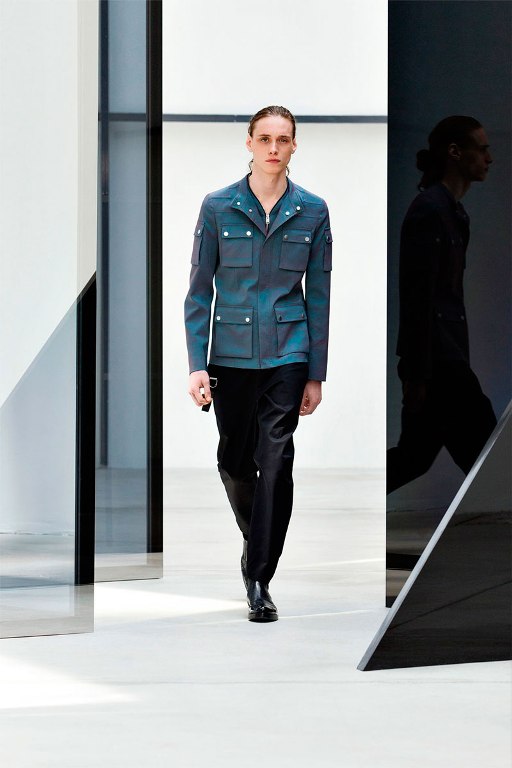 Balenciaga spring/summer 2014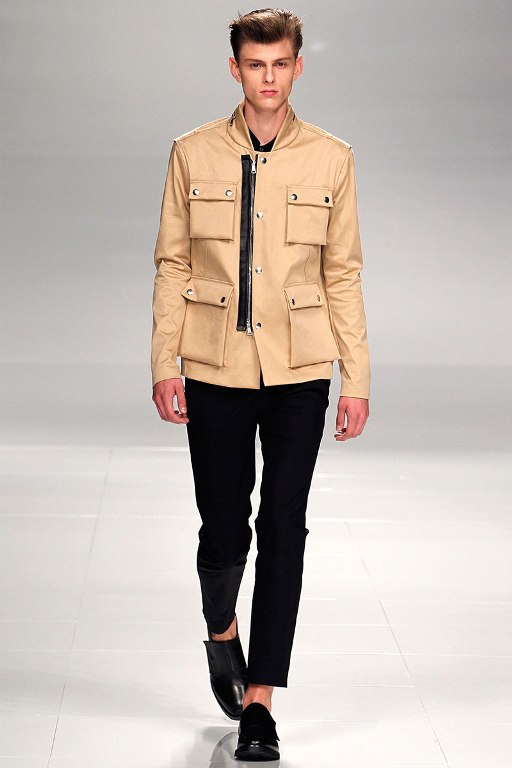 Iceberg spring/summer 2014
Such a shift in the paradigm of the source of fashion's creative influence from the exclusive to the populist is not entirely unexpected. For the last few years, and in tandem with the growth of social media (and particularly of personal websites as platforms to voice sartorial opinions and capture portrayals of street style), fashion and lifestyle brands have realised the power that former outsiders to their industry can have over thousands (or, in some cases, millions) of followers. In addition, designers and brands' shareholders are aware that consumers from relatively buoyant economies (namely in the Middle East and in the B.R.I.C. group of nations - i.e., Brazil, Russia, India and China) that have the power to purchase their creations are not necessarily familiar with a complex vocabulary of fashion to fully understand and speak the language of experimental design. By offering reinterpretations of sartorial manifestations that are already familiar to such consumers, brands address their needs while providing an education into the creative potential of fashion.
Ultimately, the realisation that fashion designers are seemingly following instead of leading the future direction of taste is a sign of the times with a positive corollary: by tapping into the Zeitgeist dictated by influencers and consumers in a very direct and immediate manner, designers and brands will have to face the challenge that is mastering public opinion in order to condition it. If fashion has always clamoured for an opportunity to be publicly acknowledged as an influential creative industry, embracing the style views and needs of its followers will certainly be a significant first step.
(All images courtesy of the respective designers)