"It was the best of times, it was the worst of times (...), we had everything before us, we had nothing before us"
Charles Dickens, A Tale of Two Cities
When, in late 2011, Brazil was announced as the sixth largest economy in the world, the country's creative industries started feeling that the long-awaited recognition of their talented work force could be more than just a dream. However, for a society that grew used to a pervasive state of crisis over decades, this burgeoning confidence soon gave way to sceptical anxiety and to a decline in optimism of which Brazilian fashion was not immune. Many fashion professionals who attended the latest edition of São Paulo Fashion Week in March 2013 interpreted the collections presented by Brazilian designers and brands as a representation of the challenging coexistence of the most creative of times and of the most commercial of times. However, Brazil's fashion industry is not alone in having to face this paradigmatic shift in the definition of fashion; over the last few years the concepts of 'fashion', 'clothing', 'haute couture' and 'ready to wear' have had their meanings eroded and blurred across the globe.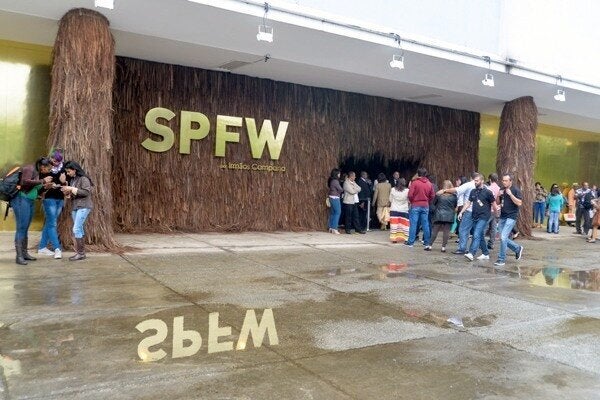 Exterior of Oscar Niemeyer's Bienal building, the venue for São Paulo Fashion Week
To understand the apparent anxiety that has recently afflicted the Brazilian fashion industry, one can start by looking at the speculative comments about São Paulo Fashion Week's financial situation. In spite of having swiftly acquired the reputation of being the fifth largest in the world after New York, London, Paris and Milan when it comes to business volume and influence, São Paulo Fashion Week's Spring/Summer 2014 edition was marked by the absence of a significant number of labels, including established fashion designers Gloria Coelho and her husband Reinaldo Lourenço. Insufficient financial support by the Brazilian government was often indicated as the culprit for the reduced schedule, even though the event managed to afford the grand Bienal building in the Ibirapuera park (designed by the late architect Oscar Niemeyer) as its venue and have the graphic identity conceived by the widely acclaimed Campana brothers; not to mention impressive facilities (including a vast press area) of dimensions and technological support not seen in other international fashion weeks.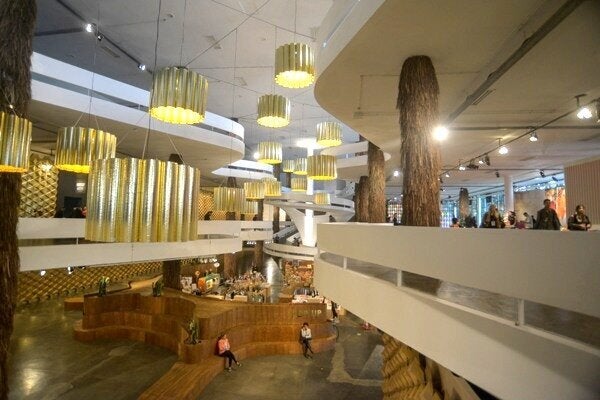 Interior of the Bienal building, designed by the Campana brothers
In addition, rumours that the Rouanet Law will be introduced from next season to finance São Paulo's fashion shows were greeted with suspicion and sharp criticism. The suitability of the conditions underpinning the Rouanet Law (a patronage scheme that has become the main mechanism for cultural financing in Brazil since its introduction in 1990 that allows a corporation to pay 4% of its owed income tax to finance cultural projects) was questioned by many people as not all designers would be eligible to apply and benefit from the funds. And those who would benefit from this income stream would have to deal with the undesirable consequence of having to open their shows to the public instead of keeping them restricted to invited audiences.
This polarised view of what was and is bad for Brazilian fashion and what would be good for its future was also evident in the discussions about the coexistence of fashion design and mass-scale clothes manufacturing and retailing within the context of São Paulo Fashion Week, a debate that only framed the topic within two very antithetical standpoints and did not attempt to see any benefits in combining aspects from both fields. The general perception was that, on the one hand, there were the large clothing manufacturers behind labels such as Cavalera, Ellus, Triton and Colcci (some of which sold in hundreds of stores in Brazil and abroad and responsible for moving billions of Reais every year) with populist collections that rehashed current youth trends in order to satisfy as large a number of consumers as possible; and on the other, designers with small businesses (and a reduced number of retailers and consumers) such as Alexandre Herchcovitch, João Pimenta, Tufi Duek, and Têca by Helo Rocha with collections that truly demonstrated an understanding of sartorial research and inventiveness. However, not many people stopped to ponder if the individuals providing the creative and business direction to each one of these labels would reject or welcome each other within the context of a fashion week.
Cavalera's runway show opened with singer Tony Tornado performing live against a colourful background at the entrance to the runway. Slowly, dancers took over the space by coming down the aisles of the seating areas and dancing around Tornado to songs that paid homage to the North-American TV programme Soul Train during its heyday in the early 1970s before taking to the runway. Under creative director Alberto Hiar, if Cavalera is definitely not about high fashion, it is certainly about high fun. The clothes did not pretend to show any creative nous; instead, they relied on traditional forms that stood out owing to colourful patchwork designs.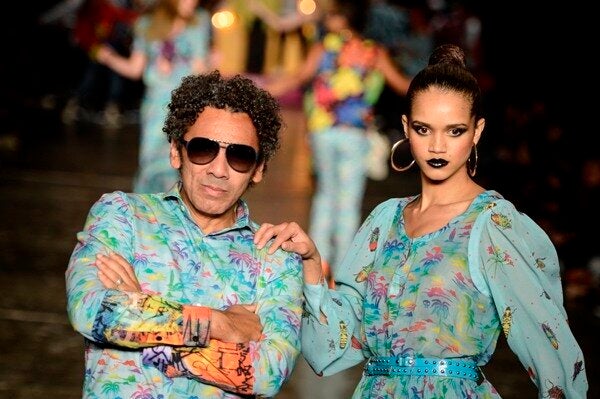 Cavalera Spring/Summer 2014
The direct influence of the 1970s was evident in Cavalera's womenswear looks in the form of long skirts and dresses with slits introduced to create movement, overalls, mini shorts, miniskirts and printed leggings with leather fringes. For men, Hiar proposed shirts with mixed prints and colour blocks, and shorts and T-shirts with bright prints. Fabrics included silk satin, silk georgette, cotton twill with elastain and denim in bright colours such as yellow, orange, red, pink, royal blue, purple and green combined with tones of coffee, sand, raw, ice, celestial blue and black, and prints inspired by 1970s' Africana, graphic florals, Op Art, urban graffiti, insects, hibiscuses and palm trees. But it was the most accomplished range of footwear (particularly for men) that stole the show.
For its women's and menswear collection, label Ellus proposed a passage to India fused with a rebellious motorcycle culture: abstract floral prints in either chiffon or highly textured and bejewelled fabrics and rough denim and in garments (such as biker jackets) where zippers and fastening straps abounded. Under the creative direction of Adriana Bozon, Ellus developed a successfully commercial range of clothing, footwear and accessories where denim, chamoix, metallic silk and organza, jacquards, raised cottons and perforated leather conjured images of exotic landscapes and youth culture.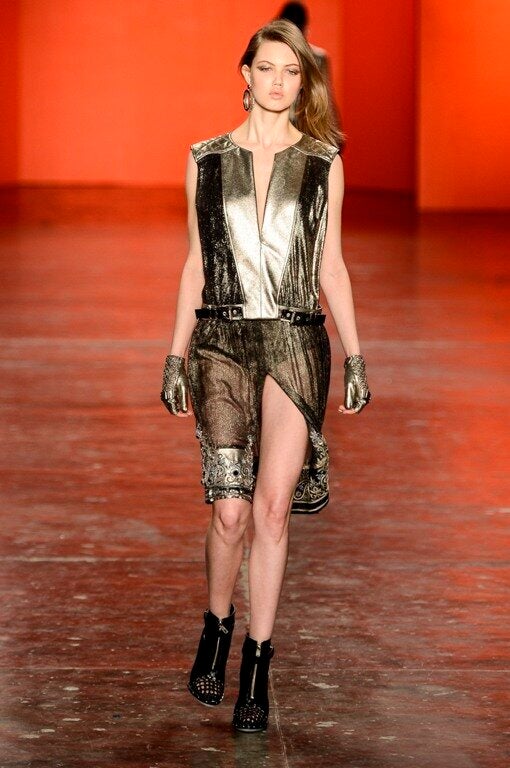 Lindsey Wixson on the runway for Ellus Spring/Summer 2014
Also influenced by the visual escapism that travel allows, this time inspired by a personal trip to San Francisco after being away from the Californian city for 12 years, for her collection for clothing brand Triton, fashion designer Karen Fuke delved into how the Flower Power of the late 1960s was reinterpreted by the subcultures of the 1990s and their visual experiences under the influence of drugs such as ecstasy and acid in the underground atmosphere of raves and house parties. In order to evoke this youthful spirit, Fuke's range of men's and womenswear resorted to light fabrics such as silk, tweed, organza and mousseline in bright colours, embroideries, neons and metallics, as well as tie-dye prints in garments where casual tailoring was key.
Owing to the fact that Triton belongs to AMC, the gigantic Brazilian conglomerate that also owns labels such as Colcci, Coca-Cola Clothing Line, Forum and Tufi Duek and produces nearly 3 million garments per year that are sold in thousands of stores across Latin America, Fuke must, without a doubt, feel some pressure when it comes to producing each new collection. Nevertheless, her Spring/Summer 2014 collection confirmed that she is a designer more than able to tread the very delicate line between bold creativity and conformist profitability.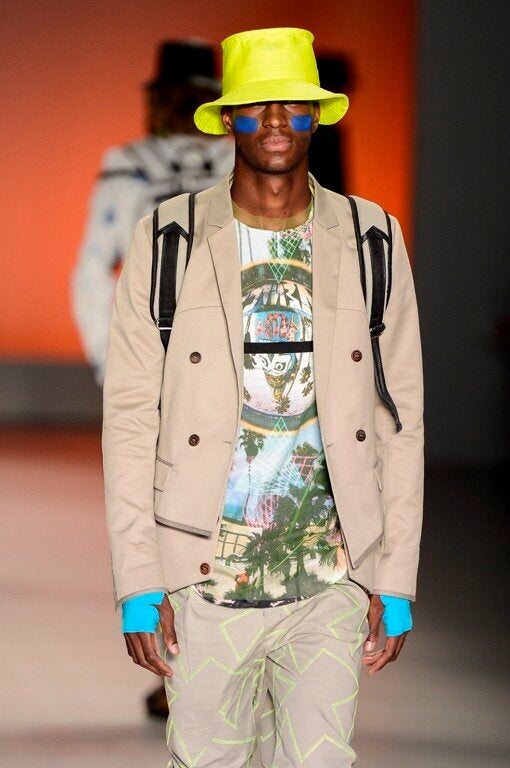 Triton Spring/Summer 2014
Under the creative direction provided by Adriana Zucco in womenswear and Jeziel Moraes in menswear, Colcci described the main inspiration for its collection as being a geometric garden (a design inspiration that, one may add, is currently at a level of popularity that closely matches the esteemed status it achieved in the 1960s, when it was last widely appreciated by both designers and consumers). However, the use of angular florals throughout Colcci's collection was not an entirely original trope as numerous fashion brands such as Prada, Jonathan Saunders, Stella McCartney and Burberry have all reworked these patterns in their recent collections. In addition, some of the shapes of the dresses reminded of recent Marc Jacob lines, perhaps confirming the influence that foreign brands have in Brazil.
Despite not adding much from a fashion viewpoint to the schedule of São Paulo Fashion Week, Colcci's youthful garments made from fabrics with mixed textures such as denim, cotton, tricoline, silk and leather in a predominant palette of white, black, green, yellow and blue (with stripes and Islamic patterns breaking the routine) came across as pleasant and will, no doubt, prove to be a hit with fashion editors and consumers alike.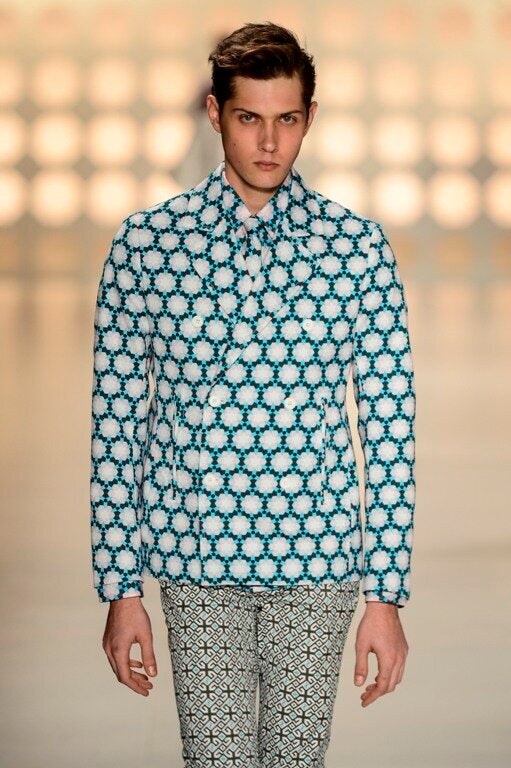 Colcci Spring/Summer 2014
In contrast to the labels hitherto mentioned, João Pimenta stood out as the only designer who produced a collection entirely devoted to menswear during São Paulo Fashion Week. In the Brazilian men's fashion arena, Pimenta is an unquestionably talented designer whose creative star shines brightly. This assertion is particularly accurate when considering that Brazil's collective menswear taste and consumption habits usually err on the conservative side. Although over the years his collections tended to have a strong conceptual inclination, for Spring/Summer 2014, Pimenta opted for a more commercial and wearable approach to men's fashion that, nevertheless, still allowed for a glimpse of his accomplished creativity and proficient command of men's tailoring techniques.
A seemingly conservative range of garments such as fitted shirts, three-piece suits, waist coats and trench coats was subverted in innovative ways by including short shorts, low-waist trousers with slim-fit cuts, and tailored jackets and suits featuring embroidered lapels; all made from utilitarian fabrics such as cotton, denim, satin and nylon in a palette of red, navy, black and white. In addition, classic menswear designs such as polka dots, pinstripes and herringbone patterns were cleverly reworked in the form of, respectively, irregularly placed navy dots on white shirts, coats that mixed striped fabrics with denim panels and epaulettes, and the angular designs and textures of leaves. Ultimately, and bearing in mind that Brazilian men might not be ready for his designs, with his last collection, João Pimenta was able to bravely push the boundaries of men's fashion through a very polished and desirable range of clothes.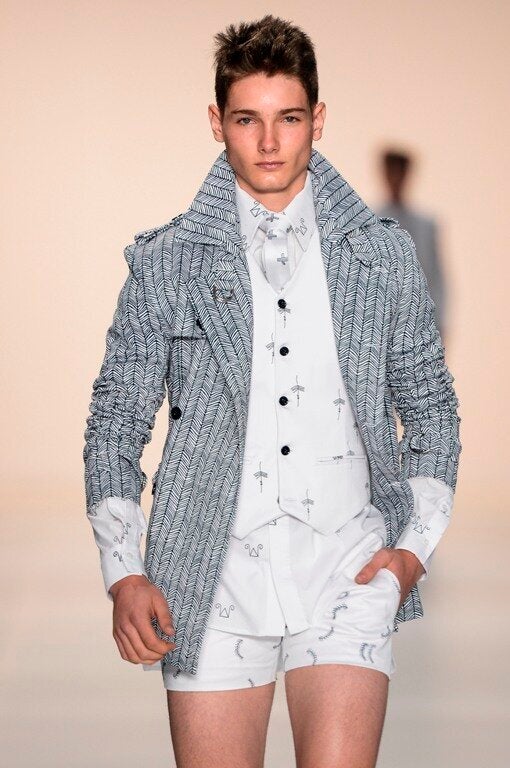 João Pimenta Spring/Summer 2014
Under the creative direction of Eduardo Pombal, Tufi Duek showed a consummate womenswear collection that confirmed Pombal's status as a master of resolute sartorial shapes and one of the most promising fashion talents in Brazil. Although the designer claimed that the collection was inspired by Pablo Picasso and the rigid geometric shapes of cubist art in shades of pink and blue purposefully selected to evoke the Spanish painter's prosperous and melancholic periods (which he discovered while visiting an exhibition), it was in the section of black dresses with fringed detailing (a trope that Pombal has explored with great success in previous collection) that the collection was at its strongest.
Seductive asymmetric lines abounded, particularly in a series of pleated dresses and skirts that engendered flattering silhouettes, sometimes with the addition of strategically positioned elongated slits in the front or back of one or both legs. Fringes in horizontal layers and in blocks that faded in ombré effects from white to black suggested an ethereal atmosphere for which Pombal is known. Summery touches came in deep V-neck lines, sleeveless dresses and sharp shoulders that accentuated the shapes of the female body.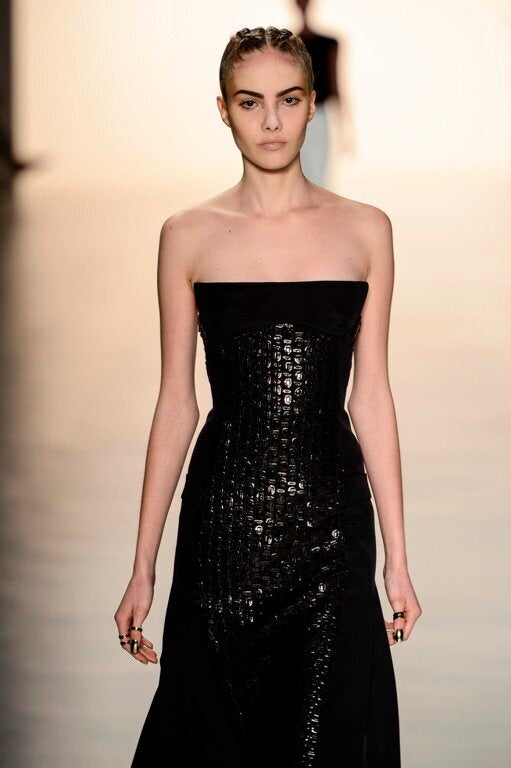 Tufi Duek Spring/Summer 2014
For the admirers of the work produced over the years by Brazilian fashion designer Alexandre Herchcovitch, the runway show that unveiled the Spring/Summer 2014 collection for his eponymous brand did not disappoint. This was yet another strong collection that confirmed Herchcovitch as a skilful designer whose highly structural garments reveal a dexterous and rigorous command of cutting and sewing techniques used in order to give material shapes to underpinning creative concepts.
In an interesting twist, Herchcovitch found inspiration for his Spring/Summer 2014 collection in his own Spring/Summer 1998 designs, namely the layering of bandages on the models' bodies to construct garments. However, it was noticeable that such processes had undergone a great deal of maturity and refinement by the time Herchcovitch decided to incorporate them into his latest fashion range, as the erstwhile physical layers and shapes of the bandages were metaphorically reinterpreted to create elaborate and sophisticated pinstripe patterns and zebra prints.
The collection (with 31 looks, 24 of which exclusively in black and white, with the remaining 7 in a luxurious shade of purple) featured noble fabrics such as leather, lace, crepe de chine and satin duchesse, and a striking zebra pattern made by minuscule white beads embroidered one by one to an underlay made from black leather. Furthermore, Herchcovitch highlighted the natural curves of the female body by resorting to skilled sewing methods to create flattering flowing and cocoon-like shapes in ruffles, sleeves or in the asymmetric hem lines of skirts and dresses.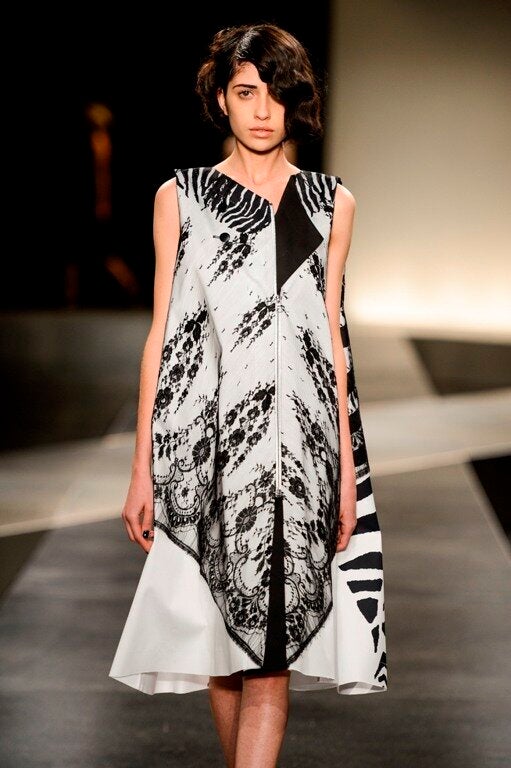 Alexandre Herchcovitch Spring/Summer 2014
Têca's Spring/Summer 2014 designs by Helô Rocha captivated the audience throughout the entire duration of the runway show that displayed a triumphant collection. The well-edited show was a veritable celebration of femininity through a range of stunning long dresses made from sheer, flowing fabrics with exquisite prints. Inspired by the rich details found in antique porcelain (namely in Chinese vases of different dynasties or in Portuguese tiles produced from the fifteenth century onwards) as well as Chinese artist Li Xiaofeng's garments made from broken porcelain, Têca's latest womenswear range featured intricate floral and Arabian motifs made from astonishing cutwork embroideries (such as Richelieu stitch) worked on, or applied to fabrics such as crepe de chine, georgette, silk and cotton in a palette where black, white and blue were dominant.
Similarly to what happened in Cavalera's runway show a couple of days before, Têca also resorted to a live music performance on the runway. Throughout the presentation, Roberta Sá's soothing voice contributed to reinforce a reverential and yet sophisticated atmosphere that was very appropriate to the collection.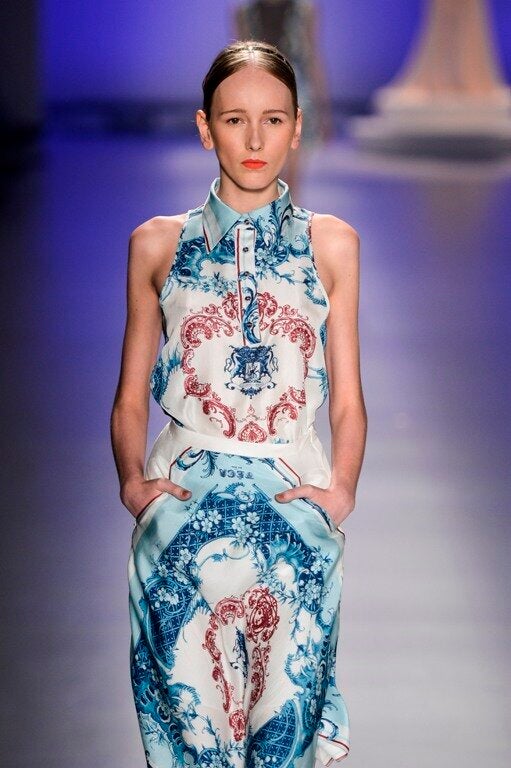 Têca by Helo Rocha Spring/Summer 2014
To those who criticise the combination of all aforementioned designers and brands in the calendar of São Paulo Fashion Week, it should be pointed out that this long-standing eclectic schedule format can, in fact, be regarded as pioneering and visionary when considering recent developments in other fashion weeks: in February 2013, British high-street brand River Island launched an inaugural range of clothes designed by singer Rihanna during London Fashion Week and, a few days later, Swedish clothing, footwear and accessories multinational H&M hosted its first fashion show during the official calendar of Paris Fashion Week. In addition, many fashion weeks recently established all over the world have adopted this model.
Despite the pervading criticism, the organisers behind São Paulo Fashion Week should be congratulated for, and feel proud of having produced a successful Spring/Summer 2014 showcase that confirmed Brazilian fashion's creative and commercial influence on the global arena. What they didn't know was that, while they were achieving their successful event, they were also narrating a tale of creativity and a tale of profitability in a unified voice that will resonate not only in Brazil but all over the world.
All photographs courtesy of Fashion Forward (www.ffw.com.br)