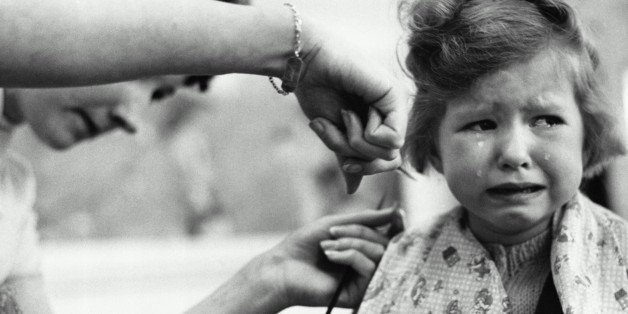 Hulton Archive via Getty Images
We've all been there. You need a haircut but you're not going to your tried and tested stylist. You're feeling devil-may-care adventurous, downright lazy, they're not available or you're just out of town. And you really fancy, nay need, some kind of trim that can't wait 'til your favourite follicle botherer can be booked.
Either way, you take a massive leap of faith and entrust your crowning glory with someone who has never brandished a pair of scissors in your general direction before.
And now, 30 minutes to an hour of talking about holidays and pretending you've got no arms under the protective smock, your smiling assassin has lain down their weapons whilst you're sat helpless on a wipe-clean, height-adjustable chair.
Your reflection in the mirror bears grimacing witness to your new but truly awful hairstyle, the exact opposite of what you asked for. Welcome to the realm of the 'marecut' my friends (nightmare haircut, geddit?). An hirsute abomination of your very worst dreams, a hairy horror that style didn't just forget, but Google would happily erase all trace of with nairy a court order. But you are just about to pay shedloads for the privilege.
This happened to me at the weekend. I've spent every moment since trying to see the good points, but no - I might as well stick a paper bag on my head or else just cut it right off. When I gaped in horror at the end of Saturday's mop murder, the stylist sussed my unhappiness, laughed and shrugged: "Ah well, curly hair is tricky, but it might start looking okay in a week."
What could I do? I couldn't refuse to pay as after all she HAD cut my hair. It's not like you'd refuse to pay a plumber if you don't like the way they fix your leaky tap. It might not be pretty, but job done, eh?
I had entrusted my limited locks to a local beauty salon I rate, as I've had major spinal surgery and can't go far from my flat. I said: "Literally just take the ends off, by ooh, a centimetre, max. Doesn't need cutting really, just a tidy". That apparently was translated by the non-stop chatting Aussie stylist to: "Scalp me, I want to look like Servalan from Blake's Seven." Cue tress slaughter.
Now with my hideously short, nowhere-to-hide crop, I hardly want to leave the house. Luckily, I can't really because of the surgery (yeah, probably more of a major blog topic but far less funny I feel).
I digress, but it seems that over the past few years, no hairdresser (apart from my usual, the miraculous Angela Morgan of Toppers in Hackney, currently on maternity leave) listens to a word I say when they ask me what I want.
I've had short hair all my life - it won't grow in a seemly manner - and that means precision is of the essence: one false move and too many milimetres snipped, and I can look like a star of cult Eighties TV show Prisoner Cell Block H.
A pixie cut is okay if you're blessed with the beauty and bone structure of a Nothing Compares 2U era Sinead O'Connor, but I don't. And anyway, I imagine even if you have lusciously long locks, it can be just as painful to be landed with a haircut you hate.
As much as it saves money this way (ie it will be at least another eight weeks before I need a cut rather than six) it's painful to look in the mirror at the moment (and I struggle to like what I see at the best of times being the polar opposite of vain - I need all the help I can get, so a decent haircut is vital).
And it's not the first time this has happened this year either. With my usual crimper on maternity, I thought I'd treat myself and spent a FORTUNE going to a highly-rated, globally known holistic hair and beauty spa in the capital, as they promised expert hair cutting, head massages, scent rituals and all kinds of bobbins.
I forked out 70 quid for the pleasure - and I might as well have had a workie let loose with some pinking shears and a skeleton key to the Body Shop's reject essential oils cupboard.
What's even worse is that I know if anyone else sees my hair when I've had a bad do, they'll probably wonder why I have the right arse and say it 'looks okay'.
As my friend Sarah concurs, the land of the marecut is a lonely place indeed. NO ONE ELSE SEES OR FEELS YOUR AGONY.
But it's not okay. It's awful. And it'll be at least two weeks before I'll be happy to go bare-headed in public. I know I should be grateful to even have hair etc, but this is not the issue here...
So what can we do to combat this pernicious menace of the mane? Are there any fringe benefits to this admitted hilariously first world problem?
Nope. I'll just have to wait for Ange to come back from maternity leave. And at least I can legitimately wear a hat. In summer. And conversely, that will make me so much cooler until it grows back...