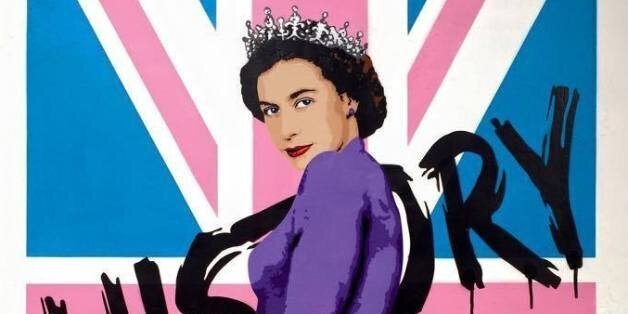 Whatever your thoughts on the monarchy - staunch royalist or get-rid-of-them republican - the fact remains that the Queen is an iconic part of British culture. She's arguably one of our most famous ever celebrities, albeit a sometimes divisive one.
On Wednesday, 9 September, Her Majesty Queen Elizabeth II becomes the longest-serving monarch in British history, overtaking her great-great-grandmother, Queen Victoria. She will have ruled for more than 63 years and 216 days.
So I was chuffed to see that my favourite London-based street artist Pegasus has portrayed Her Maj on the streets of the capital as you've never seen her before.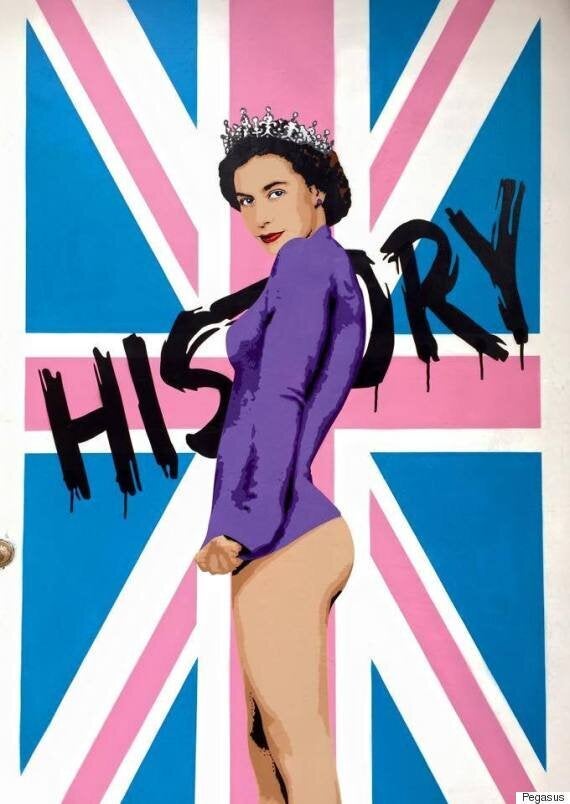 The Pegasus portrait of Queen Elizabeth celebrating her record reign
Painted wearing a purple top with matching stilettos complete with tiara, but with her bum out against a backdrop of a Union Jack and the word 'HISTORY', the stencil-style piece appeared on the side of the Winchester pub in Islington, London, N1, on Wednesday.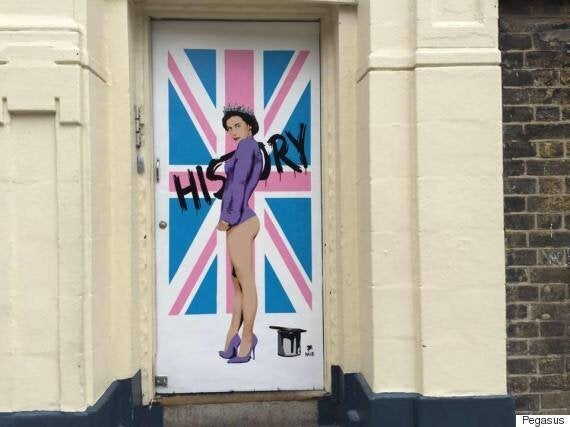 Her Majesty in situ on the side of the Winchester in London's Islington
When I contacted Pegasus via Facebook after seeing it, the artist told me he had wanted to mark the momentous moment of the Queen's record-breaking reign in his trademark way and was inspired by a Miley Cyrus shoot that channeled the legendary Marilyn Monroe. He also added that he never paints on a site without prior permission from the property owner, so the pub landlord clearly fancied a cheeky bit of Liz too.
It's not the first time that Pegasus has chosen the British royal family for his stylish urban art either.
Previous pieces have seen him paint the Queen in Betty Grable's famous 1940s pin-up poster pose, but wearing a Union Jack bathing suit, the Duchess of Cambridge as the Virgin Mary with babe in arms and Prince Harry in his birthday suit.
This latest portrayal from Pegasus is a brilliant bit of art that brings to mind the legendary Jamie Reid's cover for the Sex Pistols' single God Save The Queen, where instead of flashing her behind, she has a safety pin through her nose.
They both give a refreshing alternative to the staid, old-fashioned royal portraits which still get commissioned to this day, as well as poking a bit of fun at the Establishment. Thankfully nowadays, neither artist would be tried for treason and confined to the Tower of London - or lose their heads.
It also a reminder of how beautiful the Queen was - and she ain't so bad nowadays either when you consider she's an admirable 90 years old next April.
I love how street art from the likes of Pegasus can start a conversation, bring a smile, maybe make a satirical point, but more importantly, remind us that art can enrich lives on all levels of society.
Banksy's Dismaland might have taken street art into the mainstream and onto the frontpage, but sometimes, that still being painted on the nation's walls and doors and brightening up sometimes the most bleak of urban areas is often the most immediate and vital art of all.
God save the Queen - and the kings and queens of street art....