I'm lying flat on my back in agony coming round after a major operation, staring at the ceiling in a spinal unit, wishing it was a scant three months ago when I was happily gazing into the bluest cloud-free sky.
I'm trying to practice a meditation/hypnotherapy technique I learned a few years back to stop myself panicking and hopefully avoid another dose of ketamine on top of the morphine and tramadol I've already been pumped with.
It involves visualising yourself in your 'happy place'. You scan the horizon and take in this location you have committed to memory, before you then walk slowly down 10 steps to the exact spot where you wish to take in the wonderful sights and sounds.
You imagine yourself lying there in the warm sun, perhaps being caressed by a cool breeze with the sound of water lapping nearby, then try and relax...
I imagined being there in October, when I was lounging by the pristine pool as an eagle circled overhead and I looked across at one of the most beautiful seaviews I've ever seen as mountains towered behind me.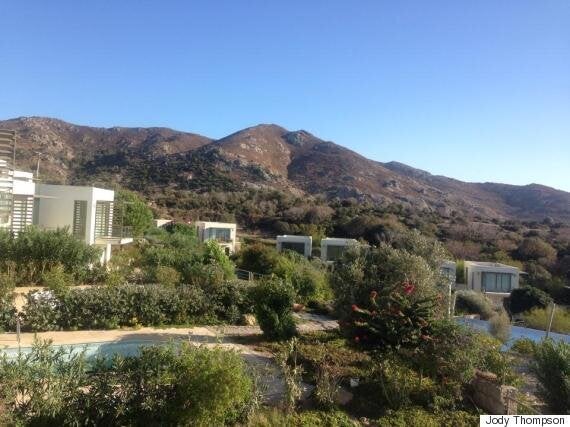 Villa Penelope is one of some 30 villas at Aegean Hills, a stunning boutique hillside development on the Bodrum Peninsula, where I was staying with my oldest best friend Rach, as well as our friends Jonathan and Graham. You could easily have six people staying there though.
Owned by my good friends Gav and Helena, they'd suggested I stay at VP for a week to help me recuperate from the first major spinal operation I'd had last summer. Recovery was slow and they were right - dragging my friends along for a week out there was just the fillip I needed.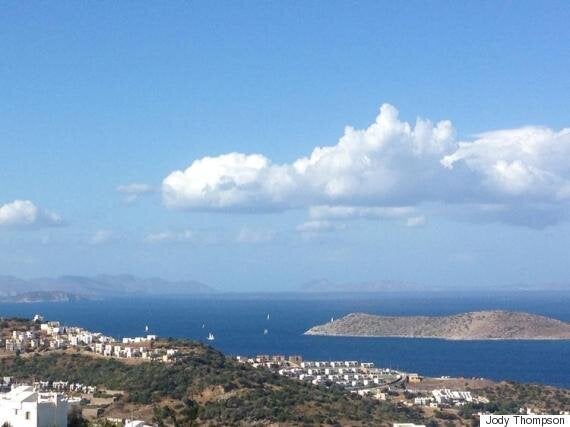 After a ridiculously early three-hour EasyJet flight from Gatwick to Bodrum, it took just 45 minutes in a cab from the airport (it's 58km away) to arrive. Bags dumped at the villa, we excitedly got a cab to the nearest superstore down the hill to stock up on a week's food and booze (a lot). We could have hired a car, which is what most people do, as you do need transport as it's not really walking distance to anywhere. However, Villa Penelope's amazing concierge Ozer and his team will sort out cabs and hire cars for you even before you arrive, whichever you prefer.
The benefits of not being near anywhere however is that Aegean Hills is so beautifully remote and peaceful.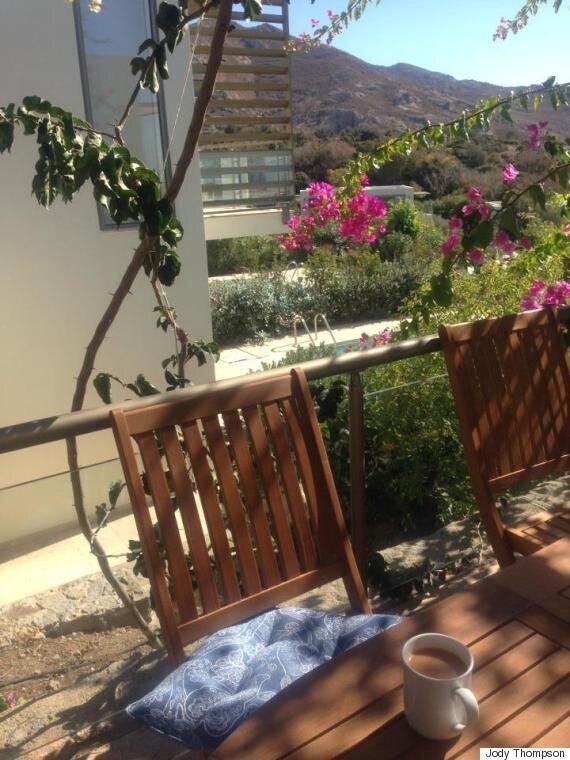 Whether you're sat on the bougainvillea-swathed terrace at the side of the villa, the balcony at the back overlooking the sea or down by the pool, the quiet is palpable.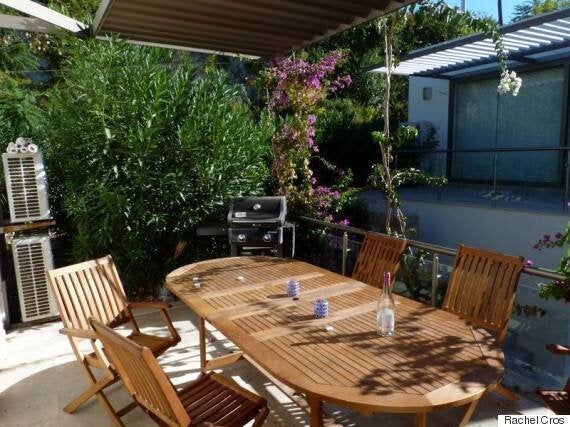 You don't need to move either, once you've got your supplies (and you can order your basics to be delivered in advance when you book). Villa Penelope has everything you need, clean bedding and plenty of towels both for the bath and the pool.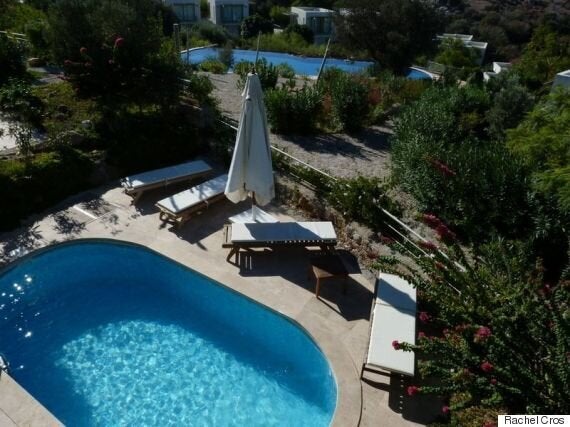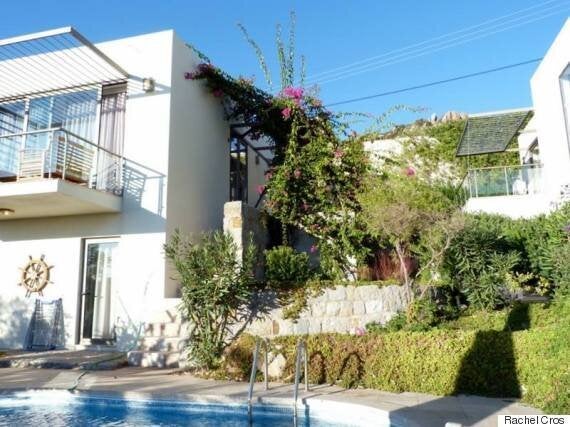 There's also a very handy washing machine, as well as a dishwasher, air con and well-equipped kitchen, and importantly on any rainy days (we had a couple), a DVD player and plenty of DVDs. There's wifi throughout (we played a lot of Evil Apples - the online version of Cards Against Humanity, because we are bad people) and staff are there at the end of the phone anytime of day to answer your queries, arrange a hire car or book you a cab or airport transfer. In season, there's also a shuttle bus to take you off the complex to nearby towns. Oh and a golf buggy to get you round the complex if you're a cripple like me...
And indeed, when we didn't lounge on the sundrenched terrace, hang around our own charming private pool (or the huuuuuge shared infinity pool for the complex) or cook at home on the barbecue, we ventured out. Yakilavak, a charming fishing village which is now home to a swanky new marina, is a must and just 5km away.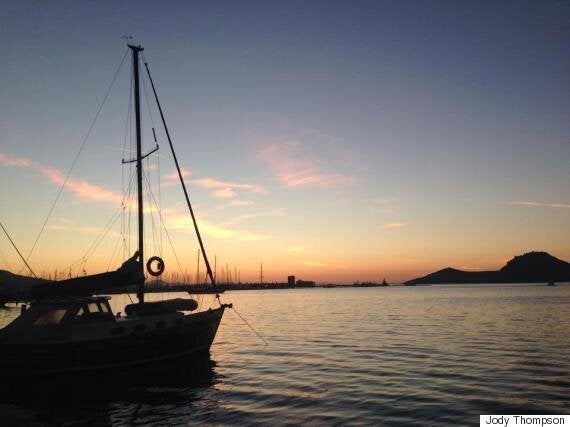 The state-of-the-art Palmarina is really fancy and rather bling, though very tastefully done. Basically, it was built to become a magnet for the superrich sailing set, who weren't well served in the area before but now flock there. But it's not really my thing after a bit of eye-popping boat spotting. There are some posh designer stores, nice places to eat and drink and watch the monied yachtie sorts go by, but we much preferred eating at trad Turkish restaurants in the gorgeous old town and wandering the charming streets after. Our best night was spent being entertained by Turkish fishermen moored up yards from our dinner table, who sang and played traditional instruments on their boat (and got drunker and drunker) to celebrate their catch that day.
Otherwise, the tourist trap of Bodrum is only 40 minutes drive away on the other side of the peninsula. I almost bought a knock off handbag, I got into the spirit of things so much. Even without the shonky designer attractions, the castle and a walk by the harbor are a lovely way to work up an appetite for the myriad fish restaurants ringing the harbor. We ate at one that claimed to be the oldest, but a quick Google after showed about 10 are arguing the toss.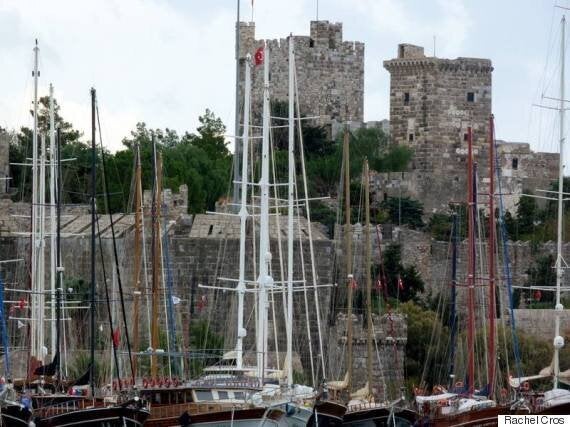 Even closer is the beautiful fishing village of Gumusluk, which has a lovely stretch of shoreside restaurants, a local craft markets and more cats than I've ever seen in one place. We had a lovely evening dodging the rain and chucking leftovers to plaintive pusses.
Oh and just a kilometer away is the wonderful local restaurant Zeytin Ali, for the most amazing Turkish food. Go for the octopus. It's insane. They even barbecue the bread too. Just delicious.
But the best thing about my week-long recuperation at Villa Penelope? Every day at sundown. We'd get our gin and tonics sorted, picking the lemons from the trees in the gardens, and sit on the back terrace and watch the most incredible sunsets I think I've ever witnessed.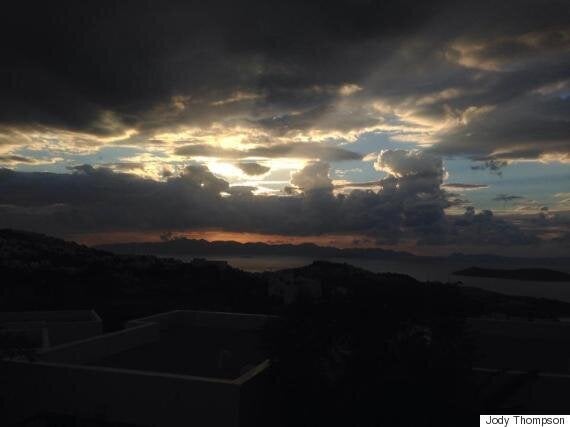 Truly a sight to remember whenever I'm trying to pick my happy place again in times of stress - and start planning my next trip there...
Villa Penelope sleeps six in three double bedrooms with two bathrooms, from £120 a night.
Bookings at Villa Penelope taken between 1 April - 31 Oct with the busiest summer season being 1 June - 31 August.
For availability, email concierge manager ozer@apadturkey.com
Our EasyJet return flights were £233 pounds sterling each including seat reservations (so Rach and I could sit together), baggage allowance and taxes, flying from Gatwick into Bodrum.
All images Jody Thompson and Rachel Cros