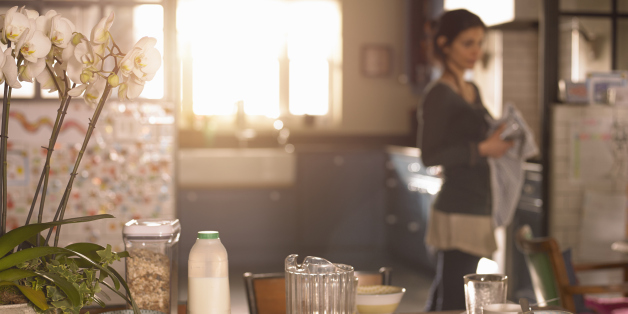 Gary Burchell via Getty Images
There's nothing like a spotless place. However, cleaning your house may sometimes feel like an overwhelming amount of work. So we usually ignore and avoid it until it becomes more and more daunting. Eventually the house is a mess and you end up cleaning it Cinderella-style whilst wishing you'll never let it get to that point ever gain. Yet, you let yourself do the same mistake over and over again. Not anymore!
With this ultimate guide to cleaning your house with minimal effort, your home will always be spotless without crazy and painfully long cleaning sessions, and without any house cleaning services. If you follow these quick steps and cleaning hacks by their order, you'll be an expert in no time. What before felt like a boring, hard task, will become just another quick, simple thing to do in your daily routine. Start with our tips today and you'll feel the change in no time!
1. Basket Speed Clean Technique
This technique is helpful to clear your surfaces. Start by grouping any tabletop clutter and loose items into baskets. Go through every room, one at the time, and make quick judgments about what's useful and what's not. Don't put too much thinking into that: if something isn't in its intended place, toss it into the basket. It will take you around 5 minutes.
After you're done, go through each basket and put each item where they belong. Unless you have an accumulation problem, your baskets should never get too full or out of hand if you do this process on a daily basis. It's not that hard!
2. Clean Surfaces
You should really follow this guide step-by-step. It's not practical try to wipe down surfaces when they still have items on them. You may think that wipe down the paths around each object is enough, but you just end up with outlines of dust and particles surrounding the objects.
After you're done with the basket-cleared in all rooms, wipe them down with a wet towel. If you do this on a daily basis it will take mere seconds to do it. It's an easy, quick step and it's the beginning towards make your place sparkling. On top of this, it prevents buildup of dust, food crumbs, hair and beverage rings.
3. Vacuum and/or Sweep
Vacuuming it magical. It works like a Band-Aid fix. Eve if you've done nothing else, after vacuuming your place, your house will look spotless! However, never do the mistake of vacuuming before you've wiped down the surface. Crumbs and particles will fall to the floor while you're cleaning.
4. Empty Every Trash Can
There is no emptying your trash cans to often. It's a quick task to do and will make your place a cleaner-looking home. A visibly empty trash can psychologically make things seem cleaner, especially in the bathroom.
5. Make Your Bed Every Morning
It's not just something your mother bothered you with. Making your bed everyday will make your house seems cleaner. Plus, it will motivate and set the tone for the rest of the cleaning, leading you to not wanting your house in a messy status.
6. Fluff Every Pillow
Fluffing every pillow in your house will give a fresh hotel room effect. It's the laziest, easiest cheat in this entire guide.
7. Hide Dirty Clothes
Rooms look less clean when they have piles of hamper in sight. That's ok if you only do laundry once a week, but put the piles of dirty clothes hidden in a closet, or somewhere where you and others can't see them.
8. Get Some Fresh Flowers
It's not a traditional cleaning tip but after you've followed every step of the guide, treat your home and yourself with a new fresh bouquet of flowers.
Even if you only apply one or a couple of these quick steps, you'll place will look a lot better and cleaner. Give it a try and enjoy the feeling of a nice and organized home!