Connaire and I met around 7 years ago at a music group based in North Glasgow called BeatRoute, the group is a place where kids can go to learn instruments and start bands. We had mutual friends but we were never really close but we ended up meeting at a party in 2012, after talking for a while we realised we had a lot of the same ideas when it came to song writing / production so we decided to book out a rehearsal room in Glasgow for a week to see if we could come up with anything good. We ended up writing some great songs, we still play a few of them now. We decided to take it further by giving what we were doing a name, we thought 'Baby Strange' had a good ring to it.
We recorded a rough demo in my bedroom called 'Get By Me' and put it online, within a few weeks it seemed like people were really starting to pay attention to what we were doing, we found this very weird as in our eyes we weren't really a band, we had never played or even thought about doing a gig but it was just this project we were trying as we had nothing else going on back then. We loved the songs we were writing but we didn't know if the public would so it was a pleasant surprise when people wanted to hear more. We wrote more songs, enough to have a full live set and we asked Connaire's brother Aidan (who was 16 and still at school) to play bass for us, he said yes and we booked our first gig.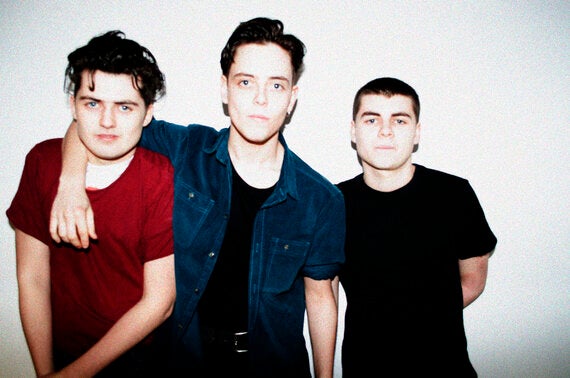 Since then we have toured and played shows with bands such as The Vaccines, Iceage, Palma Violets, Swim Deep & Merchandise as well as having a lot support from NME and Radio 1.
We're very hands on when it comes to recording our music, making the videos and doing artwork. We really enjoy doing that stuff, we get a buzz from making posters etc.
We started recording our debut album at the start of 2014, we are recording it with Thomas McNeice in Glasgow and we're over half way through it, it sounds just as I imagined it would. We have only recorded with one person before, his name is Davey McAulay, he recorded 'Friend' with us. It's great to be in a studio on a weekly basis, we were getting too used to recording loud demos in my bedroom. The album will be out next year. We are having a break from recording to go on our first ever UK headline tour in June, we can't wait for it as we've only really done supports apart from the odd headline gig in London or Glasgow. Maybe we'll see you there...
Popular in the Community