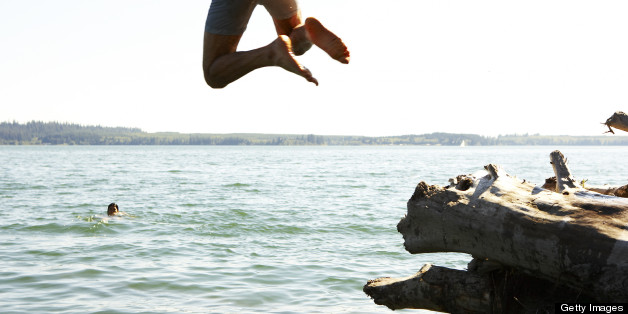 Getty Images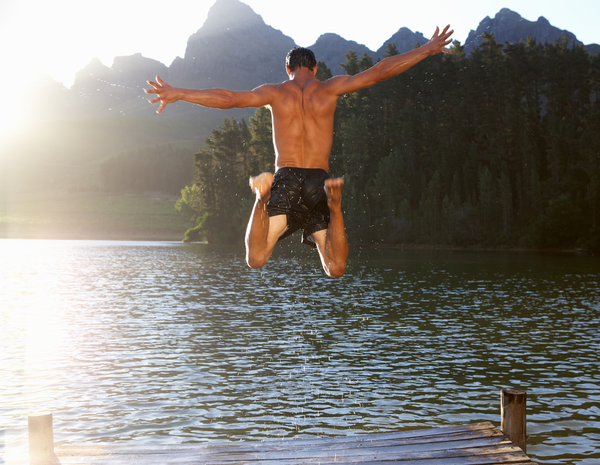 There's a big wedding anniversary on the horizon and I'm in charge of festivities. The wife wants to celebrate the big 10 by doing "something unusual". I can only hope we're on the same wavelength, as I've spent the last few weeks knocking about on the internet looking for wetsuits and picturesque pools in to which we shall be submerged.
I'm not talking about communal baptism - not this time, at least. No, my curiosity has been piqued by the growing media interest in wild swimming. Tantalising books abound, particularly those published by Daniel Start and Punk Publishing (the brains behind the very informative Wild Swimming website and its accompanying app), and lists of Britain's best wild swimming spots can be found on most major news sites. It didn't take much self-persuasion: this May, I shall be packing our things in a waterproof inflatable and pitching my beloved from the bridge of somewhere suitably beautiful.
I can hear her principle protest already, but I have my counter argument pre-prepped in advance. She'll talk passionately about nudity (which, frankly, I wish she'd do more often). Wild swimming, as it appears in the broadsheets, commonly turns up accompanied by a picture of a spread-eagled, naked nerk launching himself from a sun-dappled river bank - a glorious depiction of freedom, in many people's eyes, but a guaranteed shocker to my rather more modest wife.
Hence the wet suits - a good idea on a number of levels. Those that take their wild swimming particularly seriously would argue that a wet suit means you're not doing it right; that you need to feel the biting cold on your skin in order to receive the full endorphin-induced benefits. Obviously, we're not quite at that stage yet. Not only would the wife feel uncomfortable spread-eagled and nude as she floats beneath Lechlade bridge, she wouldn't last five minutes against the late-Spring chill. So wet suits are allowed. My reasoning is this: if Roger Deakin, the godfather of the wild swimming movement, swam in his own bespoke body sock, why shouldn't we?
It is Deakin's book, Waterlog, that seems to have turned many of the country's most passionate wild swimmers on to their sport. This isn't surprising - allow yourself a brief dip into the first pages and you'll find yourself sucked in. The water's lovely, and so is the writing - a lyrical and inspiring depiction of the author's attempt to swim the length of the UK, coursing along the public (and sometimes not so public) waterways that run from the Scillies to the Hebrides. At the time of its publication, the critics were unanimous in their praise, one going so far as to say that never had a subject and author appeared so well suited to one another. I can think of no greater tribute.
It's the idea of traveling at the bidding of the river that appeals most. It would be easy to head for the beauty spots on Skye, guarantee a bit of warmth by flying to Antalya, Turkey, or perhaps take in the Mediterranean climes off the Bodrum coast - all popular destinations with the growing community of wild swimmers. But it's the rolling scenery that appeals to me; the curl of the river as it beckons you onward to places unknown.
Few rivers in the UK offer as great a distance and variation as the Thames itself: beginning near its source in Oxfordshire, you can splash along for a good 150 miles before reaching the murky waters that lap at the capital. But that's for the David Walliamses of this world. Starting in Lechlade, Oxfordshire, I don't expect to get much further than Kelmscott, some two or three miles downstream, with a well-earned stopover at the Trout Inn planned en route.
The question now is whether wild water and romance mix comfortably. The inevitable chafing and mild hypothermia aside, I suspect that they are, especially in our case. Our 10 years together have been characterised by a sense of adventure and exploration, bouncing between the Middle East, the Far East and East of Andover. With the sun on our wetsuits and old Father Thames as our ride, this will be the beginning of a new journey for the two of us - a watery wash of memories to come. That the wife cannot swim yet is neither here nor there.