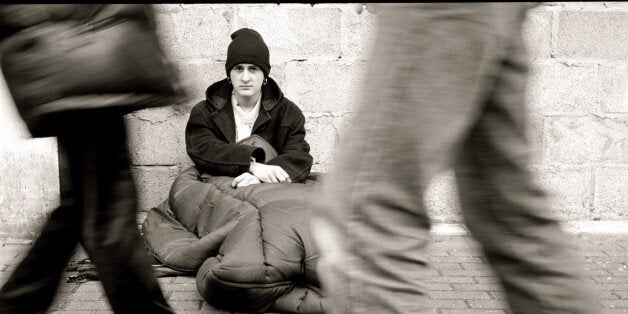 It's a sobering stat to read any day of the year. But, with families and friends beginning to gather together for the festivities, it seems to resonate that little bit more over the Christmas period.
Like many businesses, we have an ongoing commitment to give back to the community. This year, we felt that turning our attention to those most in need during the cold winter months was the right thing to do.
This led us to launch our biggest ever Christmas charity campaign - Pass It On. The idea was to collect donations of winter clothes from our staff to provide people sleeping rough across the country with essential warmth. The response from our team has been incredible.
Over the last few months, staff and customers from Pass My Parcel and our sister brands Smiths News and Jack's Beans have collected 5,000 items of clothing, from jumpers to coats, fleeces and trousers. They've also donated 1,000 space blankets, 250 sleeping bags, and a variety of hygiene products. Not forgetting our canine friends, our supporters have also given dog food to ensure they're included in the campaign and using our distribution network, we've been able to easily move the items around England to where teams have been on hand to give them out.
As well as warm clothing, people drinking Jack's Bean's coffee have been donating to the campaign with every cup sold. We'll also be handing out warm drinks and snacks in each of the 16 towns and cities we visit.
Obviously, homelessness affects people in every city and town across the UK and often goes unnoticed by the communities around them. That's why businesses - with huge networks and resources at their disposal - have a duty to contribute in any way they can, empowering their staff to become involved with a worthwhile cause and shining a light on a topic many would rather shy away from.
Looking at our own networks helped us to decide where we would be best able to provide this support. For example Oxford, Manchester, Birmingham, London, Leicester and Swindon are all cities that we understand particularly well since we already deliver newspapers, magazines and parcels there on a daily basis and have retailers selling coffee. It's in cities like these where we have knowledge of the communities and the organisations that we can work with to make sure that we make the best possible impact.
Personally, I've been extremely humbled by the support shown from our staff and indeed our business partners. Their passion and commitment has never been in doubt - it's the reason that we distribute the national press and parcels come rain, shine or snow - however, their response in supporting this charitable campaign has been nothing short of magnificent.
Having spent a couple of evenings on the road with local organisations and their volunteers, I've been taken aback by the tremendous work they carry out in the community. Often unsung and under resourced, it's these people who continually make a positive difference, not only at Christmas, but also throughout the whole year.
The campaign has been running this month and we're really looking forward to seeing how well it's received. The feedback so far, just a few days into the 'giving out' element of the project, has been overwhelmingly positive. So much so, we already have plans in place to repeat Pass It On in 2017.
Popular in the Community