Many people ask me just how engaged HRH The Prince of Wales really is in Mosaic's work. My answer is always the same - very! I have the very real privilege to be able to hear directly from The Prince about his aspirations for Mosaic.
But you don't have to take my word for it! Now you can watch a new five-minute message from Mosaic's founder HRH The Prince of Wales recorded at St James's Palace, in which he speaks so passionately in support of our work:
HRH The Prince of Wales founded Mosaic in 2007 with the intention, in his own words, of helping young people realise their talents and potential. He was concerned that too many were leaving education lacking the skills that they need to forge successful careers as adults, with these problems being particularly acute in areas of high deprivation.
This determination to improve the lives of the most vulnerable and disadvantaged in our society has been Mosaic's guiding principle ever since. I too share HRH's joy that since our foundation we've grown, strengthened and diversified to extend our reach to an ever-increasing number of schools and prisons as well as internationally.
What we're doing is working. Last year we helped more than 6,700 young people across five regions and 79% of these beneficiaries were drawn from the 20% most deprived areas of the UK.
I also share the HRH's desire to thank the many, many people that make Mosaic what it is and are fundamental to our continued growth and effectiveness.
As Managing Director, I do my very best to ensure that the spirit in which Mosaic was founded is inherent in all that we do and I thank HRH for his faultless and unwavering support. It was a pleasure to spend some time with him in September this year as he visited HMP Leeds to see first-hand the work Mosaic is doing with offenders to ensure their successful reintegration into society.
However, there's one point in the year that gives me particular satisfaction - the publication of our annual report. It may lack the glitz of some our more high profile events, but it serves as a detailed affirmation that the tireless work being carried out by the entire Mosaic team is having significant benefits for people in the UK and in a growing number of countries around the world.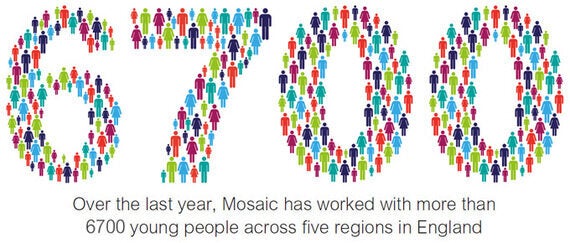 • The Mosaic Enterprise Challenge, our national competition which enables school teams to learn about business and entrepreneurship, saw some 4,000 young people compete and Skinners' Academy from Hackney rise to the top!
• In primary schools, our pioneering programme, which is targeted at supporting girls and their mothers (but has now been piloted and expanded to include boys and their fathers), continues to grow. In 2014/15 we worked in 63 schools with over 1,344 participants and 320 mentors
• In secondary schools, our group mentoring programme enables teenagers to develop confidence, self-efficacy and employability skills. In the last year it supported 1,340 young people in 65 schools across England
• Our intense 1:1 mentoring programme to support young offenders as they come to the end of their custodial sentence and successfully return to the community has have enabled 67 mentoring relationships to take place across the country
• 72 delegates from The International Leadership programme, a year-long development scheme for talented young leaders across the world, convened in Jordan for the opening two-week Summit
• The International Enterprise Challenge reached over 2,100 young people across both Qatar and Jordan delivering suitably-tailored versions of our schools competition to promote entrepreneurship and business skills
As you can see we've been very busy. But none of this would have been possible without the generous support of a large number of organisations, companies and individuals who've funded our work, our inspirational Advisory Board and Regional Leadership Groups, the brilliant Mosaic team and, of course, the tireless team of mentors who give up their time to make such a difference to the lives of those whom we support.
The message from HRH The Prince of Wales is a fitting conclusion to what's been our most successful year to date and has given us yet more motivation to ensure that 2016 will be even better.