Blog 1: Dressing for Antarctica
On the 100th anniversary of Shackleton's famous Endurance expedition, British writer Jonathan Thompson and photographer Mark Chilvers head down to Antarctica to discover the Great White Continent for themselves.
Shackleton: dressed for his daring mission to Antarctica in expedition kit provided by Jaeger. Photo by Frank Hurley/Royal Geographic Society
"Men wanted for hazardous journey," read the newspaper advertisement. "Low wages, bitter cold, long hours of complete darkness. Safe return doubtful.
Honour and recognition in event of success."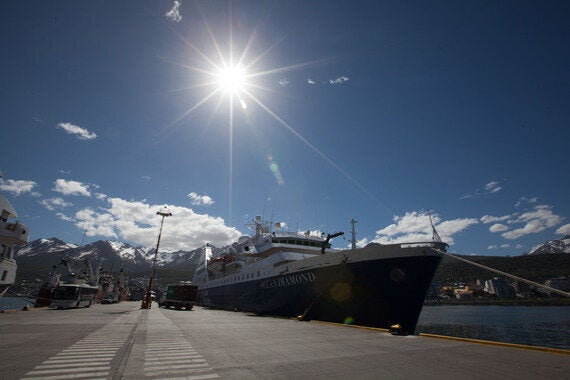 The Ocean Diamond waits to leave its mooring in Ushuaia and head south. Photo by Mark Chilvers
Historians differ over who penned that now infamous advert, but there's no doubt over the 'hazardous journey' to which it refers: Ernest Shackleton's Imperial Trans-Antarctic Expedition, which took place exactly a century ago. Better known as The Endurance Expedition after the explorer's famous ship, the mission was a daring bid to make the first land crossing of Antarctica on foot. Sailing the Endurance down the curving arm of the Antarctic Peninsula, Shackleton planned to disembark with six handpicked men and attempt a death-defying 1,800 mile trek across the Great White Continent on foot: through the South Pole and straight out the other side until they hit the frozen coast again. Shackleton's planning for this epic trip was meticulous. With a budget of £50,000 (£4.2 million today), he spent months beforehand testing the best technical equipment of the day. It would be his third trip to Antarctica, and he'd take no chances with the lives of his team, carefully choosing clothing and kit
"embodying everything that the experience of the leader and his expert advisors can suggest."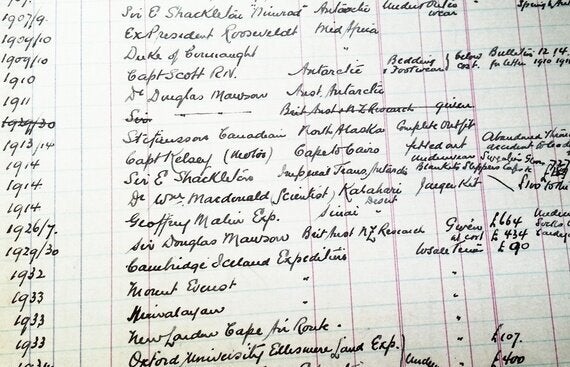 A copy of the original sales ledger for Jaeger shows that Shackleton was a regular customer. Photo by Mark Chilvers
Ultimately this came down to two suppliers: Burberry for the waterproofs, and Jaeger for the woolens - everything from the thick knit sweaters to the thermal longjohns and sleeping bags.
Fabrics and technology have advanced dramatically over the last century of course, but dressing for any trip to Antarctica still needs careful thought and planning. It remains the coldest, windiest place on the planet, with violently unpredictable weather conditions, so we too spent a long time researching and preparing for our own journey. After all, as one of the greatest present day explorers, Sir Ranulph Fiennes, said:
"There is no bad weather, only inappropriate

clothing."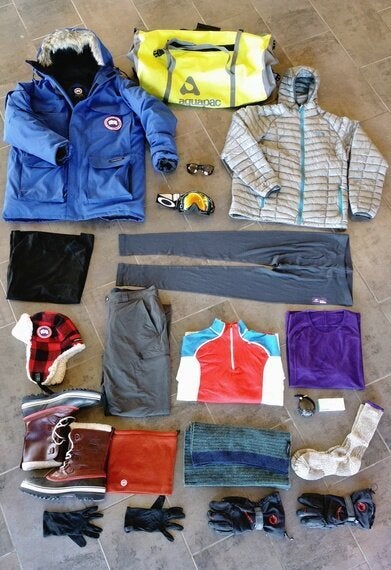 Including the Canada Goose Expedition Parka, "the undisputed star of the show". Photo by Mark Chilvers
The secret, it seems, is "peak layering": namely building an outfit from the bottom up to keep you warm and dry. The magic number here is four: first a thermal base layer, then a lightweight midlayer, then a fleece and finally a beefy parka with a protective fur hood. For the latter, there was absolutely no contest: our down-filled Canada Goose Expedition Parkas were the best we could find - and were to prove the undisputed stars of the show.
Other packing considerations were important too: a decent pair of insulated boots with thick soles for trips onto the Antarctic ice? Step forward Sorel. An expedition watch that would function in temperatures as low as -30C, shrug off any bangs and scratches during ice-climbs, and function as a compass when the weather closes in? Hold your hands up Casio G-Shock.
Snow goggles that wouldn't just keep blizzards at bay, but would give us the widest possible
peripheral vision, constantly adjusting to the conditions? Predictably, look no further than Oakley.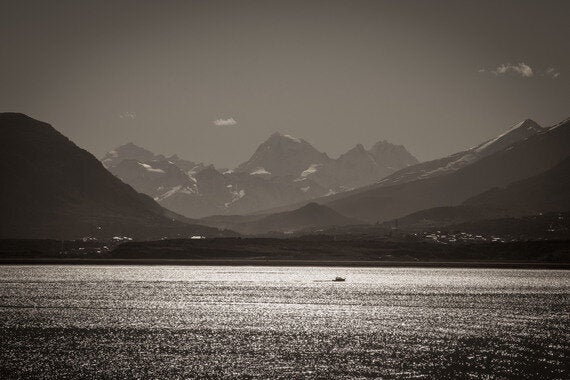 The last sight of land as we sail away from civilisation: Destination Antarctica. Photo by Mark Chilvers
Arriving in Ushuaia, the town on Argentina's tail where our journey would begin, we're already in double pairs of socks and fleece-lined aviator hats. Like Shackleton and his men, we're uncertain what lies ahead of us as we board our ship for the Seventh Continent. But at least we know we're well prepared for it.