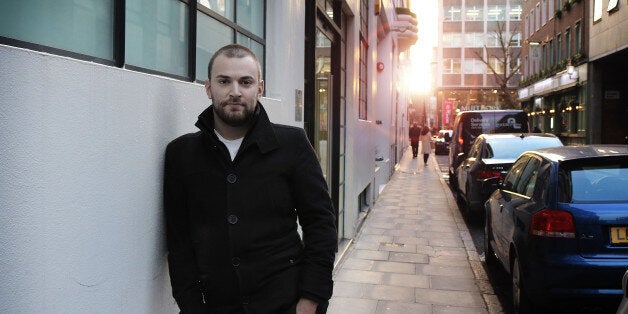 Sometimes I get fleeting thoughts or urges of wanting to kill myself. They frighten me when they come.
It can happen at anytime, in any place. Typically, such thoughts and urges appear when I am struggling, but recently the idea came to me during one of my happiest times during a break in July:
Before you crash back down again."
Thankfully, now I am able to talk about these thoughts with my psychiatrist or therapist, and I've often spoken to the Samaritans when the urges become persistent.
Exactly two years ago I suffered a relapse in my mental health (I was diagnosed with schizoaffective disorder at the age of 20) and locked myself away at home.
At this point the suicidal thoughts became a constant stream in my mind. I played out all the possible methods to end my life and researched them on the internet to create a plan. I was so desperate to end the anxiety and depression that had come to rule my existence. Confessing this to my psychiatrist led to a same day admission into a psychiatric unit.
Suicide is a difficult subject to address, but I do so in the hope that people may understand the psyche of someone who is suicidal.
More than this, I hope to show anyone who is suicidal that it is always possible to overcome the feeling of wanting to end your own life.
Earlier this year I attended and spoke at Time To Talk, an event in central London for those bereaved by suicide. There I talked to hundreds of families whose loved ones had taken their own lives.
For a lot of these grieving family members, their relative's suicide had come completely out of the blue. Almost all of them lived with a continual feeling of guilt, and the unbearable question: "Why wasn't I able to stop it?"
I came away from the event heartbroken by what I had heard. But it also left me determined to do what I can to help stop suicide.
In the UK, 17 people take their own lives every single day. Suicide has become the biggest killer of men under 45 in our country, whilst in women the most recent suicide rates showed numbers at a 10-year high.
Around the world, the situation is equally shocking, with one person ending their own life every 40 seconds. Recently suicide became the primary cause of death for all those under 30.
The statistics speak for themselves. And yet so few people actually speak about them.
In June I went to India to carry out mental health work for a charity. 700 people take their own lives each day in India and yet no one I talked to wanted to acknowledge or address this.
Suicide is preventable. But whilst it remains a taboo within society, it is much less so.
During a visit last month to Scotland to give a talk at a school, I went to the gent's toilet and to my amazement saw posters up above the urinals with the words "it's OK to struggle!" and encouraging those that are to talk about it.
In Scotland a government campaign, "Choose Life", aims to reduce suicide through initiatives such as the one mentioned and others including signposting suicide prevention hotlines on the side of taxis.
The initiative is working and Scotland has managed to reduce its suicide rate by almost 20% in a decade.
It begs the question why such a campaign is not visible in England and Wales, or indeed worldwide.
This Saturday marks World Suicide Prevention Day and the week leading up to it will see lots of activity to mark it.
The charity Movember is launching a powerful video and campaign to tackle male suicide, Papyrus will pilot a project called #TalkThroughTheTaboo, and the National Suicide Prevention Alliance is due to release a brand new initiative to tackle suicide in young people.
But the conversation must continue beyond 10 September.
If a physical illness was taking more men's lives under the age of 45 in the UK than anything else surely we would talk about and respond to it?
Every single suicide is a tragedy that will taint the lives of the loved ones left behind forever, and yet each suicide, I believe, has the potential to be stopped.
It is up to all of us together as a society, to combat suicide. Through talking about it in our schools, colleges, universities, workplaces, and within our friends and families, we can end the silence that exists.
I'm not alone in the thoughts I have had to kill myself. But I often feel alone in talking about them. Imagine if everyone who was suicidal felt able to speak about it. It doesn't necessarily take away the despair, but it is most certainty a step forward. You no longer have to carry the burden all by yourself.
To want to end one's life is to be human. Real life is less the pretty and perfect Instagram snaps we see, and more an indescribable, constant challenge. One that some of us find so unable to cope with that we choose to exit it early. Isn't it about time we accept that this is the true reality of the world we live in? Only then can we really start to stop the tragic scale of suicide that has for too long been ignored.
Jonny Benjamin is among the speakers at the Wellbeing at Work Event in London on 19 October 2016, an event offering the solutions to workplace wellbeing with real-life examples. Go to www.wellbeingatworkevent.com for further details.
Useful websites and helplines:
Related