This weekend, I attended my first political conference.
Like many other young people across Scotland, my engagement with active politics began throughout the 2014 referendum - the energy, vibrancy and diversity that the campaign created was infectious; and it left a lot of us with a drive to effect real change through direct activism and participation.
RISE (Respect, Independence, Socialism, Environmentalism), Scotland's newest left wing electoral alliance - which will be footing candidates in the 2016 Holyrood elections - held it's first annual democratic conference on Saturday. I'd known beforehand that it was going to be an interesting day, and - having seen the prospective policy outlines - a lot of radical policies were going to be debated.
The conference was held in Glasgow's Royal Concert Hall - I'd been asked to speak at LGBT Youth Scotland's National Youth Summit in Edinburgh beforehand, so after a few hours of rushing from one city to another whilst praying that there would be no train delays - I finally arrived.
I'd missed quite a bit by the time I had registered and received my voting card: conference had already passed some pretty progressive structural policies that would put many of the mainstream political parties to shame - for example, RISE parliamentarians are limited to serving two terms (to avoid political careerism), and all elected representatives will take a salary parallel to the average workers' wage. Both of these policies lay the framework for a truly representative party. It's clear from the offset that what's different about RISE is that they won't just talk a good game - they're willing to act. So far, so socialist.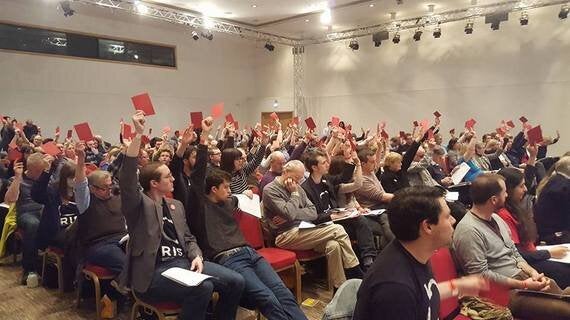 As the day progressed, it became increasingly clear that RISE values the struggle of marginalised social groups - a huge emphasis was placed on equality: not the gimmicky, great for rhetoric infused speeches type of equality - but true equality. RISE's internal structures are built to be gender balanced as much as possible, the Women's Network plays a crucial role in developing a safe space within the movement - where feminist arguments have a seat at the top table - and one of the earliest motions to pass was for the creation of an LGBT+ Network.
Which brings me to what I personally thought was the most exciting part of the day: the movement of the LGBT+ motions. I'd been anticipating this for days - I had submitted a motion myself calling for the ban on gay and bisexual men donating blood to be lifted in it's entirety, and I'd known that there were going to be motions on transgender rights and a call to support the aims of a campaign that I co-founded: Time for Inclusive Education (TIE), which is pushing for improved teacher training on LGBT+ issues, amongst other things, in an effort to tackle LGBT-phobia in schools.
Up first in this section was a motion, submitted by prospective RISE Central Scotland candidate Liam Stevenson and the Radical Communist Network's Lewis Gorry, which focused entirely on trans and intersex rights. One of the really interesting aspects of this motion was how far it actually goes: it called for the removal of the psychiatric diagnosis requirement for legal gender recognition, and - further - to remove the age limit completely at which people can apply for legal gender recognition. On top of this, a lot of emphasis was placed on the treatment of trans and intersex people within RISE itself:
RISE also recognises the importance of making its meetings and structures a place where trans* and intersex members feel able and safe to participate fully. This includes, but is not limited to, being clear that it is for members to self-identify their own gender (e.g. trans* women are welcomed at women's group meetings / trans* men feel safe using male toilets). We will also be mindful of the unintended impact of the language we use.
The motion passed with an overwhelming majority and received a massive round of applause once it did. Following this, my motion was debated: I'd introduced it briefly with some background information, but I was preaching to the converted - conference voted unanimously to lift the ban on gay and bisexual men donating blood completely. It was agreed that this is nothing but a discriminatory regulation. The final LGBT+ motion, to support TIE, also passed unanimously: placing RISE at a unique position in Scottish politics as being the only electoral bloc to adopt such a staunch position on LGBT+ inclusion within the education system.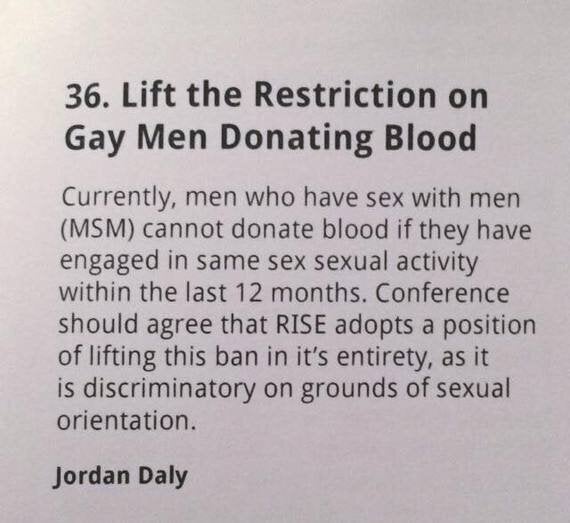 During my speech in Edinburgh earlier that day, I'd addressed around 200 LGBT+ kids and I had told them what was happening at the RISE conference, with the progressive LGBT+ motions that were going to be debated. To see the look of hope on their faces was priceless: and I could sense in the air at the conference that we knew that we had passed a set of motions that were important in the quest for equality - and, ultimately, historic.
A plethora of radically progressive motions passed at the conference, outlining RISE's position as it heads into the Scottish Parliament elections in 2016. They are against the air strikes in Syria (so much so that bright green t-shirts with "DON'T BOMB SYRIA" emblazoned on the front were on sale throughout the day), they want to introduce a landlord tax and introduce rent controls, they oppose all forms of fracking and they stand for the freedom of trade unions.
RISE are realistic, though. As a brand new electoral alliance - they outlined that they have a very short time to win over the hearts and minds of Scottish voters, many of whom are entrenched in an "SNP at all costs" mentality. It's going to be an uphill fight - there's a lot of debate to be had, and there are a lot of people to convince. I'm convinced. They already have my second vote. Any movement that so clearly adopts the policies that others are scared to is a movement worth supporting.
Those within RISE are full of energy - there's a mix of political old timers, and new blood (like myself) - but there's a fusion of ideas and arguments. They're realistic, but they're smart - modern, and very tech savvy. I listened to speeches throughout the day from people who are more than equipped to become the future leaders of this country.
This is a movement that prioritises the voice of the oppressed. This is a movement that stands for true equality. This is a movement that is prepared to go one step further than mainstream parties - they're not scared to rock the boat: in fact, they'll sink it if they have to. This is not the smoke and mirrors style of politics that we see so often - this is real, this is gritty, this is honest.
So, this weekend I attended my first political conference. Today, I'm more convinced than ever that Scotland has changed: we're now an active, heavily politicised nation - and there's no turning back.