Under a fragrant ylang ylang tree, with New Orleans-style jazz tootling in my ears, I tried to make sense of the Southern Hemisphere's constellations, wonderfully bright overhead. There is very little light pollution to disturb your view on a Mauritius beach far out in the middle of the Indian Ocean. "Baby, won't you please come home," the handsome singer yearned toThe Residence's inside-out bar behind me, where the sea breeze is more than just a cocktail.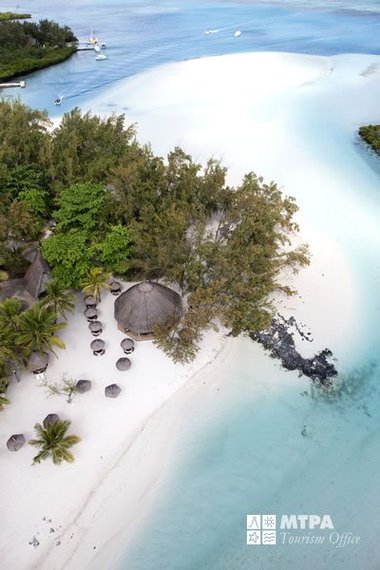 All the tropical tropes that we yearn for in our northern fastness...
Mauritius is a tiny tropical teardrop, set in clean blue sea, ringed with coral beaches and a reef over which white waves break just offshore. It seems so remote that you are surprised that anyone chanced upon it in the days of sail, or even that your aeroplane knows how to find it. It's like trying to locate the Isle of Wight in the middle of the Pacific.
Mauritius exists because the Earth's surface is crackled like a knocked hard-boiled egg, and its plates perform a constant grinding dance. Mine was the first year of A levels to be taught Platal Tectonics- an absolutely new theory - and it made a subject I had been forced to take (instead of Biology) utterly fascinating. The huge African plate, around nine million years ago, sashayed over a 65-million-year-old earthly zit known as a hotspot, which promptly punched a hole. The resulting volcano forced to the ocean's surface a great deal of rapidly-cooled black basalt, the fertile dark rock of today's island.
Land you do at the clean and comfortable modern airport, as the Portuguese - first recorded human visitors - didn't in 1505. They were followed by the Dutch in 1638, as it offered a useful stopping off point on their lucrative spice voyages from the East. They named it after Maurits van Nassau (Prince Maurice of Nassau), contemporary governor or stadtholder of lands that now lie roughly within Holland and Belgian.
There was no indigenous human population, only the dodos and other wildlife that had evolved independently of the rest of the planet. These trusting flightless relatives of the pigeon waddled fearlessly up to the Dutch, who promptly killed and ate them. Apparently, they didn't even taste very nice. In the 18th-century, the French were in charge, and called the island Ile de France - where the famous French 18th century chick lit Paul et Virginie was set, a critique of unequal artificial French society of the time.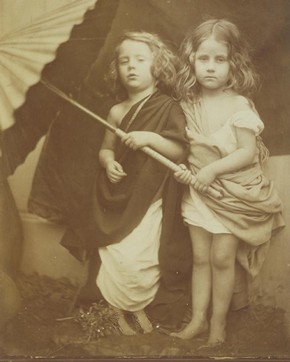 Paul et Virginie envisaged by my great great great Grandmother, the pioneering Victorian photograph, Julia Margaret Cameron.
In spite of a British takeover as long ago as 1810, the culture and ambience are still notably French. The island became independent in 1968, and today boasts the highest per capita income and literacy rates in the whole of sub-Saharan Africa. The largely Indian population put their hands together and incline their heads in greeting, but they say, "Bon soir", not "Namaste". Everyone speaks English, but comfortably reverts to French if you give them half a chance. The French culinary heritage guarantees exceptionally good eating.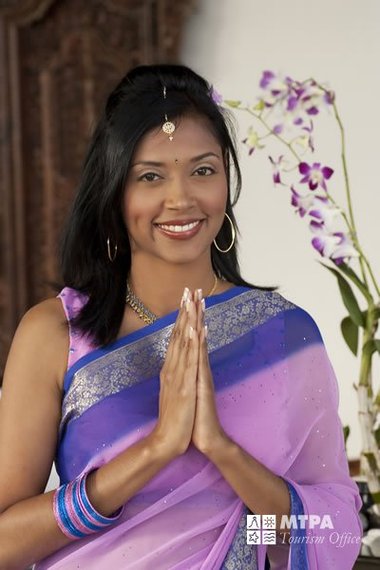 Bon jour, not namaste, everywhere you go.
About 40 years ago, Mauritius was discovered as a tranquil and upmarket travel destination. It is only four hours ahead of GMT, which makes jet jag less of an issue.
The One&Only Le Saint Geran is one of the older hotels, and definitely the most formal I experienced. You sweep up the drive to be delivered to a soaring portico where they bang a gong. As you step inside, the impact of bright beach and turquoise sea, framed by the soaring, immaculate atrium instantly refreshes the travel-worn spirit. As do chilled flannels and a delicious, sherry-coloured (but non-alcoholic) cold drink made with sugar cane and spices.
To get to our room, we walked past a mini jungle, in which the birds sang their unfamiliar tunes in the daytime, and frogs rasped and rattled at night. There is a crowned crane which poses like a Japanese gilt painting, white flamingos, and black and white swans, and the air is full of the sound of falling water. If you wondered where London's sparrows have gone, they are everywhere here, perched cheekily on the back of chairs in the dining room, and flitting about on the beach.
A Mauritius holiday is not really about sight seeing, although there is a tranquil Botanical Garden to the West, originally planted by the British, as they did all over the Empire. There are several nature reserves, as the authorities woke up to the erosion of the unique flora and fauna, such as the pink pigeon, and some astonishing, very ancient, long-necked tortoises, and took steps to protect hem. You can also hike and ride in the curiously shaped mountains, and even go stalking in a strictly controlled way, to cull the indigenous deer.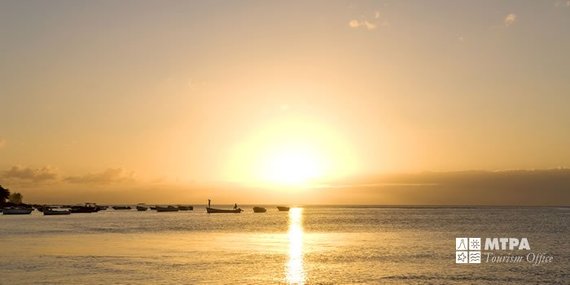 The sunsets are rapid and dramatic.
The difference lies in enjoying a five-star level of luxury with children, no matter how small or teenaged. Instead of being left behind with kind grannies in Britain, they are a step away in kids' clubs, and teenage activies, that are usually included in the overall price. There is no formal booking system, you can come and go as you please, which greatly adds to relaxation. The unique joy is that I have never, anywhere, come across the level of willing, smiling service that the Mauritians achieve. There is nothing self-effacing about it either, as there sometimes is further east.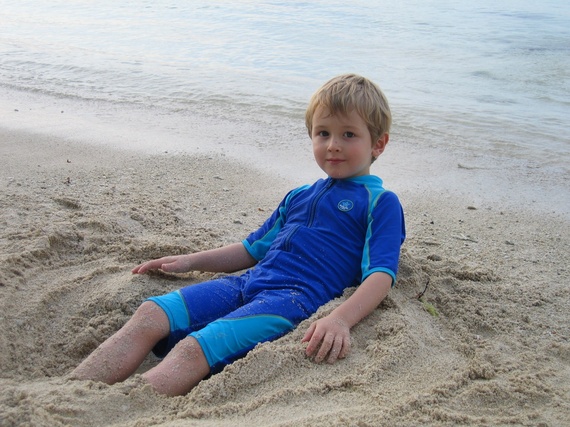 My youngest son, aged four, on a Mauritius beach years ago. Just as kid friendly then.
If you can summon up the energy, try the water sports. At Le Saint Gerain, there was no queue for any activity as the clientèle seemed quite happy to lounge about, and who can blame them. You can water ski, wind surf or parasail for as long as you like, and the instruction is kind and patient. For a more peaceful sea experience, we went out in the glass bottomed boat, which hesitates over the reef to allow us to examine the fishes feeding below.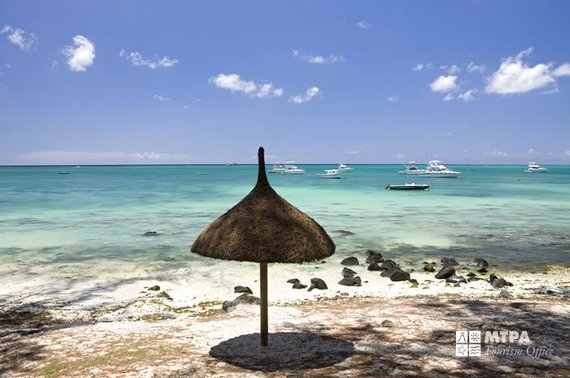 Mostly it is about the beach, for exhausted working parents, whose children remain close at hand and beautifully looked after. Even the teenagers.
We alighted at the funkier Residence next, which had a much more consciously Raj-colonial atmosphere, with rattan cane chairs everywhere, and an amazing bar that served margaritas in glass cones embedded in goldfish bowls filled with ice. The restaurant was beautifully lit and, where you would expect food to be horizontal on your plate, this was served vertically - such as a grilled lobster brochette in a tall glass of lemongrass jus.
At night, you can drift about the sprawling hotels, eating dinner in peace and enjoying the somewhat random but charming cabaret acts including a medley from Grease, an African evening and Sega - the local rather raunchy Creole-style dancing. Other hotels, such as the recently refurbished Prince Maurice even more amazing facilities for children, with adventure playgrounds, and experiences for teens including supervised trips to the local nightclub and something that appealed very strongly, a weighted walk on the bottom of the sea in a diving helmet.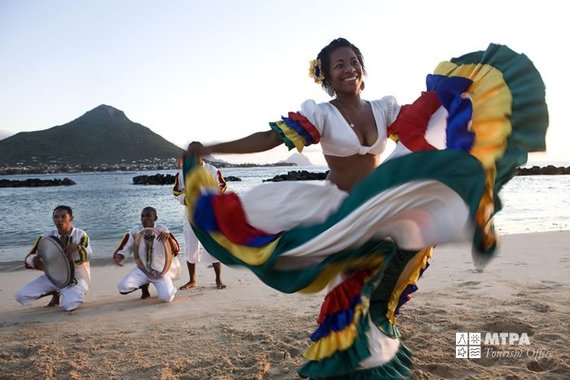 The Sega, a vibrant dance style reminiscent of the Caribbean.
In spite of nearly a million visitors a year, you only have to walk a very little way along the beaches to be quite alone. Even right in front of the hotels, where the sun loungers are spread with pristine towels, and the staff polish your sunglasses and bring chilled water at the drop of a hat, there is no sense of crowding. I love my solitude, so it was perfect for me.
Mark Twain wrote that Mauritius was the blueprint for heaven - if paradise includes all those whom you love, then the welcome for the whole family proves he was right.
ESSENTIALS
WHEN TO GO
November and December are the peak months, but the climate is mostly warm
and comfortable throughout the year, with sea breezes taking the edge of
the heat.
EAST COAST HOTELS
CULTURE
Mauritians are elegant and beautiful people, the majority Hindus brought
over to work in the sugar plantations; other families originally came from
Tanzania and Mozambique. The main European cultural influence is French.
They drive on the left, and the currency is the Mauritian rupee, about 50
MUR to £1.
GETTING THERE
British Airways flies to Mauritius three times a week, direct from Heathrow.
Children must fly in economy. Air Mauritius flies from both London and Paris.
LANGUAGE
English is taught in the school and widely spoken, but most inhabitants are
bilingual in French as well.
GOOD TO KNOW
Children are very welcome everywhere. There are Indian style markets too, where you can buy lovely sarongs, spices and other authentic stuff. Be careful if you go to factory shops, make sure you are buying the genuine branded article. If at all unsure, avoid.
TRAVEL COMPANY
ESSENTIAL READING
Download Paul et Virginie, the famous 18th century story of lifelong love set inMauritius for £2.99