Summer 2014 has been for me a succession of attempts to overcome my fear of heights, ably assisted by my kind, patient 13-year-old son. It has also been the UK's most fabulous staycation summer for years, and I don't blame David Cameron for taking a late break under such inviting English skies.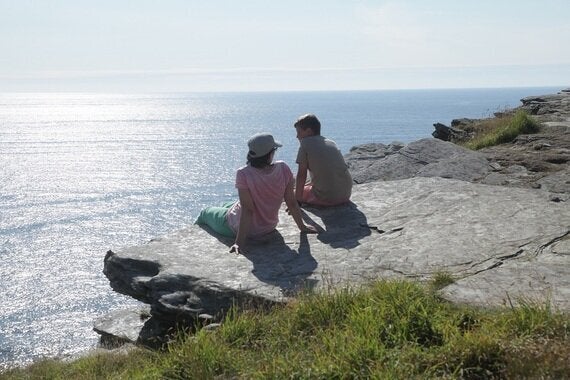 Edgy behaviour at Tintagel - dusting down my courage in the face of extreme heights
We dutifully followed the Prime Minister's example and went to stay near Rock - the most fashionable and ritzy of the Cornish resorts. On the north coast, it is close to some wonderful, long, clean sandy beaches and retains its charm in spite of the London influx.
We arrived in Rock in the early evening, via Splashdown at Paignton - one of the UK's rare waterparks. Usually our weather is so awful that I imagine investing in enormous slides outdoors is financially a poor investment - so these waterparks are sufficient but not excessive in their amazingness (if you know what I mean). My son, aged 13, had a wonderful day sliding around. I ventured up to the top once, but my vertigo got the better of me in spite of his kind and understanding support as I stood there trembling and feeling foolish in my bathing suit.
That rather set the pattern for the holiday, which was a succession of lengthy periods spent overcoming my fear of heights while teetering on cliffs, sailing down zip-wires, crawling up steep hill paths, watching my son scramble vertical cliffs, and other hazards. I was determined, and with my children's encouragement, managed most of it without too much damage to my nerves.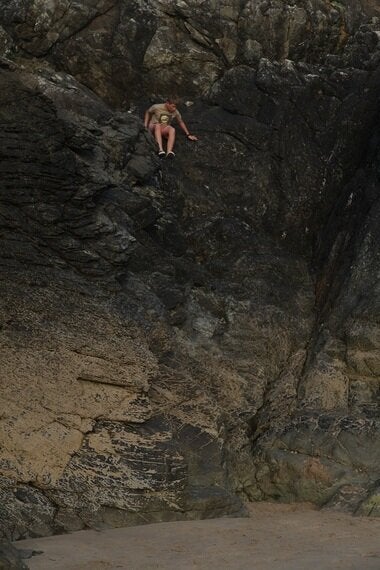 The rocks above Daymer Bay
The son wanted to get to a beach, however late, so we popped down to Daymer Bay - the top end of an astonishing endless sandy beach that fringes the Camel Estuary. To the north is the small town of Rock, overrun at this time of year with small, blond children in Mini Boden, their leggy mothers, unfeasibly glam for the British seaside. Banker husbands, in faded rust linen shorts and what look like retired city shirts with the collar stiffeners removed, were less in evidence.
Daymer Bay has a carpark at the top. Be sure to pay and display as it is 24 hour. Once down on the sand you can walk for miles either direction, over hills and along the sandy shore. There are excellent dunes for jumping down if you turn left from the carpark, as well as caves to explore.
The focus of my boy's attention was of course Polzeath for the body surfing. The visual landscape of beaches has changed completely in the last few years. Where once it was pale English bodies in varied swimwear, some more regrettable than others, now the beach is covered with black clad, streamlined bodies like a David Attenborough sealion documentary. The wet suit rules the waves, and you can hire them for extortionate cost from the surf schools in the beach carpark. £35 for a week was a good price at Polzeath where they are as much as £50. As you can buy something perfectly adequate for simple wave jumping for £20 in most supermarkets, this seems like a bit of a waste.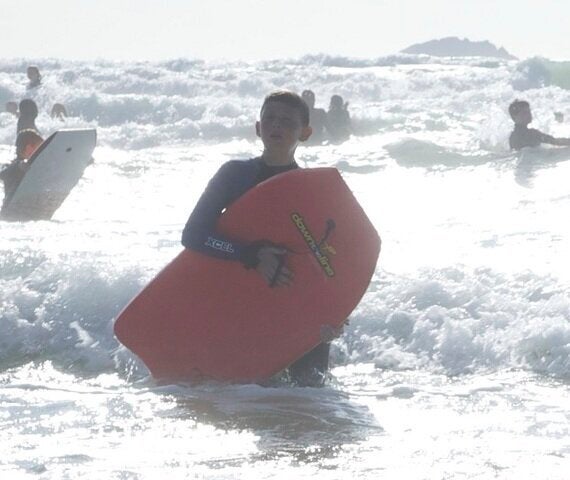 Hours and hours just trying to catch a wave in the sunlit sea - the perfect occupation
Vaseline is vital. Rub thickly around their necks to prevent rubbing and soreness which can lead to a painful rash. Waterproof sun cream on faces, necks and ears is also important. Once anointed they bounce about happily in the waves for hours. The RNLI is on hand and constantly vigilant, but care must be taken not to ignore the flag markers and other instructions. A couple of days after we left, about 30 people had to be rescued from the bigger waves that arose in the wake of Hurricane Bertha. There are tricky currents too so impress upon everyone the importance of the rules.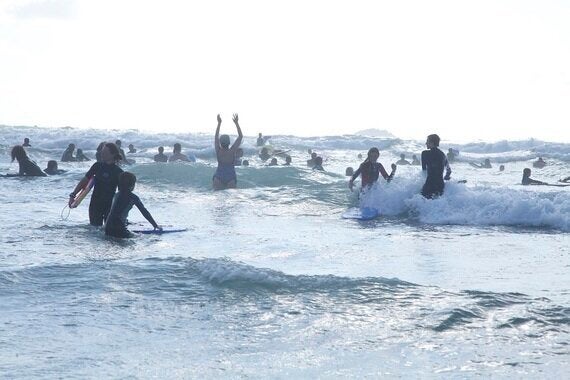 The beach at Polzeath - a sea of wetsuits - I have resisted.
An old friend, Liz Berman, invited us for drinks at Treverra, her gorgeous house looking out over the Camel. She rents out Treverra Farm Cottage, a property fit for any number of Prime Ministers. The children loved the infinity pool with built in Jacuzzi, and we watched them, thoroughly relaxed in the warm evening sun with George Stoy - local celebrity and coolest surfing instructor, another friend of Liz's. He comes highly recommended for sympathetic and effective teaching that will get you standing up on top of a wave before you know it on super-popular Polzeath Beach - haunt of princes and prime ministers....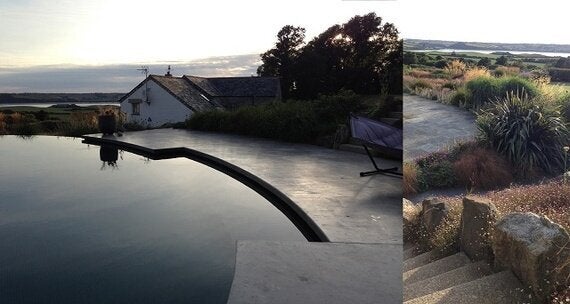 The infinity pool at Treverra, with the cottage beyond - looking out over the Camel Estuary.
The next day we lunched at the St Moritz Hotel - which really puts the 'ritz' into Rock - a measure of how far upmarket this part of Cornwall has climbed. Resembling a 1930s ocean liner fit for any number of Agatha Christie shenanigans, the hotel floats serenely above the sea that sparkles some way below. We sat out by the pool in bright sunlight under umbrellas. Son chose to lounge in the Fatboy hammocks - famously comfortable apparently - while I sipped a glass of Sauvignon Blanc in the shade. Friendly children were happy to play frisbee with him after lunch on a lawn delightfully fringed with striped beach huts. Not quite sure what their purpose is so far from the beach, but they are immensely decorative.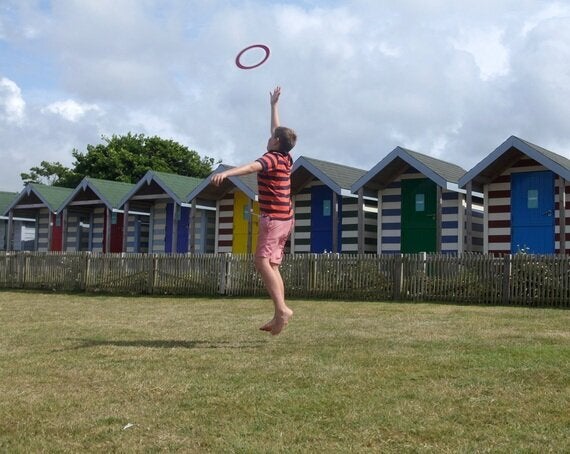 Frisbee beside the matching beach huts at St Moritz near Rock.
Son had an excellent burger in a delicious brioche bun. I had prawns and calamari, both very good. After lunch I visited the Cowshed - a spa that originated in trail-blazing Babington House for which I wrote the first ever brochure back in the late 1990s - for an hour's massage. Most of me was thoroughly gone over with Lazy Cow - an oil redolent of jasmine and sandalwood - wringing away the tiredness of London, commuting and work in preparation for a good long holiday. It was a dance of the seven hot towels, as modesty is preserved at every stage with deft management of coverings.
Up the coast a little way is Tintagel, a fascinating and as yet not entirely explored site of multiple occupation over thousands of years. There is the remains of a castle - if King Arthur every lived there is unknown, but you cross a wooden bridge and climb up onto the highly defensible position to be met by glorious views over the sea's rounded horizon and the caves below. Son of course wanted to go far too near the edge, and more bravery was needed to overcome the vertigo. Bright sunlight, heather, cool breezes and ruins. What more could you want?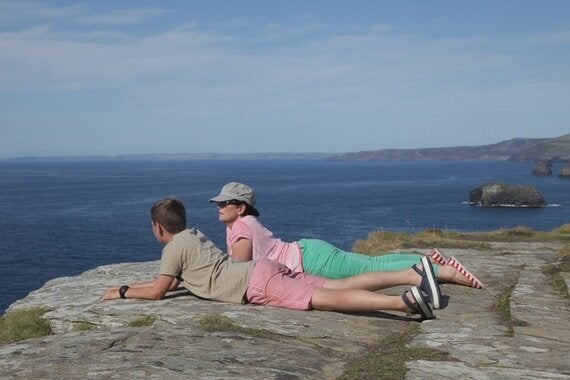 Look like I am enjoying myself? Ha! Had to crawl there. Terrified.
Travelling inland on a slightly less bright day, we hit the Adrenalin Quarry so that son could go coasteering - you need to book in advance. It is possible to do this by the sea as well, but not nearly so reliable as tides and weather can lead to cancellation. The Quarry, which is flooded, is set in a gorgeous landscape - I overheard someone say that it reminded them of Thailand with its wooded cliffs. There is an immensely long and exhilarating zip wire, an alarming giant swing (yet another opportunity for me to feel ill with fear that I HAD to overcome) and the opportunity to swim in the fresh, sweet water. Son loved the coasteering, and was proud to have jumped from the Widowmaker (more maternal palpitations) - the highest point on the cliffs. At the end they all jump and bounce off a huge balloon in the water called The Blob, before swimming ashore under the pontoon.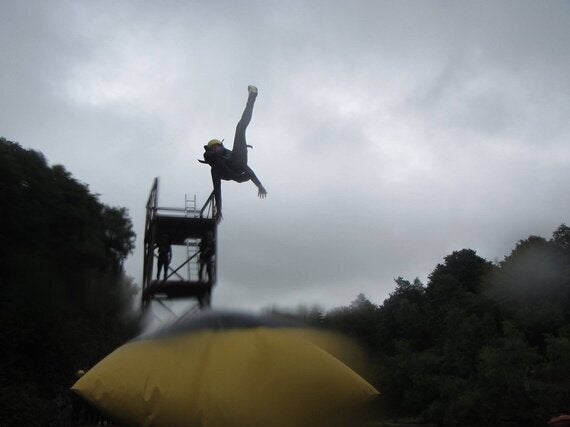 My 13-year-old son flying off the end of the Blob in Adrenalin Quarry - someone jumps from the tower on one end bouncing the person sitting on the other end high into the air
We could not leave Cornwall without taking the train to St Ives, specifically to visit the Tate and the Barbara Hepworth studio. The Tate had an exhibition of good 20th century art associated with St Ives, but I always long for art more specific to the area, such as more of the self-taught Alfred Wallace. The building is a joy - with the beach spread before it like a banquet of loveliness, and reflected on the glass inner curves of the atrium, like living art. Barbara Hepworth lived and worked in her studio, and in fact died there in a fire. It is moving to visit, as her life and art are intertwined within her own familiar space - make sure you turn up at 1pm for the guided tour - the guide knew Miss Hepworth as her much younger neighbour, which makes the visit all the more endearing. There is a hardwood sculpture, looking like something from the South Seas, of her eldest son as a baby. He died in an air crash while on National Service in 1953, and beside the sculpture is her abstracted memorial painting of him standing with his navigator.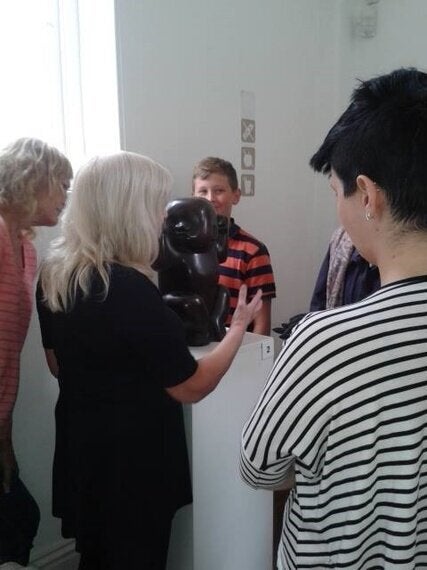 Barbara Hepworth's eldest child as a baby. After him she unexpectedly had triplets, a boy and two girls. The girls are still with us I was delighted to learn.
Lunch in the Porthmeor Cafe, overlooking the St Ives beach, was another highlight. Outstanding food, reasonably priced. We ate tapas - salt and pepper squid, wonderful chips with rosemary salt, monkfish deep fried in batter and dressed with pineapple (which sounds anything from odd to disgusting, but tasted incredible), and excellent halloumi. The puddings were outstanding - the apotheosis of lemon meringue pie, as far from the vile electric yellow confection of my memory as it could be, with a great puff of gently caramelised meringue on top.
With England basking (mostly) in sunlight this year, these places take on yet more lustre as the locals up their game to match an increasingly demanding audience. Why bother with the scolding misery of airports when you can hop on a train and thunder West to bask under blue skies piped with icing clouds, dine in ozone-rich fresh air by a gently purling sea, gallop along almost empty, endless golden sand, and surf in waves that are just right for fun.
USEFUL SITES TO PLAN YOUR CORNISH HOLIDAY
There's still time before term starts - so check some of these sites for ideas. Search for 'last minute Cornish cottages' to get some good deals - fixed caravans are particularly good bargains, and really you should get over your caravan prejudice immediately!