I recently revisited Hong Kong after a gap of nearly 20 years. I found that these days the place thrives on superlatives - the locals never tire of telling you that things here are taller, higher, bigger, longer, better. And certainly with its iconic skyline filling up with increasingly tall buildings, it does appear to be reaching sky-high in record breaking.
Here's my Hong Kong High Five
The Big Buddha, or as it's officially known the Tian Tan Buddha, is a 34ft tall (including base) statue of a seated Buddha that's part of the Po Lin Monastery complex. Weighing over 250 tons, that makes the statue the biggest, bronze, seated Buddha in the world and one of the world's top ten Buddha statues by scale. It is high on the hills of Lantau Island.
a href="https://images.huffingtonpost.com/2015-10-16-1445004911-1758178-BUDDHA.JPG">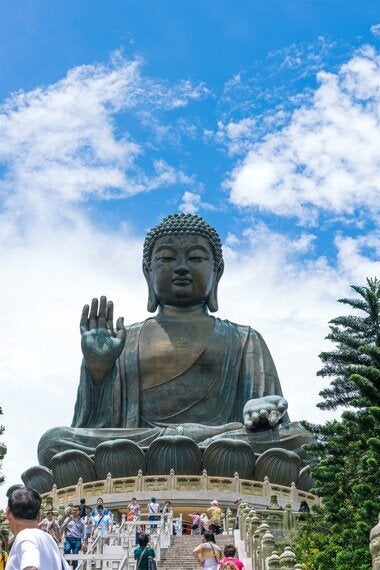 2 Moving stairway to heaven
The Mid-levels Escalator system
The Central - Mid-Levels Escalator system is the world's longest outdoor covered escalator system, stretching for over 800 metres and rising 135 metres through the streets of a steep hillside linking these districts of Hong Kong Island. The system is not a single continuous escalator, it is a series of 20 escalators and 3 inclined moving walkways, connected in places by footbridges, and with 14 entrances and exits. To ride the complete length of the escalator system one-way takes about 20 minutes.
https://images.huffingtonpost.com/2015-10-16-1445004996-7831768-HotelExterior9.jpg">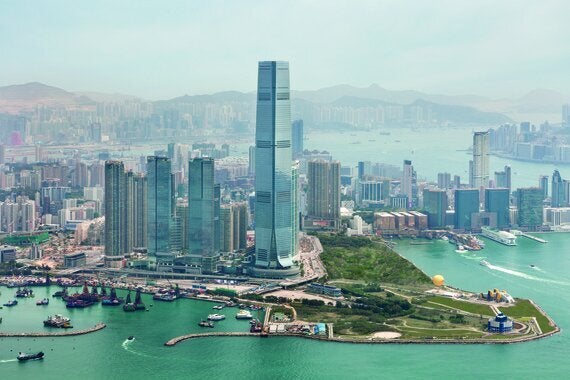 For rum at the top I headed to Ozone, the world's highest bar and to reach it of course I had to take the world's highest lift.
Ozone is at the Ritz-Carlton Hong Kong. The ICC (International Commercial Centre) is the tallest building in Hong Kong at 490 metres. The building has 118 floors. The Ritz-Carlton occupies 102nd to 118th floors. Cocktails with your head in the clouds is a dizzying experience but you wouldn't want to take the stairs to get there.
Its all long in Hong Kong: The list of restaurants in Hong Kong runs to 11,000, not counting all the little street stalls and kiosks. You could eat in three different restaurants a day for 10 years and still not visit them all I am reliably told.
Would you want to? Depends on what they were serving. I think I may have eaten the world's oldest egg, as one foodie tour operator persuaded me to sample 'century-old egg' in my porridge. An acquired taste, which certainly brought me down to earth.