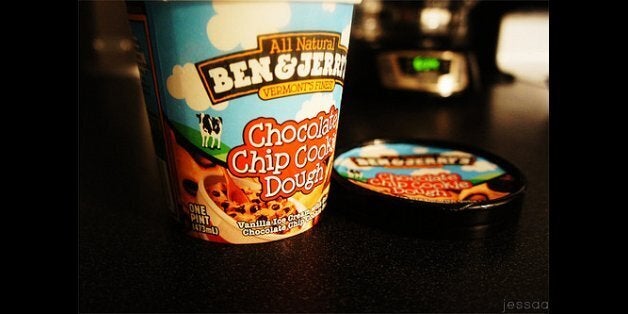 The dulcet strains of Irish hip hop music performed live by Abandoman greeted fans of Ben & Jerry's ice cream on the first night of the new "moosical", celebrating 35 years of making ice cream. The pair, who were born and grew up close to each other without ever actually meeting before high school somehow, took a $5 course in ice cream making after realising their dreams of making it big in the world of bagels were unlikely to be realised.
In 1966, Ben and Jerry met in high school. Sharing a love of food and a dislike of gym class, they were fast friends. Despite these shared passions, it would take another 12 years after meeting before their bagel dreams would be dashed, and their ice cream ambitions, not yet formulated, would be realised.
The fateful abandonment of their life-long dreams of being bagel kings made the ice cream world a better, and more ethical place, as Ben & Jerry's ice cream stormed onto the scene in a VW van. Ben & Jerry's ice cream has always had a strong social mission and they are passionate about ensuring all ingredients are Fairtrade. Ben & Jerry's were the first US company to extend employment benefits to employees in unmarried domestic partnerships in 1993, clearly underlining their belief in all forms of fairness.
Once their quest to go all Fairtrade was realised, Ben & Jerry's quickly noticed that there was one important part of the ice cream chain in the EU that needed support - the dairy herd. www.happycows.eu is a site dedicated to helping improve bovine animal welfare. The dairy herd in the US are treated extremely well and Ben and Jerry's would like to see all cows as happy as theirs.
After 35 years in the ice cream business, there have been a lot of flavour experiments that have gone to the flavour graveyard but one thing never has - their ethical core. If you'd like to learn more about Ben & Jerry's a little cow whispered in my ear that there would be more tickets released today (May 9th) so if you're fast and visit www.facebook.com/benjerryuk you might be able to bag yourself tickets to the final performance (with free ice cream to enjoy before and after the show)!