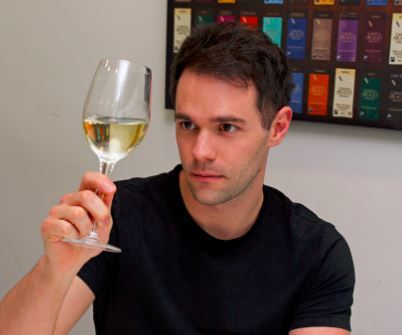 Image courtesy Green & Black's

"Eating food is the second most important thing we do in our life. Slow down and think about the flavours. Don't just eat chocolate for the sugar." Brandt Maybury is passionate about food, not just chocolate. "Chocolate is more than just a day job to me," he says emphatically, "it's an evenings and weekends job too. You don't stop loving chocolate when the clock hits 5pm." Brandt shares a passion many of us do - that of chocolate. Unlike many of us though, chocolate is also his day job. I think we all want his job ;-)
Brandy Maybury is the newest taste specialist at Green & Blacks. A mere six months into the job and he's already looking at getting sign-off on two new bars - his first for the Green & Blacks range. That isn't to say the recent Blood Orange & Milk Chocolate or Lemon & Dark Chocolate bars don't bear his stamp. In fact, the whole range and its individual iterations of each batch are intimately known by Brandt "I had to check the expiry date on these bars before giving them to you as I wanted to make sure you got the best batch" he says to me proudly. As I am a chocolate judge, reviewer and blogger at Mostly About Chocolate, he knows I'm picky and he wants to make sure I get the best possible examples.

Image courtesy Green & Black's

Green & Black's is a chocolate maker, creating chocolate bars from the cocoa bean for over 20 years. The company was started by Craig Sams, a pioneer in many ways (including bio char which is set to revolutionise cocoa farming). Craig created Green & Black's with two founding principles embodied in the name of the company - organicness and good quality chocolate. Craig sourced his beans directly from farms in the Dominican Republic and Belize and that is where the beans continue to be sourced from today, despite the change in ownership. Green & Blacks still work directly with the farmers, investing heavily in the infrastructure of the farms in Belize and the DR. They have a commitment to not just use mass balance to claim to be fair trade, but to trade fairly with farmers directly. The sugar used in the bars is also fair trade and Maya Gold was the first Fairtrade certified produce in the UK - not just the first chocolate bar but the first product full stop. Brandt emphasises the fact that they really care about the beans.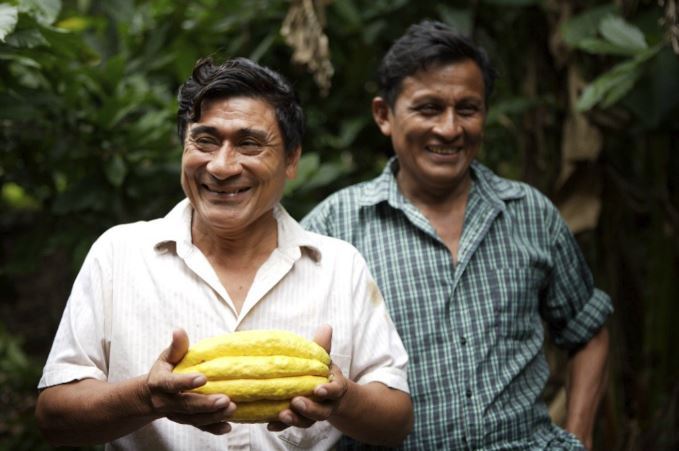 Image courtesy Green & Black's

"If you could see the kind of change it makes in the lives of the farmers and you were looking on the shelves of the supermarket and saw the many chocolates all in the same price range with the same flavours, you'd pick Green & Blacks *because* of that massive impact" Brandt tells me. His passion is absolutely infectious as he talks about the farmers. "Green & Blacks is dedicated to trading fairly with the farmers" he says and so I ask him about other beans, thinking about other farmers. Ecuador, Trinidad or Vietnam I suggest, teeing Brandt up. We've already spoken about other single origin bars during our interview and how insane the flavour profile can be, challenging even the most ardent chocolate fan. Could Green & Black's ever bring out a single origin bar I ask? "You never know," he says coyly. I know he has two bars in development and so my mind naturally jumps to premature conclusions...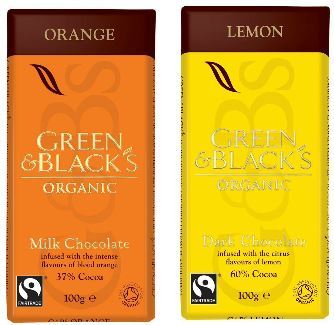 Image courtesy Green & Black's

Brandt himself doesn't come from a cocoa farming background but quite naturally from a chef background. Unlike Micah Carr-Hill who came from a wine background (and is still involved in Green & Black's), Brandt has his roots in food. Having chef'd everywhere from yachts to schools to half-way houses, he learned about taste from working directly with food. While he admits to being in love with the milk chocolate Sea Salt bar from Green & Black's, he also loves Almond, and Raisin & Hazelnut saying "each bar has something different to offer but my favourite has to be the Sea Salt for the different notes that the Halen Mon sea salt brings out in the milk chocolate." Yes the taste specialist at Green & Black's loves milk chocolate, but he says that at a recent event to launch the two new bars of Blood Orange and Lemon the people's favourite was the new Spiced Chilli Dark Chocolate bar.
I asked Brandt for tips for aspiring chocolate connoisseurs or future taste specialists and he gave me these four top tips:
Develop a trained palate. This doesn't mean going to a wine course but rather thinking about flavours, what works and how a taste experience can be made better. Get used to slowing down and understanding what things taste like in order to understand what you are tasting in chocolate.
Be passionate. Chocolate isn't a day job - it has to be a lifestyle. You cannot stop thinking about chocolate just because the working day is over.
Remember that food is subjective. Don't be afraid to stand your ground. Be confident in your opinion and don't change it just because everyone else thinks a certain way.
Be creative. Being creative doesn't mean you can draw - it can be being a musician like Brandt is. Don't be locked into a definition of creativity but you need to release your creative side.
Finally I asked Brandt what he would be if he wasn't working as the taste specialist at Green & Black's. "A rock star" he says, confidently. This has apparently progressed over the years from astronaut through British Gas man "because they help people". Quite an evolution, but I'm sure many of us envy his current 'rock star' career of taste specialist at chocolate company Green & Black's.