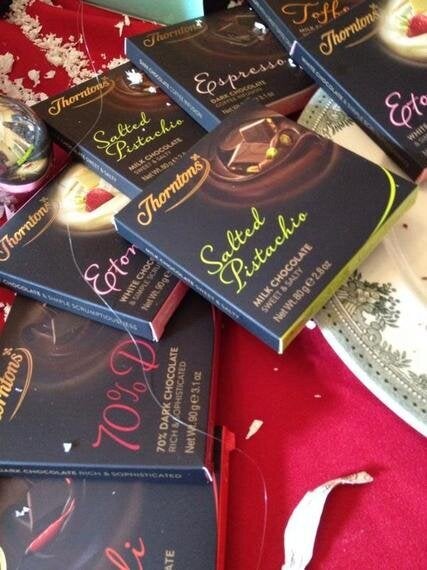 Image Credit: Judith Lewis
Thorntons has been shaking things up for a while, from hiring Keith Hurdman to help develop new flavours, to rebranding and creating a slick new look for the existing range. Last year for Christmas Thorntons brought back some classics for Christmas, ensuring people got a taste of nostalgia and newer customers got a chance to try something old that was made new again.
This new development could see a substantial change or none at all. Of course there is a sketchy press release, and some news on the Thorntons site but it seems like this is an approach that Thorntons has welcomed with open arms. Will we see a change to our British classics? Paul Wilkinson (Chairman of Thorntons) said: "Ferrero is offering our shareholders an attractive premium to the average price of Thorntons' shares over the last three months. Although the prospects for Thorntons as an independent company remain strong as the Company embarks on the next phase of its strategy, the Board of Thorntons also recognises the potential benefits to the brand and the business, including employees and all stakeholders from combining with the Ferrero Group. Ferrero is a successful global confectionery business with a strong family heritage and as such represents a good cultural fit for Thorntons. The Board of Thorntons therefore has given its unanimous recommendation for the Offer from Ferrero."
Ominous words from the chair indicating a recommendation to allow Ferrero to buy Thorntons which would make them outright owners of this traditional British chocolate. Will this actually happen? Are we about to see the demise of the Alpini? Is the Continental selection about to have a Ferrero Rocher added to it? There is a lot of talk about shares here and not a lot of reassurance that Thorntons will remain British and remain true to its core chocolaty values. I tried to speak to my usual point person on Thorntons however they redirected me to a company who sounded more corporate than comforting, and who offered no reassurance that the demise of the alpini was not nigh.
Of the takeover, Giovanni Ferrero (CEO of Ferrero) said: "Our business was founded nearly 60 years ago out of a passion for chocolate and with a commitment to quality. We delivered our best ever result in the UK in 2014, giving us confidence that now is the right time to broaden our roots in this important market.
This transaction brings together two highly complementary businesses, but more importantly it unites two companies that share the same passion for growing brands, and a proud heritage, drive and culture built upon their family foundations.
We have long admired Thorntons and what they have achieved in the UK as demonstrated by their tremendous customer loyalty, and we look forward to working with their experienced team."
So it sounds like Ferrero see Thorntons as an opportunity in the British market, and Thorntons see Ferrero as an opportunity to expand beyond Britain is a big way. Does that mean your next Christmas getaway to Costa Brava will include a pop down to the shops for a Continental selection? Only time will tell.
Another question I asked which I hope will be answered is whether if Ferrero do fully acquire Thorntons (which looks likely) if they will make a commitment to sourcing chocolate free from child slavery. As we know from reports by CNN, here on the Huffington Post and elsewhere, child slavery is rife in the Ivory Coast. I was contacted by a group called CREER - who are working to help children who free themselves from slavery - about a 10 year old boy from Togo who less than a month ago was sold into slavery for €430. That is only one example of the slavery which is rife in the chocolate industry. Hopefully large companies like Ferrero will see the suffering of the children sold into slavery to keep cocoa production cheap and commit to sourcing cocoa free from the taint of child slavery.
It looks like this deal will go ahead which is good for shareholders based on stock value. Whether this is the best deal for Thorntons chocolate lovers remains to be seen. In all likelihood this year won't see any changes as larger companies have locked in Christmas 2015 already, but it is 2016 which remains a tasty mystery. I look forward to the future and hope it is for the best for the children of West Africa as well as the British consumer.