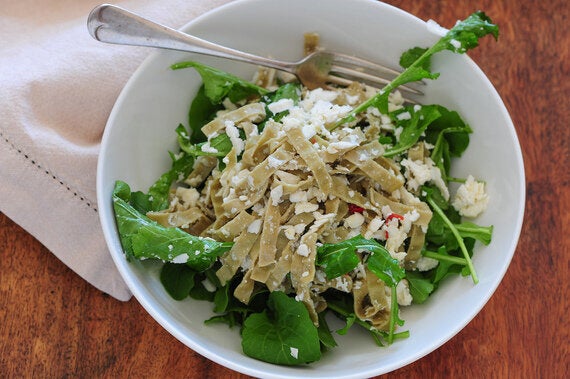 At the risk of sounding a bit nerdy here, one of the habits I've developed over the last few years is to choose an area in my life to focus on or experiment with each month. Sometimes it's something I do on my own but often I'm able to convince my husband to join me. For example, there was vegetarian month and then alcohol-free month (aka 'Famine February'), and a month where we exercised every day.
Recently we experimented with going gluten-free for a month. The good news is that really it wasn't as difficult as you'd think. By approaching it from a 'let's focus on what we can eat' mindset, there are so many clever options that don't include gluten or rely on expensive commercial 'gluten-free' substitutes.
Here are 8 of my favourite gluten-free ideas.
My local supermarket now stocks rolled quinoa in the health food section. I love using it to make a gluten-free porridge or oatmeal. Just cook it the same way you'd cook oats.
2. Chia seed bran or psyllium instead of wheat based bran
If you love your wheat bran-based cereal, try using one of the above options instead. Another perk of chia seed bran is that it is quite high in protein.
Instead of regular wraps or sandwiches, wrap your filling in iceberg lettuce leaves. You'll need more filling to make up for the lack of bread.
Make a composed salad to take to work with you. I've been doing this for years without thinking too much about it but Hugh Fearnely-Whittingstall brought the idea to life in his book River Cottage Everyday.
Think leftover cooked meat or fish, canned tuna, boiled eggs.
ii. Choose something to bulk it out.
Starchy foods work well here such as canned chickpeas or beans, leftover cooked potatoes, roast vegetables or cooked quinoa. Or try some vegetables like finely chopped raw or steamed broccoli, grated raw vegetables, salad leaves or avocado.
iii. Add a highlight ingredient.
Like goats cheese, other cheese, roast nuts, fresh herbs (basil, mint or parsley are best) olives or cherry tomatoes.
It could be just a drizzle of olive oil and a squeeze of lemon or lime. Or try a big dollop of pesto, hummus or olive tapenade.
Toss your favourite sandwich filling with a drained can of chickpeas, beans or lentils and a little olive oil for a quick lunch salad. In winter you can warm the legumes first in a pan with a little oil.
6. Vegetable 'pasta' or 'noodles'
There are so many options to replace your pasta with vegetables. My favourites are zucchini 'fettuccini' (see variations below for cooking instructions), carrot 'spaghetti' (shave with a vegetable peeler to get ribbons then cut into 'spaghetti'. Simmer in boiling water until just tender) or zucchini 'orechetti' (slice zucchini into coins and pan fry in a little oil until just tender).
7. Almond meal 'bread crumbs'
Replace bread crumbs in meatballs or meat loaf with almond meal. Same goes for bread crumbs used as a coating.
8. Cauliflower 'couscous'
Whizz raw cauliflower in a food processor until you have instant 'couscous'. No need to cook but if you'd prefer it warm, you can heat it through in a pan with a little oil before using.
GF Mung Bean Pasta with Rocket & Chilli Recipe
While mung bean pasta sounds a bit too 'healthy' tasting and is quite green in colour, it's actually surprisingly delicious and hits the spot when you're in need of some pasta 'comfort'. It's gluten free but the best part is that it's very high in protein and fiber and much lower in carbs than regular pasta.
150g (5oz) mung bean fettuccini or other pasta
1 small red chilli, finely chopped
1-2 tablespoons lemon juice
2 large handfuls rocket (arugula) leaves
2 large handfuls grated ricotta salata or parmesan
1. Cook pasta in a pot of salted boiling water as per the packet directions.
2. Drain pasta and return to the pot.
3. Toss in 3-4 tablespoons extra virgin olive oil, chilli, lemon juice, rocket (arugula) and about half the cheese.
4. Taste and season. Serve in bowls with remaining cheese sprinkled over.