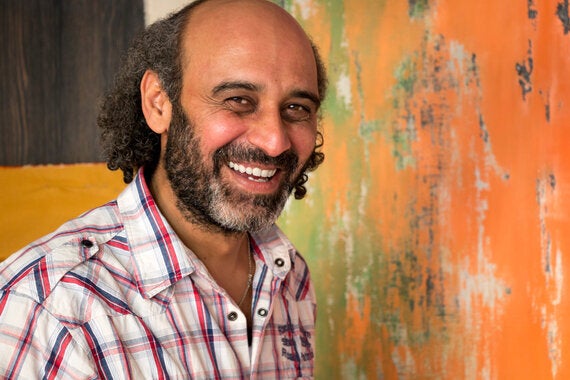 The tragic human cost of the conflict in Syria has been well documented, from the image of a Syrian boy pulled from rubble in war-torn Aleppo, to harrowing stories of the perilous journeys made by Syrian refugees across the Mediterranean. Sadly, this has done little to change the reality for those still living in the midst of the conflict, or fleeing from it.
Conflict and displacement also carry with them the less visible scars of grief and trauma - feelings difficult to manage in adults, and even harder to manage in children.
While it's unimaginable to ignore the effects of the war, can there really be reasons for optimism and hope? A group of Syrian artists believe so.
Working in exile in Lebanon, host to some one million Syrian refugees, as part of the Create Syria project, they have been using drama, animation, music, filmmaking and other art forms to heal the wounds of conflict and to promote creativity, self-expression and collaboration among refugees and local communities, especially children and young people.
Their works and stories inspired a multimedia exhibition in the heart of London launching on UN Peace Day.
In 2011, before the crisis, the Syrian artistic scene flourished, with many exciting developments in the world of theatre, art, music and cinema. Today many of those Syrian artists are working hard to preserve this heritage, even in exile.
Moreover, they want to use their art to promote resilience and dialogue and change the narrative around Syria from that of 'crisis' to re-growth and creativity.
Find out more about their work below.
Art helped Syrian painter Mohamed Aloosh, originally from Aleppo, to cope with the atrocities of the war before coming to Lebanon in 2011: "I would lay out all my pain, fear, fatigue, happiness and excitement on the canvas and start throwing [in] all sorts of colours," he says.
Inspired by his personal experience, he now teaches Syrian and Lebanese children how to draw and paint, helping them unlock their creativity and express their emotions.
Mohamed Aloosh talks about his painting and drawing workshops. Video credit: Johnny Abed/ International Alert
"Art is a coping mechanism, a way of dealing with the toxic context and the politics which are so complicated," explains animator Karim Qabrawi.
Trained in Syria, the region's centre of animation before the war, Karim uses moving images to build cooperation and understanding between the Syrian and Lebanese youngsters participating in his workshops.
Karim believes that no matter how serious the context, animations should be entertaining. His own work uses humour and simple imagery to engage audiences with difficult issues.
'The boats can leave now...' animation by Karim Qabrawi.
Ossama Halal, theatre director and actor
Syrian director Ossama Halal set up Koon Theatre, a laboratory for experimental street theatre that targets independent artists from different cultural and ethnic backgrounds.
"We are performing for the street and our themes are taken from the street," he tells us.
For Ossama, art should not be limited to the elite. It should be inclusive and inspire positive change.
A clip from 'Cellophane', a theatre and dance performance from Koon Theatre Group.
Raghad Makhlouf and Wissam al Ghati, actors
Syrian theatre and television actress Raghad Makhlouf and fellow artist Wissam al Ghati work with Lebanese, Syrian and Palestinian teenagers in the Bekaa Valley of Lebanon "to create a safe space for them to have fun, to build their confidence, make them feel like they are useful and their life has a value and worth after all".
"I want to make [Syrian] teenagers dream again," says Raghad.
A short movie based on acting workshops by Raghad and Wissam. Video credit: Salam Ya Sham
Abed Al Aziz Aidy and Hisham al Zouki, filmmakers
Syrian filmmaker and activist Abed al Aziz Aidy believes creativity will be vital to rebuilding Syria: "Art is a process of dismantling society and putting it back together again."
Together with fellow filmmaker Hisham al Zouki and Najda Now, Abed has been running video-making workshops for young Syrian refugees in the country, with the aim of developing their technical skills but also to give them a voice.
The short film 'The camp and my parents' story documents this work and the oral memories of Syrian refugees living in Lebanon.
Trailer for 'The camp and my parents' story', a documentary by Hisham al Zouki.
Barkev Taslakian, music conductor
For Syrian-Armenian conductor Barkev Taslakian, music has the power to engage people and give them a sense of hope. Since joining the Create Syria project, he has been leading a choir-training initiative to involve Syrian children and young people in Lebanon in the joyous and healing power of music:
"When you are introducing arts to these children who have known nothing but war, you are paving the way for a better future," says Barkev.
Performance by Syrian children as part of Barkev's choir training initiative. Video credit: Yara El Moussaoui
Hannibal Saad, musician and music festival director
Hannibal Saad uses music to raise awareness of the rich cultural heritage of Syria and to promote dialogue between Syrian and local communities in different countries, through initiatives such as Syrian Music Lives and the Global Week for Syria.
In Lebanon, he has been training young musicians to use their practice to heal, connect and create social cohesion.
"I believe in peace. I believe that the war will end and we need to be prepared for cultural reconciliation," he says.
Hannibal Saad talks about his project, Syrian Music Lives.
Top image: Johnny Abed/ International Alert