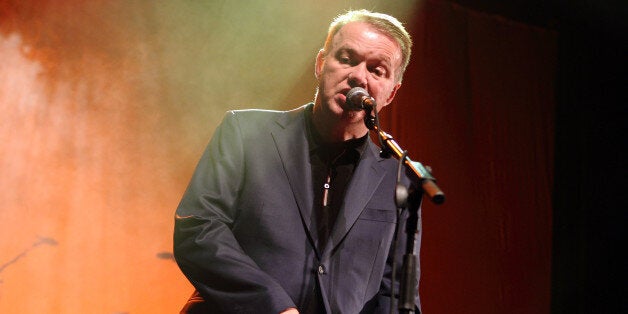 The Possibilities are Endless is a film about the celebrated lyricist, Edwyn Collins, a songwriter (his most famous hit single is A Girl Like You), who had the contents of his mind effectively deleted after experiencing a stroke. Placed inside Edwyn's mind, we embark on a remarkable journey from the brink of death back to language, music, life and love. With the help of his wife Grace, Edwyn submerges himself in a landscape of memories, as he tries to unlock the story of his past. More than a story of determination against all odds, it is an intimate and life-affirming tale of rediscovery.
My involvement in the film started like most things in today's world, with an email. Thomas Benski, CEO of Pulse (a film production company) and a producer on the film, got in touch to say there was a potential project that might be of interest. Days later I met with him and Lucas Ochoa, his producing partner and head of film, to discover they were looking for another producer to work alongside them on their latest feature documentary about Edwyn Collins and his recovery from a stroke in 2005. Having worked in television up to this point, the idea of a working on a theatrical film was incredibly exciting if slightly daunting, leaving me no choice but to sign up on the spot.
After the meeting, the next step was to meet the directors Edward Lovelace and James Hall. My first Google of them told me that they had just finished the Katy Perry box office hit, Part Of Me - surprising, as the Edwyn Collins treatment I had read gave the impression of a duo with a more auteur, art house sensibility. However, after meeting them in person it was immediately apparent that they were enormously passionate about their subject, Edwyn Collins, and extremely focused on creating an immersive cinematic experience.
The first script meeting signaled that this was going to be a very different kind of documentary. Firstly because there was a script and secondly because of their maverick vision- this was to be a hybrid film with elements of narrative and documentary intertwined. Ed and J had spent the last two years audio recording Edwyn and his wife, Grace's story and it was these words that formed the script and ultimately the voiceover of the film. The film was set from Edwyn's mind's eye and the directors' approach to achieve this sensory exploration was through a mixture of dream-like documentary, fictionalised re-enactments and present day observational actuality. And it was this dream-like documentary idea that took us on the road north to Helmsdale, Scotland, Edwyn and Grace's spiritual home.
Helmsdale is a tiny little fishing village on the east coast, two hours north of Inverness where Edwyn's family have resided for decades. It's one of the most beautiful places in Britain. Surrounded by the Scottish highlands and the North Sea, its people and its two pubs were charmingly welcoming. I joined the sea rowing club and Ed and J went on dawn fishing trips with the locals, all in an effort to understand and connect with the place that had been a constant during Edwyn's six month hospital stay.
Back in London we also filmed with Edwyn's son William, and attached him to an on screen girlfriend played by the actress Yasmin Paige (The Double, Submarine). Both played themselves but were encouraged to improvise in certain situations and environments that represented Edwyn and Grace's retrospective love story.
Then came the edit, which for any film or TV project is like wrapping yourself into a cocoon. For the first few weeks it's your comfort blanket, you make the edit suite your home, you sit back, watch rushes, talk A LOT about life and sometimes about the film. Then a few weeks in, apprehension starts to kick in. Finally, and with some help from our wonderful funders and executive producers Maxyne Franklin and Beadie Finzi from BRITDOC (a non profit film foundation), the film started to take shape. Ed, J and our editor David Charap then worked tirelessly over days, nights and weekends to finish the film in time for festival submissions.
The picture lock of the film signalled a really exciting time, not just because the end was in sight, but also because it meant that we'd finally get to Skywalker Sound, George Lucas' sound post production ranch in northern California. The space, the technology, the dedication of its staff and the fact they gave a little film like ours such a massive opportunity, was amazing. Chris Barnett, our sound designer and mixer is a genius, who took our documentary and turned it into a real cinematic experience.
Unlike most subjects or contributors, Edwyn and Grace didn't ask once to see the film. They, like myself, Lucas and Thomas, had such a strong belief in J and Ed that they simply said: 'Just show us something when you're ready'. And when the big day arrived, we rented a screening room and sods law, the projector packed in! Their first viewing of our immersive cinematic masterpiece was from a 2010 MacBook with a dodgy speaker. However, the technical hitch didn't dampen their love for the film - it bought them joy, sadness, laughter and some tears. Having scored the film without even viewing the film, Edwyn realised that he too was a virtuoso, as everything seemed to fit perfectly.
The film had its premiere at SXSW and the following day we received a five star review in the Guardian and an equally amazing review in Variety. We were overjoyed with the recognition we had received and now after months of more hard work, the film will be on general release on 7 November after having it's UK premiere at the BFI London Film Festival on 11 October. It has been a wonderful journey with an amazing team and I am so proud of the end result.
www.thepossibilities.co.uk