I'm going further back in time now. Come with me. See if you can squeeze in the back seat next to that life-size cardboard cut-out of Rik Mayall.
In my first Huffington Post blog series, I wrote about my experiences working in actors' agencies. As I went on to pursue an academic career, I laid to rest my ambition of a working in film and television production. Since my teenage years I have cultivated my passion for film and television by watching an eclectic mix of programmes, and I'm interested to think about how my early viewing habits influenced me personally and professionally. It's these formative teenage years which I'm going to delve into in this blog.
When I held my printed and bound PhD thesis at long last, I wasn't aware of a sense of Heimlich, or cannily familiar as Freud would have it. But recently it dawned on me that a precedent was there all along, more influential and formative than I dared acknowledge. I have never considered myself to be a writer. My academic work, so I believed, is motivated by a love of film, rather than a love of writing, Now I am wondering if I have misunderstood myself. My PhD was a hard slog, but I never doubted that I would finish it - fail the viva, perhaps (I didn't) - but I knew that I would complete the manuscript. Was my conviction based on pure determination? Or was there a precedent in my life that proved I have the stamina for a long-haul commitment to writing?
There are some things which are so obvious that it doesn't occur to us to speak of them. In my case, it has been a small red book with a broken padlock: my 5 year diary, which I started on 1 January 1994 and finished on 31 December 1998. For years it was shut away in a drawer at my parents' house and I occasionally would have a peek. Now the diary is back in my possession and as I scour the pages for bitchy playground gossip, for the record of my first kiss (when was it? I still haven't found the page), or for my emotions during the devastating family losses during the five-year period, something strikes me.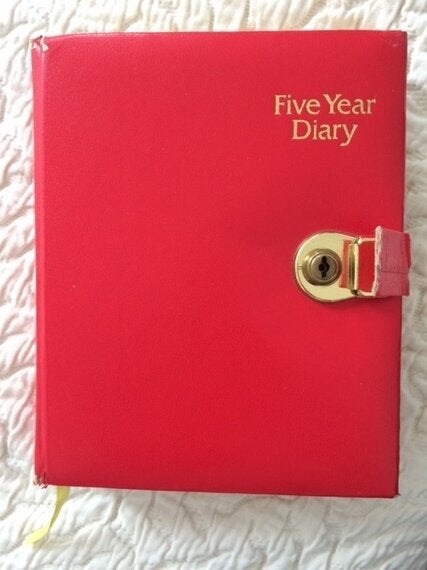 The diary contains the most incredible archive of everything I watched during these years. Films, television programmes, VHS rentals - all diligently recorded. From an academic perspective, my diary provides a fascinating account of the scheduling of British television and its consumption by teenagers during the 1990s. From a personal point of view, it's a nostalgia-inducing cringe-fest, which makes me wince, laugh and cry at every turn.
So I had done it before. I had written a book detailing my thoughts on films. Furthermore, my work in film and memory studies explores autobiographical filmmaking, including documentaries and diary-films. Until now I haven't drawn these comparisons between my diary and my academic writing, but the similarities seem too pronounced to ignore. Surely the repeated activity of diary-keeping left an imprint on me and influenced my abilities and interests as an adult.
Seventeen years ago I was seventeen years old. I was in Year 12 at school and evidently at the height of my obsession with Rik Mayall. I devoured British comedy from the 1980s and early 1990s, mainly thanks to the UK Gold channel. This is what I watched over the two weeks April 23 - 7 May 1998: Fawlty Towers, The Young Ones, Comic Strip Presents...Gino (1984), Comic Strip Presents... Consuela (1985), Blackadder, Shooting Stars, Eat The Rich (1987), Hollywood Sex, The X-Files, The New Statesman, Roman Battles (this must have been one of my attempts to "work" while watching television, as I was studying Latin A-Level). I also noted that I watched Ben Elton talking about his psoriasis (this was a great source of comfort to me), and the Spice Girls on TFI Friday. It goes without saying that I also watched Neighbours and Home and Away after school daily, but only noted extraordinary events in these.
At this time in 1998, I was choosing universities to apply to, and I made use of a trip to Glasgow for an aunt's funeral to visit the universities in Glasgow and Edinburgh (where my brother was, and where I also enrolled the following year). In Edinburgh, my brother gave me a life-size cardboard cut-out of Rik Mayall which he'd somehow procured from a cinema, and I brought it home the car back to London. Rik took pride of place in my bedroom for a while, then later was relegated to the back of my wardrobe, frightening family and friends whenever they opened the wardrobe doors.
Rik Mayall died last year. I was sad, of course, but I felt like I had already said my goodbyes. In 1998, I wasn't yet as old as The Young Ones. The cardboard cut-out was chucked out long ago. My obsession with The Comic Strip served me well - I won a place on the youth training arm of the Edinburgh Television Festival in the summer of 1998, thanks to my references to the series on my application form. I was just beginning my media career (albeit short-lived), and I was full of fuel thanks to the inspired and inspiring programming on UK Gold.
When I read my diary now, I'm amazed to see how regularly I have noted influential programmes. My memory fails me many details, but the diary provides specific examples of what I watched. I don't really want to go back in time. But I can re-view what I watched then. Rewind and remember.
This blog series is about memory, and so I dedicate this first post to the memory of Rik Mayall.