As July was the hottest month in recorded history according to NASA, many climate change naysayers have been presented with substantial evidence that the earth is indeed getting warmer and that it might not be a result of Jesus being angry. The challenges that we humans must address clearly need to come in the form of sustainable and immediately realisable solutions to the dangerous increases in global temperatures with heat records having already been broken in the fourteen months before July. Certainly, some of the most practical changes are coming about through the syncretic constructions of innovative technology and architecture.
Vietnam's Vo Trong Nghia, one of my favourite living architects and winner of the 2014 World Architecture Festival, is arguably Asia's best contemporary architect. Known for his affordable and low-maintenance dwellings, bamboo constructions which he calls the "green steel of the 21st century," and green roofs and walls, Vo Trong's work is quickly becoming Asia's most renown green revolution in architecture.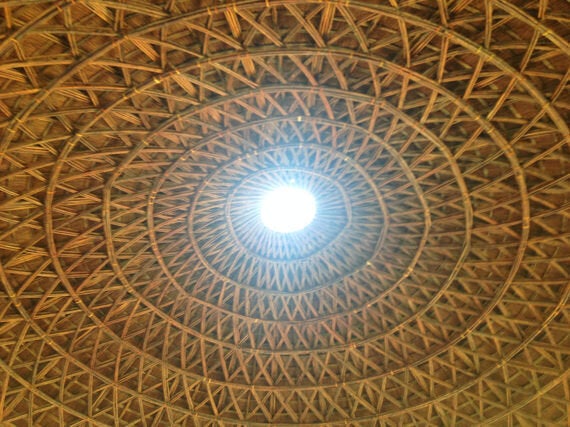 (Photo credit: Julian Vigo)
Just recently Nghia has been named, together with four other artists, the 2016 Prince Claus Laureate together. The Prince Claus Awards honour achievements in the field of culture and development by recognising individuals and collectives whose cultural actions have a positive impact on the development of their societies. Certainly Nghia's structures have impacted his home country's architectural tapestry, not to mention his work is quickly being recognised around the world, but it is in his hybrid work between architecture and ecology that has everyone taking note of his creations.
Nghia's architecture is considered to be part of a growing movement in green architecture evidenced by his recent projects of green renovation of a residential structure in Hanoi, his work on a tree-covered university campus, where plant life and architecture become one in the same or his Babylon hotel featuring hanging gardens on its facades. I visited Nghia's Diamond Island Community Hall (pictured) located on an artificial islet in District 2, Ho Chi Minh City. Surrounded by high-rise condominiums, these eight bamboo domes are scattered offering places for the community. Bamboo stalks are woven into various shaped domes in the range of 24 metres in diameter. Shaped like traditional baskets to enclose fowls, typical to southeast Asia, these micro pavilions offer a marriage of traditional Vietnamese folk art with contemporary architecture.
From architecture to design, innovative technology is driving the renewable energy industry and ecological design is imprinting itself in architecture. Take for instance the fact that Morocco's mosques are on course to be green through energy-saving lighting, photovoltaic electricity generation (solar panels), and solar water heating. Or the ongoing move to turn architectural walls into vertical gardens as can be seen in Madrid, Paris, and many other cities. Even the indoor waterfall of Singapore's Gardens by the Bay, creating a natural air conditioning, mixes sustainable design with architecture as plants are also used to mitigate the extreme heat of that region. Where green roofs were virtually unheard of twenty years ago, today they are considered industry standard in hotter regions of the planet.
With the failure of Shanghai's Dongtan Eco-City, designed to be the world's first environmentally and socially sustainable city yet abandoned before construction, the lessons learned from this defaulted project reveal that using the most innovative technology when possible is more important than attempting to revolutionise the entirety of urban design in one go. Take for instance the simple innovations of smart glass which are coated with metallic oxide to block out the sun's rays during summer months and which keep heat inside the home during winter. Or, the design of buildings to reuse water from the kitchen and bath, also known as greywater recycling. There is also the recent innovation of thin films of photovoltaic technology embedded within glass, such that soon the entire exterior of buildings can produce energy and the resurgence of the Passivhaus which was designed with the idea of heating the entire house with a hair drying.
The innovations we already possess are multiple and together with ditching the car for a bicycle, rethinking our diets, getting involved in ecological projects around the planet, and altering shopping habits. Certainly, the best frontier in fighting climate change is taking place on home front, from the architecture through to our dinner plate.
Related