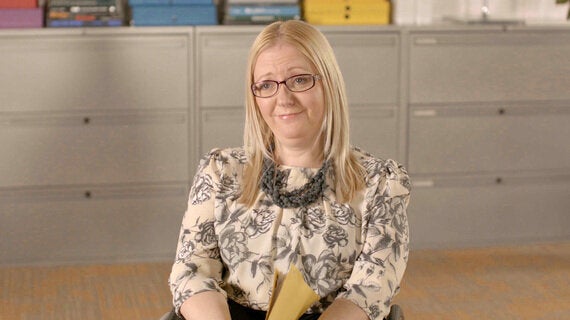 Awkwardness about disability is as apparent to me now as it was when I started out in the television industry 20 years ago.
I remember when I filmed three episodes of police drama Dangerfield back in the mid-90s, alongside Sean Maguire. There was a potential change in the plot suggested, which I felt was pretty off in terms of political correctness. So I decided to have a word with the producer.
I managed to get it stopped. But his message back was pretty clear: I should be grateful to even be involved, because according to the upper echelons of the BBC, "you disabled people" reduce our viewing figures...!
Since then, we have seen more black and ethnic minority actors, and more gay actors, on our screens. But the able-bodied community seem to still be in denial about disabled performers. Broadcasters must still be scared about those plummeting viewing figures!
These days, a disabled character joining a soap still seems to be big news - just like it was when I joined El Dorado in 1992. I would have hoped by now it wouldn't even be seen as anything out of the ordinary.
Something else that has continued is the practice of casting able-bodied actors in disabled roles.
Most recently, actor Blair Underwood played a paraplegic cop in a remake of the series, Ironside. I wonder how Underwood, who is African-American, would feel about actors "blacking up"? That is seen as being utterly unacceptable... just a few weeks back, there was a big hoo-hah about some Morris dancers in Kent painting their faces as part of a traditional dance.
Yet no one in the industry blinks an eyelid about people pretending to be disabled.
I've recently been filming a campaign with the disability charity Scope, called End the Awkward, which uses humour to highlight the awkwardness that people feel about disability. I hope it will get people talking about why there is still an issue.
The adverts are funny, with Alex Brooker fronting them, but I think there is a pretty dark truth behind the discomfort that people feel around disabled people.
We are their "worst nightmare", the thing which people hope will never happen to them. You can't wake up one day and have changed race, or sex. But becoming disabled is something which could happen to everyone. And it scares people.
I think able bodied people are in denial about their thoughts and feelings towards us - they don't want to deal with the thought process, so they shut it out.
Well, we are here! And with medical advances and people living longer, there are only going to be more of us!
So maybe it's time for people to start coming to terms with their feelings about disability.
Related