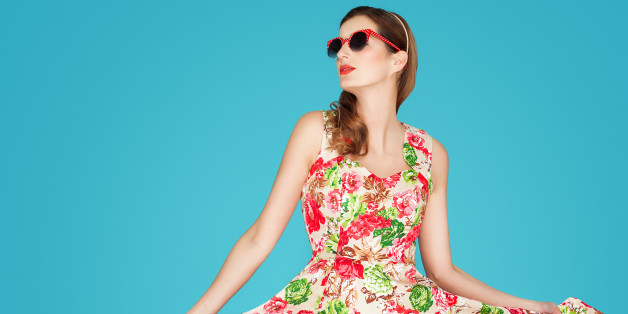 iconogenic via Getty Images
"I like heavy coats and buckled boots and funnel-neck sweaters that weigh more than Cardiff. Floaty, happy, swirly summer stuff makes me uneasy", so said Claudia Winkleman, writing in The Sunday Times Style magazine. And this wasn't the first time the TV presenter had revealed her reservations about summer dressing. On BBC One's Room 101, she tried, albeit unsuccessfully, to convince host Frank Skinner to banish the season altogether, claiming, "I don't like the clothes," and "I don't like what it does to people. Out comes some paisley, weird maxi-dress."
Claudia's comments may seem rather cutting, and while I have no wish to wave goodbye to any hope of hot weather myself, I do understand her reasoning style-wise. Why is it that as soon as the sun appears, many of us suddenly turn into completely different versions of ourselves? Fashion seems to expect us to take on a whole new persona, and there is a presumption that we all want to don bright colours and wear clashing prints.
The former Editor-in-Chief of Elle Magazine, Lorraine Candy, has said that she'll "...happily embrace pattern and print with a hippy inspired enthusiasm on sunny holidays", which is all very well and good if you have an in-built summer alter ego that naturally comes to the fore during your two weeks away. But what if you're not, and never will be, a hippy chic or bohemian beach babe?
I've written before about the strange sensation of wearing someone else's clothes that many women experience when shopping for so-called occasion-wear, and the same can be said of summer dressing, and holiday wardrobes in particular. What we feel we ought to wear seems to become more important than what we may actually prefer to wear, and the result is often an uncomfortable compromise.
I remember when my parents booked their first cruise. Rather than pack a suitcase full of clothes she felt comfortable and confident in, my mum chose to invest in what she considered to be cruise-appropriate attire. Unsurprisingly, the pile of colourful kaftans and similarly exotic eveningwear she took with her remained unworn, and each piece was duly donated to charity on their return.
Endeavouring to adopt a completely different way of dressing isn't the only dilemma surrounding summer style. There is also, to quote Claudia again, the need to "get our heads around being practically naked". Apparently, warm-weather dressing is liberating. Summer, we are told, means fashion freedom, a time when we can shed those winter layers and slip on something simple. And while yes, I do agree that the actual act of dressing for hot weather may be a breeze, the necessary preparation is anything but.
What should be a simple seasonal style swap actually involves making sure we are toned and tanned (having exfoliated and epilated first of course), have slathered on the sun cream, painted our toes and protected our soft, former sock-wearing feet with plenty of plasters to guard against the inevitable sandal-rub. And maintaining that easy-breezy beach-ready look is certainly no walk in the park.
And so this begs the question, how do you create a successful summer wardrobe? The answer is by keeping in mind the clothes you love and wear during the rest of the year and making them work for the warm weather too. Simply put, your wardrobe should be clearly recognisable as your own, whatever the season.
"You'll never catch me in a floral dress," Samira Nasir of US Elle has revealed, "My summer uniform is pants and a long-sleeve cotton top". The fashion director has also admitted to loving a boot in summer, and has spoken about how her favoured summer style ensures she still feels dressed.
Over the years I have come to terms with the fact that I, too, will never be a so-called summer dresser. When the warm weather arrives, I essentially swap my black denim for white, long-sleeves for short and wear lightweight black leather boots. Compromising my personal style is simply not an option, hot weather or not, and certainly not while away on holiday. Why spend the two weeks I have been looking forward to all year, a time to relax and unwind, feeling the least bit like myself?
If summer is your favourite season style-wise then you do have my sympathies, as given the Great British weather there is precious little time to make the most of your wardrobe favourites here at home. But the same sentiments apply. With a few simple tweaks, you can transform your summer looks into winter-ready styles.
If, like me, you are already looking forward to next season, I have some good news. We may be heading fast towards summer in the real world, but on planet fashion autumn/winter is just around the corner. It won't be too long before those rails of revealing summer dresses are replaced by cooler weather-clothes, and those sweaters that weigh more than Cardiff will once again come into their own.