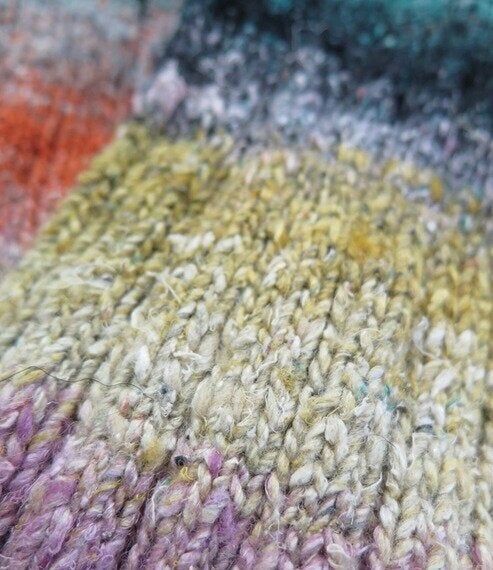 Autumn/Winter is the best season for knitters, as far as I'm concerned, with wonderful colours and sumptuous soft and lustrous fibres in an amazing array of yarns. The latest pattern books are launched and I closet myself away with them to decide what I would knit if time and money were no object. Knitter's porn is the only way to describe books like Rowans magazine 56 or Debbie Bliss' latest collection. Some people collect and drool over cookery books, for me its knitting magazines. My stash of yarn is starting to get a bit unruly and frankly too big, if I'm honest. In our Woolly world we describe my situation as STABLE - Stash Beyond Life Expectancy. So why while I am happy to buy new patterns I have to be very discerning as far as yarn is concerned.
This season there is one yarn that I've allowed myself to try from my favourite yarn brand in the whole while wide world, Noro. The way Mr Noro blends colours and fibres is nothing short of masterful and the pick of this season's crop for me is a new yarn called Janome. Usually I would go for a 4ply or lace weight whereas this is an aran weight so it is nice and substantial. I chose it because of the composition of wool, silk and mohair, which promised softness. The colour blends are really exciting with bright shades popping out of such subtle backgrounds. Because of the yarn's thickness the coloured changes more rapidly as you knit than other Noro yarns, which on small projects is really pleasing. However, I would say that the yarn is a lot drier and crisper than I was expecting. Even after washing it wasn't as soft as I could have hoped for.
You can get a small pair of fingerless mitts out of just one ball of this yarn and here is a pair I made earlier! You can see exactly what I mean about the colour blends, aren't they lovely?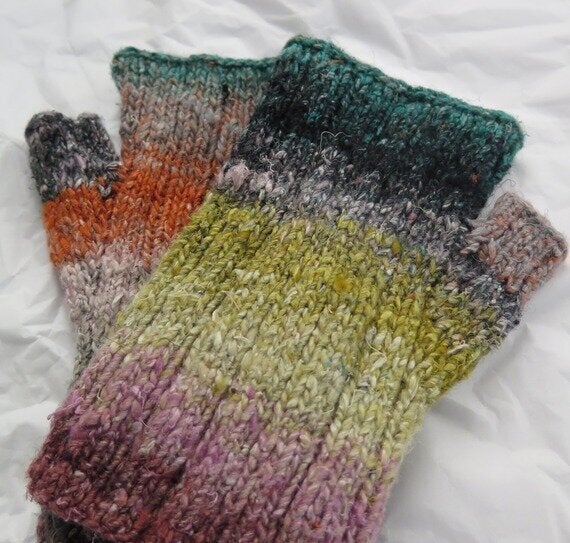 They are knitted in a very simple 3x1 rib which is nice and stretchy to fit lots of hand sizes. It's such a quick and fun pattern that I have shared it here for anyone that is interested. Whichever new season's yarns you are trying I wish you happy knitting.
Cast on 48 stitches on 4 mm needles. Join in the round being careful not to twist the stitches. Round 1: (K3 P1) repeat to the end of the round
Round 1: K3 P1 M1 K3 M1 P1 (K3 P1) to end of round
Work two rows as follows: K3 P1 K5 P1 (K3 P1) to end.
Round 4: K3 P1 M1 K5 M1 P1 (K3 P1) to the end
Work two rows as follows: K3 P1 K7 P1 (K3 P1) to end.
Continue increasing in this way until you have 13 stitches in the thumb between the first and second purl stitches. Put these stitches on a stitch holder.
Next round: K3 P1, cast on 3 stitches, P1 (K3 P1) to the end of the row.
Work 16 rows of (K3 P1) as before casting off evenly.
Pick up the 13 stitches from the stitch holder, 1 stitch from the gusset, 3 from the hand, 1 from the gusset on the other side. (18 stitches)
(K3 P1) 3 times K2 together K2, P2 together (16 stitches.)
Work (K3 P1) for eight rounds and cast off evenly.
Noro recommends a 4.5mm needle for Janome but I prefer a denser fabric so went down to 4mm. This pattern should also work on a standard DK yarn but the fit will be a little tighter.