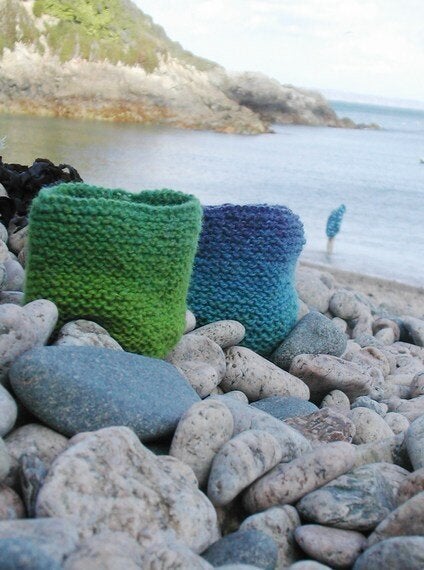 This year will be the first in quite a while that we haven't gone on a holiday by car. We will be flying to Sardinia, which presents me with a bit of a problem. My knitting and crochet. In a people carrier it doesn't matter if you sneak in a couple of extra projects to keep you happy - just in case you understand.
But now I'm staring down the barrel of the 23 KG limit, so that means I have to be super organised and really think about what I take with me. So what do I think about when I'm compiling my shortlist? Nothing too complicated, but nothing too boring either: the weather is a factor because nobody wants to knit an Aran jumper in 30° C; nothing too big, you don't want a huge wide project covering your lap on the beach even if it is lightweight; and then there's the sand, will it be detrimental?
So here is what I've decided to take. Jane Crowfoot's Crochet Club from last year that I've barely started weighing in at around 1.5 kg. The colours are so lovely and fit in perfectly with our Mediterranean surroundings. The yarn is cotton - so no sweaty palms and it is modular, so nothing too big. Unless of course I finish all the parts and start crocheting it together! Crochet is great for holidays because you can pick it up and put it down without losing your place in the pattern. Projects grow quickly and you still get that buzz from doing some craft.
My second project will be a shawl. A dear friend has spun me some really fine lace from a Gotand fleece from the Little Grey Sheep and I am knitting it up into a pattern called Rock Island by Brooklyn Tweed. The yarn is fine enough not to be too hot to work with and challenging enough to thoroughly satisfy me.
Finally, and for my hand luggage I am crocheting a scarf in a very fine yarn. I have long been an admirer of Sophie Digard and her finely worked scarves and shawls. I have been stockpiling some Noro Sekku lace since it was sadly discontinued. I will be crocheting tiny granny squares on a 1.5 mm hook (about the size of a toothpick). This allows me to really perfect my basic crocheting techniques although I am not looking forward to all the sewing together at the end. But it is the kind of project that you can sit in an airport lounge doing, take to the beach, sit round the bar, etc.
A lot of people ask me about travelling with needles and hooks through airports and onto planes. According to the Heathrow and Stansted airport websites knitting needles are allowed on board planes in your hand luggage although my advice in the current climate is to check before you leave. I always pack spare needles and hooks in my main luggage and if I'm knitting I use interchangeable needles so if security want to take my needles my knitting project is safe on the cable.
Wherever you go this summer may you enjoy your holiday and enjoy the time you have with your knitting.
Related