As I sit here writing this piece a momentous week of celebrations has just kicked off. World Wide Knit In Public Day began in 2005 as the brainchild of Danielle Landes. With just 25 events in the first year, it has grown to more than 800 official events around the world. This year KIPs, as they are affectionately known, will take place form 14th to 22nd June - yes I know that's not just one day but it allows more people to take part, which is kind of the point. Bringing people together over their pins was always Danielle's intention. Later on today I will be trying to find an event near where I am staying in Suffolk.
WWKIP Day made me think about how people get in to knitting. I have been a knitter for more years than I care to admit but I would say that it is in the last 15 years that I have learned the most and I wouldn't be without my needles. When I go away or travel each project that I take (and there is always more than one) is chosen for different situations. Just like you would choose a different dress to wear for day and evening. If I am meeting knitters I try to choose something they might be interested in. If I'm just watching TV it will be something simple. But if I hadn't ever knitted and I wanted to learn, how would I get started?
These days needles are not the only solution to producing a knitted fabric. Loom knitting has a history that goes right back to the 16th century when it was known as frame knitting. It was invented by William Lee of Calverton near Nottingham. In 1589 he demonstrated machine knitted stockings to Queen Elizabeth I. The story goes he invented the machine when he was a curate because the woman he loved was more interested in knitting than in him - maybe she was trying to tell him something. There is still a Worshipful Company of Framework Knitters which is one of the Livery Companies (or trade associations) of the City of London and it can trace its history back to Oliver Cromwell's time.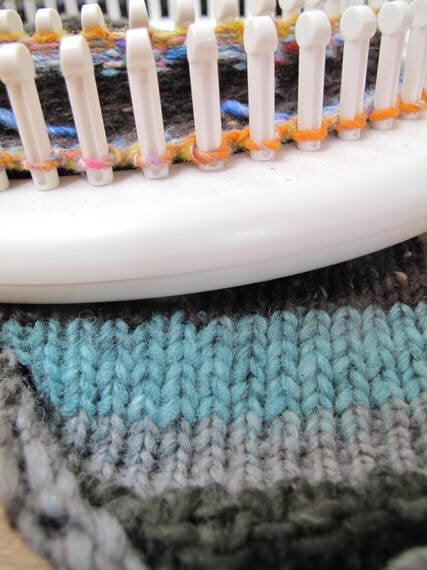 I have been trying out an Afghan Loom from BK Crafts but it looked so uninspiring I felt I had to give you an insight into its noble heritage. The basic principle is you wrap yarn around the hooks and make stitches just like a French Knitting Doll but on a larger scale.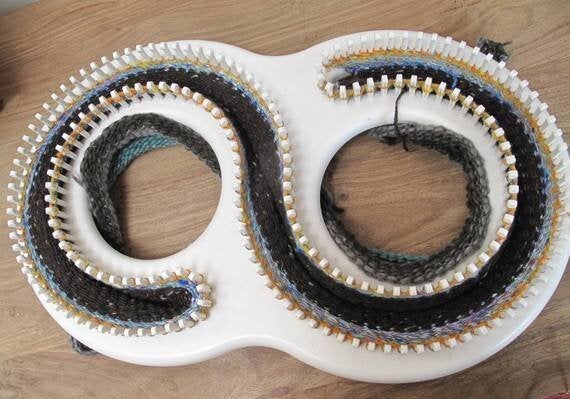 The unusual S shape makes it easier and more compact because the loom has 198 hooks, wide enough to make a blanket or afghan as they are called in America. What I really like about this loom is that it can sit on your lap and that you can just pick it up and "knit" a few stitches. As a beginner it will help you to understand how a knitted fabric is made. Now I know that I can knit 198 stitches faster on my needles than this loom, but I don't think this product is really aimed at me. As a way of helping newbie make something, it's great. There are lots of smaller looms around to help you knit hats or socks. Deramores have a great selection here and the Afghan Loom should be in stock very soon.
Knooking needles are a big new trend that is about to hit our shores and another way of producing a knitted fabric. Similar to Tunisian crochet, the Knook has a crochet hook at one end and a hole in the other like the eye of a needle. Following the booklet or online videos it doesn't take long to produce a fabric that is knitted. When I tried it, I liked the immediacy of it in the same way that I like crochet. My tension was a bit slack, but I think that would improve with practice. I know a lot of people that crochet don't find it easy to knit. Well, the Knook is just what they need. What is really exciting about this technique is how designers are starting to blend knitting and crochet just using this one hook. With the new technique there will be lots of exciting things emerging.
And of course whether you are using a loom, Knooking needles or traditional pins don't forget to do it in public.
Related