Responsible tourism may not seem to go hand in hand with the USA, particularly when its most shouted-about tourism offerings are often Disneyland and Las Vegas. And yet over the last couple of years, we've been looking more closely at this vast country, and have pulled out the hidden hideaways, cycling and hiking trails, delicious locally-produced food and drink, and stunning known and unknown conservancies and National Parks. Above all we've been able to find the myriad of local people working hard to protect a range of spectacular landscapes, to preserve ancient cultures and to share what they love about where they live with visitors. Colorado, in particular, is somewhere which has stood out as a destination for wholesome holidays, deeply connected with people and place.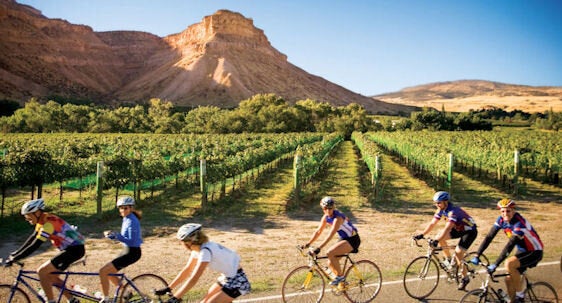 Cycling through Colorado vineyards. Credit: Denise Chambers/Miles: Colorado Tourism Office
It may be more usually associated with skiing, but what surprised and impressed me is just how much the state has to offer away from its famous ski slopes. From hidden vineyards and a plethora of local breweries, to ancient Native American cave dwellings to explore with a Ute Indian guide. As tourists it can sometimes seem daunting to get off the beaten track, but the openness and enthusiasm of Coloradans for their state makes this a destination which encourages exploration and discovery of real, local and authentic experiences.
I believe that authenticity and responsible tourism go hand in hand. If we treat local people fairly and travel with respect for local environments and communities they are much more likely to open up their homes and culture to us; to choose to allow us to share in their lives and to have an experience much deeper than one available to other tourists just passing through. Colorado offers a huge range of opportunities for travellers to do just that.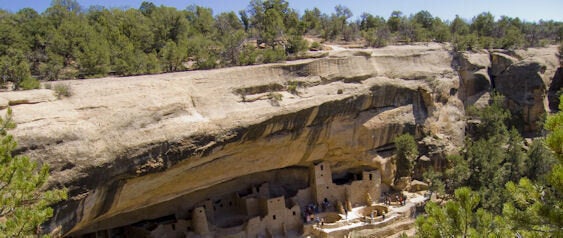 Mesa Verde National Park. Credit: Denise Chambers/Miles: Colorado Tourism Office
Mesa Verde National Park, although less well-known to us Europeans than some of the United States' more famous stretches of wilderness, is actually one of the country's most visited. It is the first UNESCO World Heritage Site in the USA and the only National Park to be protected under this status for "works made by man", thanks to the its collection of over six hundred ancient Puebloan cliff dwellings. Supporting and visiting the park is important for the work it does in conserving these fascinating sites; and staying overnight allows longer hikes on its myriad of trails, and a chance to appreciate the beauty of the sunrise lighting up the red sandstone ridges one by one. But to really understand the traditional culture and spirituality present in these cliffs, travellers should take the road-less-travelled to Ute Mountain Tribal Park, just an hour from Mesa Verde.
Here, it is possible to hear the stories of the Ancient Puebloans through different eyes - those of the Ute Indians which call this land home. Deeply connected to the landscape and its history, a guided walk through the park with a Ute Indian guide offers a much more intimate understanding of this place. The Ute Indians describe themselves as the stewards of this place, and talk in depth about the spiritual world of the Puebloans, the threats they faced and in doing so share stories of their own traditional ways of life. This is a much more remote, thought-provoking way to experience Coloradan history than the National Park tour, and supports Native American cultures and economies.
This deep connection with the landscape is echoed throughout Colorado and I believe that it is something which tourists should share. Rather than writing off Colorado as simply a destination for adrenaline-fuelled winter escapes, travellers should slow down and take Coloradans up on the opportunities they offer for a more wholesome, re-invigorating type of travel. Visit a working ranch to go horse-back riding through the prairies, lose yourself along vast network of hiking and biking trails, sip a glass of Coloradan white wine or listen to stories told by a local guide as you float down the Colorado River. These are people who value the landscape in which they live, and the enthusiasm they have for it is infectious.