The Arabian States have always fostered a romantic notion in the hearts of travellers. Fuelled by Wilfred Thesiger's beautiful descriptions of the desert-dwelling Bedouin in the 1950s and the adventures of Lawrence of Arabia, it's a culture and landscape we find evocative and beguiling.
Imagine Arabia and you can almost feel the desert sand sting your face, smell the spices and hear the clamour of the souqs. But in the high-rise, high-tech modern Arabia, with its towering developments and off-shore islands, does this world still exist? On a recent trip to the Sultanate of Oman, I discovered it alive and well. And as enthralling as ever.

Visiting the Bedouin in the desert, Oman.
Leave Oman's vast coastline, a turtle-haven rapidly being recognised for its pristine sands and sparkling sea and head inland. For me this is where the real Oman, the real Arabia begins. Cut into the mountains, three hours inland from bustling Muscat, is Al Hamra, a 400 year old mud brick village with crumbling buildings and twisting alleyways. Offering an insight into Omani life before oil and the Sultans, it is a wonder that this ancient community hasn't made it into the UNESCO World Heritage Site listings. What it does spectacularly well is transport you back in time; local women making bread and doing the chores in a restored grand house bring the experience to life with laughter and a hands-on approach to educating travellers. It's the kind of living museum experience that the National Trust could learn from. Here it works.
But the authentic Arabia found in Oman is not just found in reconstruction of past traditions. Deep in the desert, surrounded by soaring dunes lies a small dwelling made of reeds and rugs. Inside a Bedouin lady welcomes travellers in to hear stories of life in the desert. In a shining example of legendary Bedouin hospitality, she does not ask visitors to pay for their visit. In her words; she is doing this for Oman, not for her house. Traditional Bedouin culture may be one that is disappearing in Arabia eroded away as the demands of the modern world encroach on traditional lifestyles. Most Bedouin are no longer nomadic, some settling in one place for better access to employment, healthcare and education, others having been forced off their ancestral ranges by drought and conflict. But while it would be wrong to say the Bedouin so vividly brought to life in Wilfred Thesiger's 1959 account of his journey across the Empty Quarter still exist, it would also be wrong to say that nothing of their culture remains. What I discovered in the Sharqiyah Sands was a glimpse into Bedouin life. The family still raise and keep racing camels, the handicrafts they sell are made from skills passed down from generation to generation, and they maintain all but the nomadic cultural traditions of their ancestors.
Whether Bedouin or not, traditional values underpin Omani society, and it is part of the reason that the country radiates authenticity. But the opportunity the country offers for immersion into the authentic Arabian world comes with added responsibility to travellers. In order to really experience Oman we have to understand the cultural and social values which drive the lives of the people we meet. A visit to the Sultan Qaboos Grand Mosque in Muscat was much more than simply a glimpse into a beautiful building. Inside I was greeted by clerics happy to answer questions about the Islamic faith, to discuss ideas and explain their beliefs. It offered an interesting opportunity to understand more fully the customs and cultures which travelling into the heart of Oman gives you the chance to experience.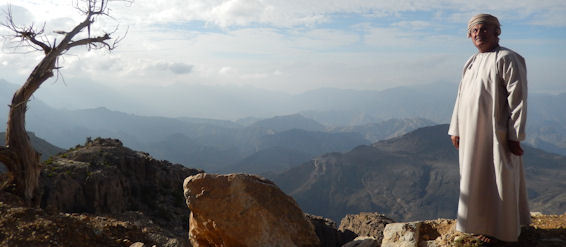 Heading inland into Oman's mountains.
Oman's presence on the world tourism stage is growing. Its coastline is attracting increasing numbers of international luxury resorts, drawn in by pristine beaches, turquoise waters and the country's reputation as a family-orientated, relatively progressive, safe haven in the Gulf. For me, the interest in Oman does not lie in its coastline, stunning though it is. It lies inland, in the mountains, forts and wadis, and in the local people happy to share an intoxicating taste of authentic Arabia with the travellers who make the effort to meet them. And it is a taste which leaves me keen to explore and discover more.
Justin Francis was a guest of the Sultanate of Oman Ministry of Tourism, sponsors of the 2014 World Responsible Tourism Awards. Holidays offering an insight into the authentic Oman can be found at http://www.responsibletravel.com/holidays/oman.