White sand and turquoise sea. Check. Tropical sunshine. Check. Rum. Check. On the face of it you could be forgiven for thinking that Tobago is just another Caribbean hideaway, a beach break for lovers of sun, sea and sand.
But what this tiny isle offers is a glimpse into the real Caribbean, beyond its beaches lies a whole world of culture, heritage and wildlife which belies its small size. Unlike other Caribbean destinations it has rejected the standard, polished high-rise hotel developments and instead offers one of the best opportunities for authentic Caribbean travel experiences, where we as tourists can immerse ourselves not only in its warm waters, but in its food, nature and history. Travel here and are you really are liming with the locals.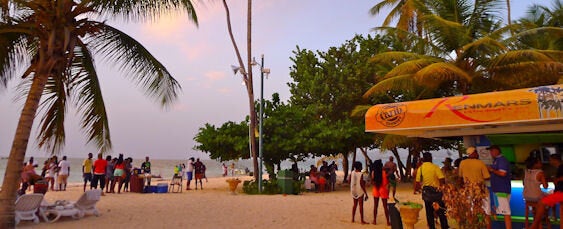 Credit: Tobago Tourism Board
I believe that authentic experiences and responsible tourism are inextricably linked. By treating people and places fairly and with respect, to ensure that local people and landscapes benefit from our presence our hosts are much more likely to invite us to discover their lives, to open up their homes, and to choose to allow us the privilege of experiencing their culture, traditions and hidden places. A holiday in Tobago is rooted in these types of experiences; it is a destination which makes it easy for us as tourists to choose to stay in small, local accommodations, to use local guides and to support local producers and business by eating in local restaurants.
A sense of pride in all things local seems to pervade Tobago, with the island's myriad of restaurants serving a variation on local dishes and traditional recipes rather than international buffets. Perhaps expected from the smaller, hole-in-the-wall joints at the Store Bay Beach Facility, but even the classier restaurants at Kariwak Village and Castara Retreats, which can't compete with the abundance of smaller, cheaper Tobagonian eateries around them have created a fusion of local and international, still reluctant to stray too far from their roots.
Tobago's heritage doesn't only shine through in its food. The island offers a glimpse into the often complex history of the Caribbean; the patchwork of colonial battles which have shaped modern culture. In Tobago, the relics of forts and canons littering its coastal coves tell the stories of the English, French, Dutch and Latvians who fought over this tiny chip of land for centuries. But the relics of colonial rule are not only found in physical objects - Tobago's ubiquitous steel-pan music, for example rose from the British colonial ban on local music, until all that was left to play was pots, pans and discarded oil drums. The original pannists were seen as troublemakers, but now the music is a symbol of national pride.
To really understand Tobago and its people, as tourists it is our responsibility to learn more about this varied heritage, to hear the stories passed down from generation to generation and to discover how the past has shaped the Tobago of the present. And with a impressive line-up of festivals and events Tobago is keen to share its cultural heritage with visitors. The Heritage Festival in July and August each year is particularly special; this parades its way around the island with each community showcasing its own cultural highlight. It's a celebration of the hyper-local, of what makes each tiny part of this tiny island special and for visitors it is a real insight into the traditions, history and music which make this place tick. Events include the Moriah 'Ole Time Wedding' parade, where hundreds of 'wedding guests' do the characteristic 'brush back' dance along hillside roads, or the Charlotteville Cultural Treasures Day, where travellers interested in Tobago's Afro-Caribbean roots can tap their feet to the wild, live percussion, including the thumping 'Tamboo-Bamboo' winding its way around the village streets.
Tobago is proof that a Caribbean holiday can be much more enriching than a simple beach break. Yes, the turquoise seas exist, and yes, part of experiencing the real Tobago lies in lying on its white sand, but it also offers an opportunity to experience the heritage which has shaped the island, the abundant wildlife and to connect more deeply with the people who call it home. Locally-focussed tourism abounds, and by supporting this, by travelling in a fair, respectful and responsible way, we open up opportunities to be invited into the real Tobago, beyond the beaches.