Tourism may be rocketing, but Burma is fragile. It's isolation until it opened up to tourism three years ago offers a clean slate for tourists to make sure they have a positive impact from the outset, but with the popularity of the destination rising, tourism companies and tourists alike need to tread very carefully; Burma is not yet fixed.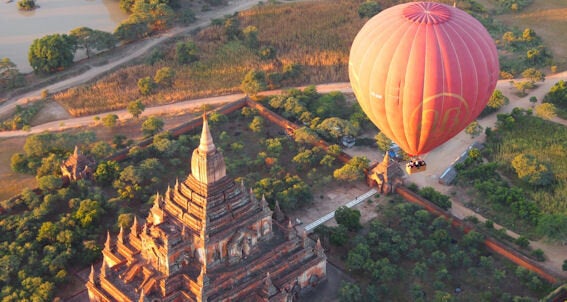 Hot air balloon over Bagan. Credit: Paul Arps
After decades of isolation, three years ago Burma (Myanmar) opened its doors to the world, and on arrival we realize we are literally a world apart. Burma is exquisitely unique, a time-warp completely untouched by Westernised culture. Ironically, this is what entices Westerners to travel there. For 'slow travelers' and travelers wanting to explore off the beaten track, a country of such preserved and concealed beauty and culture is beyond intriguing.
It's been four years since pro-democracy leader Aung San Suu Kyi was released from house arrest, three years since she announced that she would welcome responsible tourism, and by the second year one of our Burma holidays was the most booked holiday on responsibletravel.com. Burma's new-found popularity with adventurous tourists would perhaps suggest that the country's problems are a thing of the past. Sadly this is not the case.
With promises of reforms and movements towards the freedom of its people in recent years, it is easy to brush over the troubles of Burma that are still so deeply ingrained. The government boasts steps forward - and there is much evidence for this - but there is more than enough evidence of backwards steps, too. In March 2011 for example, Thein Sein (Myanmar's president) promised free and independent news media. This month, however, five Burmese journalists have been imprisoned for 10 years for writing a single news report.
Welcoming responsible tourism signals process, but it isn't an entirely uphill slope. Burma still has a non-democratically elected government, corruption and human rights abuses are ever present - and what's more, there's huge potential for money coming in to reach the wrong hands, meaning that tourists will actually be fuelling this every-day corruption. In Burma it's more important than ever for travellers to apply the concept of responsible tourism, and make sure their money reaches local people.
Unfortunately, consequences of unchecked tourism development can already be seen in Burma. In the 1980s, before the boycott was lifted by most international tourism organisations, the government moved Bagan's residents from their ancestral land to encourage tourists to visit the temples. The ancient city's vast plains, and misty sunrises over its 2200 temples, are fast becoming one of Burma's most popular tourism sights, yet its residents, the guardians of its outstanding pagodas for centuries are not benefiting at all. Moved to New Bagan without compensation, without tourists visiting the new city, and with an influx of foreign investors, golfers and international chain hotels in the region it looks unlikely that this will change any time soon.
What is positive about tourism in Burma is that we are starting a clean slate - and it's so rare that we have the opportunity to do this. By treading carefully, responsibly and sensitively, tourism companies and travellers can ensure they have a positive impact from the offset, developing long-term tourism initiatives which support local communities and avoid culturally and environmentally damaging tourism practices. Researching and understanding such an intriguing country can be complicated, but it is essential.
It falls then on us as travellers to increase the demand for responsible, sensitively developed tourism in Burma, to limit the potential growth of a more damaging industry, like that already taking root in Bagan. It's an enormous responsibility, for even the most educated tourist. So what can we do?
• Quite simply, to go local. Spend wisely and avoid funding the government as much as possible (although tourism taxes will always contribute to the regime). Hire local guides, visit local markets, book locally-owned hotels or guesthouses, eat in local restaurants and purchase handcrafts from community tourism initiatives. Avoid the 5-star behemoths at all costs!
• Avoid creating a human zoo. At Inle Lake don't alight from the boat to take photos of Kayan women famed for their long necks elongated with heavy brass rings, and then sail off giving nothing in return and leaving without any knowledge or support for their culture. Report any guides that encourage this to your operator.
• If someone is willing, then do ask questions about politics, but do not attempt to impose your own views. Listen, and you will learn.
• Don't pay people for photographs; this encourages begging. Strike up a conversation and ask permission - with words or gestures - before snapping away.
It is a damning indictment of the travel industry that we value most the places that it has had the least impact. As much as we are interested in integration, the reason we visit Burma is because of its preservation, isolation and mystery. We're privileged to be able to visit such uninterrupted bliss and we need to respect that.