 AP/File
When it comes to genre-bending music and the all-round experience of a musical rollercoaster, no album is truer to sticking to this notion than Fires In The Park by Benin City. Having talked about Benin City's previous singleAccelerate, vibrancy, energy and eclectism are part and parcel of what this group brings to every song they do. This album is no exception packing a real punch of impact with tune after tune.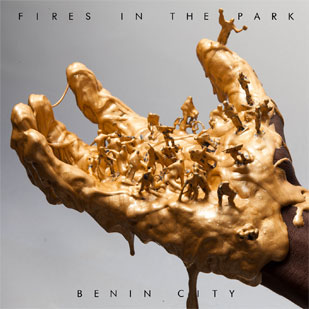 Fires In The Park is an album that requires multiple listens to take in every nuance that has been poured into each rhythmic offering. It never shies away from being distinctively British in its identity. Unlike most albums of this age, it doesn't ask to be pigeonholed into a specific genre. It goes out of its way to be appreciated as a piece of art fusion that doesn't want to be surrounded by boundaries. It's a striking piece of alternative work combining various styles together to make a new style that fits them so well. The album is full of Hip-Hop, Drum & Bass, Electronica and Jazz influences sprinkled in with lead singer Joshua Idehen's spoken word vocals to make a perfect cohesion of epic proportions. It's consistent, ambitious and full of such beautiful touches of colour and shade.
But it's not all about Mr Idehen - the band has a wonderful connection to each other and the music. You can hear it in the music they make together. Their imagination is vivid and they have such unpredictability in their sound. Horns, synths, saxes, electronica/dubstep beats and jazzy instrumentation are brought forth with such aplomb and finesse and they form a bountiful soundbed for Joshua's enticing half-spoken expressive delivery.
All of this is present in tracks like the frenetic dance-infused single Faithless, the dark poetic break-up of Baby, the bright bubbly Wha Gwan, the distinctive mood of D.A.M, and the gritty streetwise urban vibes of This Is London (Part 2) featuring shining spoken word artist Deanna Rodger.
This well-crafted piece is a London-centric focused work touching on the harsh realities of life with haunting captivating melodies, talking about living in poverty, the cruelty of the city and breakups - all of this with the ability to mix the melancholy with the optimistic. Full of purely versatile vibes and a subtle richness in its accomplished delivery, this is observational conceptualism at its sonic best. Not bad for a debut album eh...
Fires In The Park is out now via the Audio Doughnuts label and is available to purchase on iTunes.
To find out more information about Benin City, visit their website, or connect with them on Twitter and Facebook.