In recent years, the genre of folk music has indeed had a revival of interest in its revered veterans as well as its newest stars. 2012 saw gigs and tribute events focused on a cacophony of acts like Sandy Denny, Fairport Convention, Steeleye Span, Kate Rusby, Sam Lee, and Laura Marling to name a few. And with the New Year of 2013 comes an abundant amount of new music peeking through to win our hearts. But through that hefty pile came one happy, uplifting folk song that steamrolled its way through to my attention. This song was called Back to Life by new US-based folk group Esther Sparks & the Whiskey Remedy.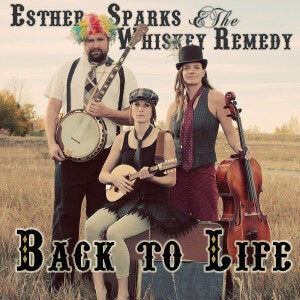 This musical gem is a bright and subtly powerful song that creeps up on you and fills you with joy and hope. It naturally transcends you into the story of the song and embraces you with positivity and happiness. The message of the song goes beyond the fun façade and actually delves deeper into showing us that from tragedy can come triumph if you keep faith and persevere to make things turn out better. Sometimes you can feel lifeless, like life isn't going your way. Life from time to time is full of stagnant energy, negative things can happen constantly, and you feel you're stuck and can't move forward. It's that feeling and the low points within that feeling that inspired Esther to write this song as an elevating manifesto for herself to pick herself up after a dreadful few years where nothing went right. Things eventually got better and she came 'Back to Life' and beat the odds. Her freedom and sound of mind are celebrated so well in this track and exhibited to full effect. It's so inspirational in its delivery, telling its story beautifully.
Starting off slowly with emotional melancholy, you feel and hear each nuance of that mood with the arrangement of the drum, keys and acoustic guitar. These same elements coupled with some soaring main/background vocals boosts the song to another level ending in an exultant cheer of delight. This group really have an ear for a catchy mainstream chorus, honest and effective songwriting and melodic sounds, and Back to Life truly benefits from those qualities.
Having recently got some UK radio airplay from regional station BBC Radio Scotland as well as gaining some local press in Colorado (Colorado Springs Gazette), this song has been building up a buzz and it's not hard to see why.
Folk hasn't sounded so impactful and full of life!
Popular in the Community