This week at Loose Debra we've made a list. We've thrown a bit of alliteration into the title for good measure and now we're really on a roll... so listen up, 'cos we're about to reveal seven ways to make the most of your gorgeous flat chest.
We have this Pinterest account, where for the last few months we've collected inspiring clothes for the bra-free woman onto categorised boards; this has quite naturally led us to awesome styles for bra-free flatter chests . We've done this because it is sooooo not true that a woman with a flat chest 'can wear anything'. It's a Total Lie made up by fashion designers and our more buxom sisters to stop us moaning and bypass the whole issue of how best to dress a flatter chest. For the record, we want wearable clothes that don't exaggerate flatness or draw unwanted attention to nipples. The thing is, not all of us flatter women are necessarily planning on walking down a catwalk any day soon; neither do we want anyone's first impression to conjure up thoughts of their neglected ironing; nor for them to feel they ought to say hi to our nipples before they greet us. (Yes, been there, and learnt from the experience).
So here they are, the Seven Secrets we'd like to share - and none of them remotely requiring the services of a bra or nipple daisies or chicken fillets or any other weird, unnecessary addition to your chest :-)
Strategic Use of Pleating, Gathering and Draping...
Any top or dress that pleats or gathers from the neck down is a great friend. A wide neck band with gathers falling freely down the body is a beautiful sight. This category would include cowl necks (though try on first and check that the material is draping and folding enough across the chest as some cowl necks are too high and don't make enough of a statement). It'd also include some swing dresses and halter tops.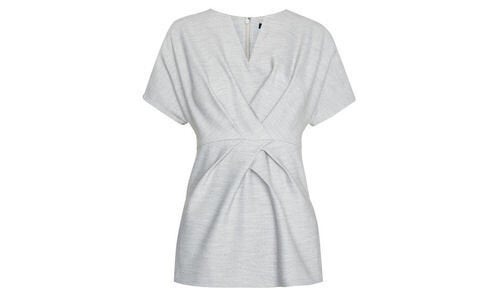 This one's in Whistles for £120.
Tops or dresses that cinch in at the waist, due either to elastication, ruching or a waist-enhancing belt. Exaggerating the waist magically creates more fullness in the bust area, and the blouson effect disguises exact bust size.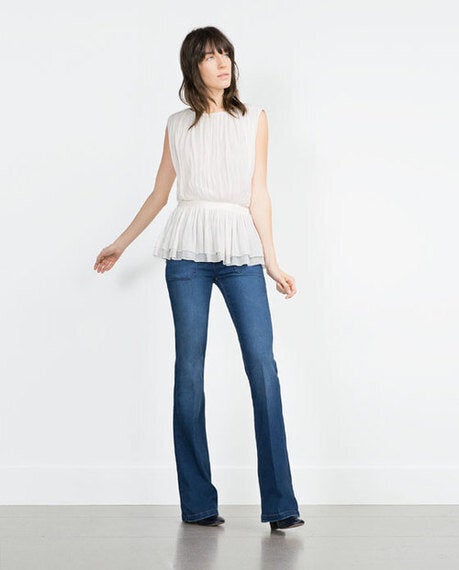 This one's in Zara for £29.99
Exposure of Other Body Areas.
We're talking about off the shoulder Bardot tops, cold-shoulder tops, backless dresses and tops, one shoulder tops, a great halter....all of these will draw attention to different parts of your anatomy so giving the chest far less prominence without skimping on sexiness. The shoulders and the back are also erogenous zones after all :-)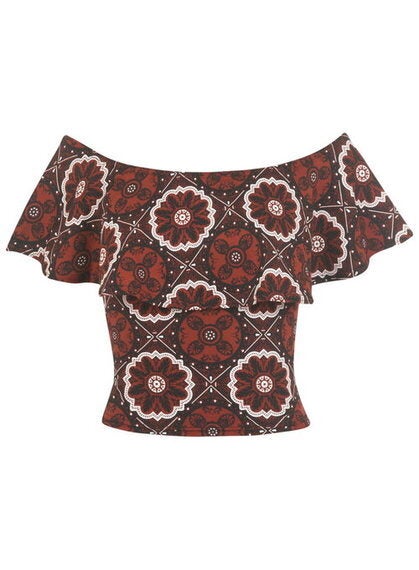 This is in Miss Selfridge for £16.00
Using masculine tailoring...
Embrace the lack of curvature and wear a crispy shirt, waistcoat and a nice tux and trousers. Include a wide-band wrist watch and a cool pair of brogues, and you're an iconic mannish girl. Mens' clothes don't generally try to accommodate a bust or draw attention to it, so you're onto a winner with this kind of look.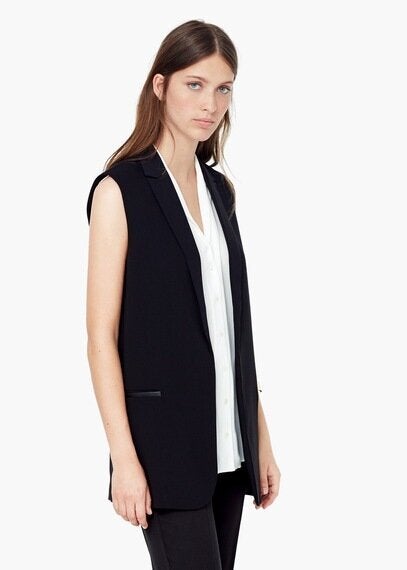 Pattern and Usage of Colour.
Yes, really loud patterns and riots of colour can also work to your advantage by forcing the eye to their beauty and graphic detail. We call them Tops that Shout! Horizontal stripes can also work well, as can lighter shading across the chest, with darker banded trimming in terms of strategic colour blocking to make certain areas stand out and others retreat..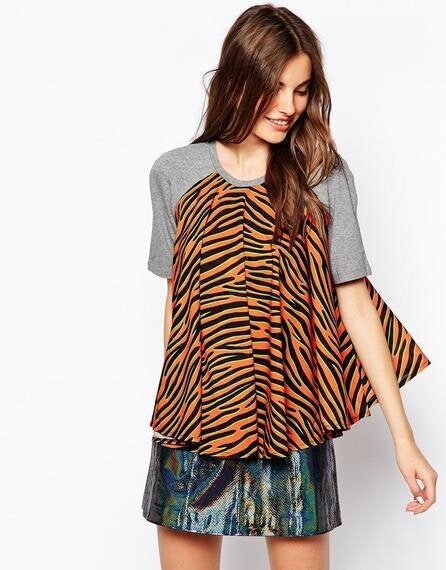 In Asos in the sale at £43.00
Frills, ruffles, embroidery, double pockets, bibs and sequins.
All of these wonderful embellishments exaggerate the chest area with fullness, detail and volume, so creating the illusion of a lot going on. And, our fuller-chested sisters can have a hard time pulling them off stylishly. Sorry not sorry - tehee!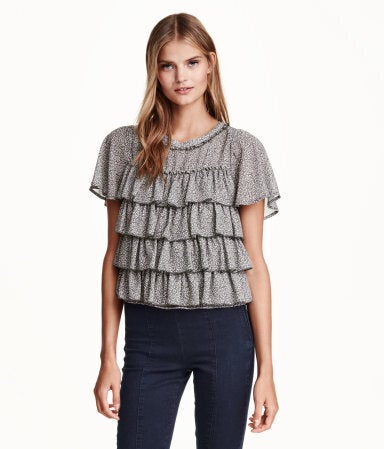 Accessorize to your advantage.
These can do a lot in terms of pulling your outfit together and demanding attention. Scarves in particular can drape across the chest or cowl low round the neck, and even a great pair of sunglasses will bring the gaze to the face rather than the chest. We love a chunky bangle with rings, or a long statement necklace which can lend you all the front you need.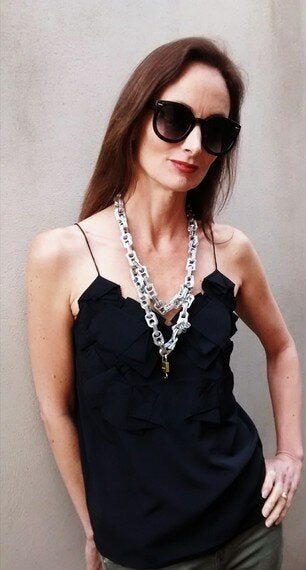 Hope you like our ideas for great frontage. Put them to good use, lose the bra, and send us a Loose Selfie for our board. Comments and your ideas for flatter fronts most welcome. Thanks for reading... and may your Vs never, ever, plunge too low :-)
Karen Dobres, Chief Freedom Fighter, Loose Debra
Popular in the Community