Let's just take a minute to picture Fiji. Are you imagining palm-tree fringed beaches with crystal clear water, your feet cocooned in powdery-soft white sand? Or perhaps you see rainforest canopies surrounding cascading waterfalls? Throw in a few bowls of kava (muddy soup-like substance made of root extract which makes you go a little giddy) and you have the true island experience.
Then you step into the water and your Fijian world opens up even further. This is a place of abundant marine life under the 28 degree sea. But with so many sites to choose from, where do you start?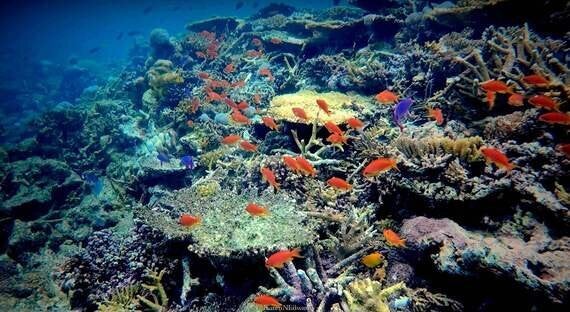 Situated in the Somosomo strait, between the islands of Vanua Levu and Taveuni, this area - consisting of the Great White Wall and Rainbow's Passage - is one of Fiji's most-loved dive sites. You will immediately see why. The tidal current gently sweeps us along; every fish, giant sea fan and diver riding each surge like one body.
Thousands of Banner and Titan Trigger fish, Fusiliers and Moorish Idols dart around, their features all smudging together like watercolour on canvas. Oranges, yellows, blacks and blues - this underwater world is teeming with life. I'm mesmerised.
Dive instructor Nigel, the co-owner of Sau Bay Resort, guides me in closer and a group of Maori Wrasse saunter by. A White Tip reef shark hides under a crevice.
After months of diving almost every day, this experience has blown my mind. I've never seen the water so alive.
A two-tank dive with Sau Bay costs £91pp. An oceanfront studio cottage starts from £158. Email Carol and Nigel at info@saubay.com to get the latest offers.
Hammerheads and Barracuda
Where? SavuSavu, Vanua Levu
With? KoroSun Dive at Savasi Island Resort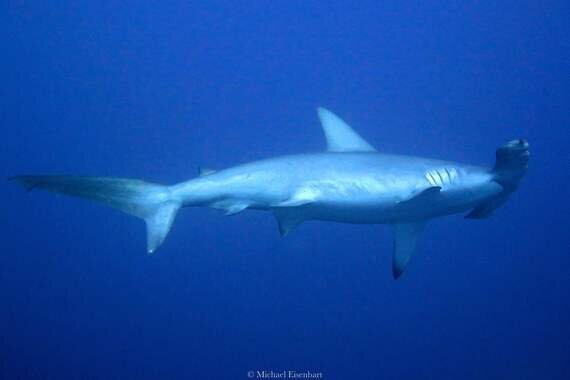 It's a bizarre feeling not knowing which way is up or down. But this is what being 'in the blue' feels like. There are no reefs, corals or even rocks to guide you. Just open sea. With 11 years of experience in the area, dive instructors Colin and Janine know this magical area - aptly named 'Dream House' - is the place to see Hammerhead sharks.
This area is famous for these four-metre long creatures and many visits with KoroSun Dive, ensure a sighting. I'm hopeful.
We carry a compass as we descend into the Pacific Ocean and Colin sticks close because the visibility is low. First we see a school of Yellow-Finned Barracuda. Then Colin points to the most glorious sight. A school of 28 Hammerhead sharks swim below us. They are lean, fast and in unison. We follow in awe before watching them transform into distant silhouettes, before disappearing altogether.
Where? Shark Reef Marine Reserve, between Beqa and Viti Levu
With? Beqa Adventure Divers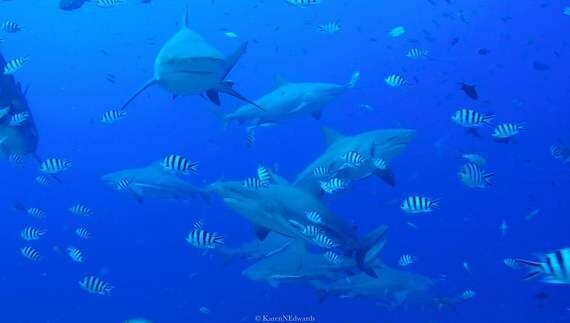 This is still the last place on earth I expected to be: 30 metres under the Pacific Ocean, lying on a sandy bed, watching about 20 Bull sharks feed.
Unlike similar dives with Great Whites in Australia or South Africa, there is no cage - and I'm glad. Turns out, these beautiful beasts aren't as bloodthirsty as they have been made out to be.
The current is slight and there are about six of us gently swaying with the surge. We watch as they feed in front of us. It's a crazy but wonderful world to witness.
Shark numbers have dramatically fallen in the Asia Pacific region thanks to shark-finning. In fact, 75% of sharks killed are slaughtered for their fins. We're lucky to see them.
But there is some controversy with this dive. The Bull sharks are fed tuna scraps to attract them. Feeding any kind of wildlife isn't ideal, but do the benefits of bringing in sharks for tourist purposes outweigh this? Let's look at the the facts...
• Each diver pays a 'shark levy', and in return, the nearby villages agree not to fish along Shark Reef. As a result, fish numbers are increasing.
• Fiji Fish Ltd. provides the scraps to feed the sharks and currently, 800kg are being reintroduced into the food chain each week.
• This working food chain has led to noticeable coral regrowth, increased numbers of reef fish and therefore, more apex predators such as the Bull shark.
• Each person who experiences the Shark Dive becomes an ambassador for sharks and Shark Reef conservation - a valuable method of raising awareness.
A two-tank Shark Dive with Beqa Adventure Divers at the Shark Reef Marine Reserve start at FJD$325. Equipment hire, with a fuel recharge is FJD$50. The FJD$25 reserve levy is compulsory. Visit fijisharkdive.com