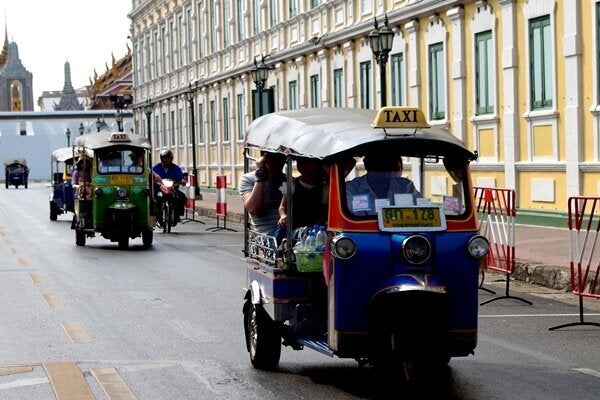 When King Rama VII built his summer palace in the coastal village of Hua Hin, he named his new home 'Wang Klai Kang Won' - meaning "far from worries". Over 90 years later, at 5am on a Tuesday, here I am with six new friends sitting on plastic stools at a beach bar, anticipating the sun rise. I have my toes buried in the silky sand, an icy Beer Chang in my hand, the company of five lovely people who I only met a few days ago - and my biggest question in life, right at this moment, is "which way is due East and thus, from where is the sun going to rise?"
King Rama VII was right, this place really is 'Wang Klai Kang Won'.
I'm in Thailand for one week - and I knew a week would be too short from the moment the humid air filled my lungs at Suvarnabhumi Airport. Ideally, I'd be here for at least three months, exploring everywhere from the northern jungle borders to the dreamy white beaches of the southern islands. But the fact is I have just seven days before work calls again. So, the mission is to experience the best of Thailand in seven days - and it turns out, this is entirely doable.
Landing in Bangkok can be quite an assault on the senses. The sky is a hazy kind of bright, car horns echo from all directions and the aroma of homemade stir-fries is enough to make you hungry in seconds. The Thai capital is a place of rich culture, friendly locals, hunger-inducing dishes and non-stop nightlife - it's hard not to love this place.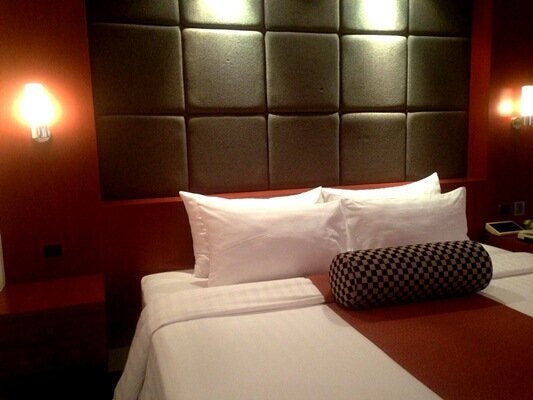 Dropping my bags at my hotel, the Amari Watergate in the Pratunam district of town, I step out to get my bearings and soon realise I'm in a shopper's haven. To my left, the street market begins and seems to go on for miles, with stall after stall selling everything from statement t-shirts and sunglasses to a bunch of bananas and mobile phone covers. Market-sellers and their families sit on small plastic stools protecting their livelihoods, taking it in turns to sell products while the other feeds the kids or sips on a homemade noodle broth themselves. Calls of, 'Hello miss, you like t-shirt?' follow me along the street. This is Bangkok.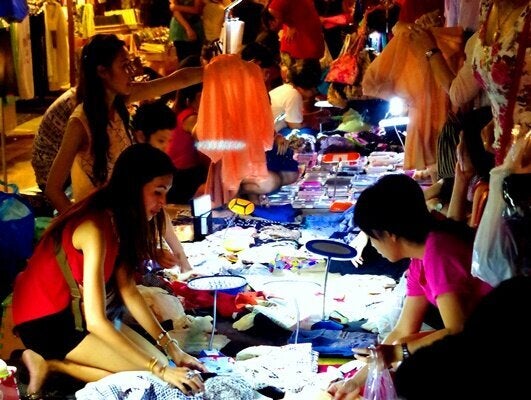 It's easy to miss the tiny indoor walkways - but keep an eye out for these market alleyways and you're guaranteed the best bargains. At one stall, I pick up a pair of Thai fisherman pants (basically a baggy pair of trousers) for just £2.50, and with that one purchase, I've ticked off my entire shopping list. Across the road, the Platinum Mall sells jewellery and shoes sell for bargain prices, while the big labels can be found a short tuk-tuk ride to the Siam Paragon Centre. For the real swag of silk cushions, embroided bed spreads, stone Buddha replicas and other Thai handicrafts, it's best to take the 20-minute taxi ride to haggler heaven of Chatuchak Market, which really is a shopaholic's dream.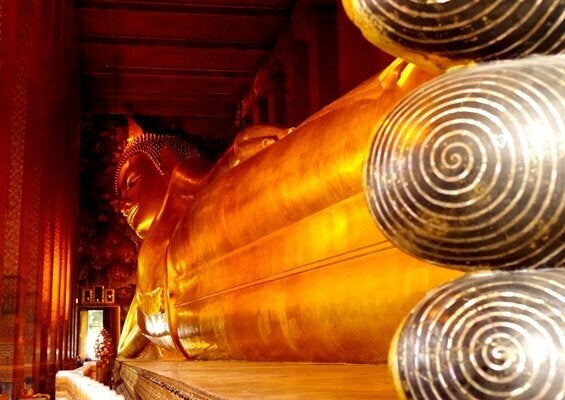 The next day begins at the famous Grand Palace. Situated by the Chao Phraya River, this was once the residence of Thailand's monarchy. A complex of halls and chapels set around spacious courtyards and gardens, it has now become a place for official events - whilst also welcoming thousands visitors through its twelve gates each day. It's essential that shoulders, backs and knees are covered when visiting here - and sarong-sellers take full advantage of this fact by 'renting' printed material at the door. The grandeur of this place more than compensates for the visiting masses though - and the gold-spired Temple of the Emerald Buddha is particularly worth the visit. Five minutes down the road is Wat Pho, the Temple of the Reclining Buddha. This is nowhere near as huge or diverse as the Grand Palace, but is worth seeing for the 43-metre long, 15-metre high statue, which holds a Mother-of-Pearl inlay in the feet.
It's tough to know where to start when you're looking for a meal in Bangkok. You'll often find wheelable street food stalls, frying up spring rolls and sweet banana pancakes for hungry passers-by. If you've spent the day at Chatuchak Market, stop off for a som tam papaya salad at 'Section 26', while the Viva Bar serves out cocktails well beyond the 6pm close. For a unique Thai-meets-Western cuisine treat, head to the Golden Bay Leaves street-side restaurant on Sukhumvit 101/1, and order their excellent spicy seafood stir-fry, pad chat talay. Or head 'home', where seven stunning in-house restaurants offer everything from creamy green curries and spicy squid salads to sausages and mash.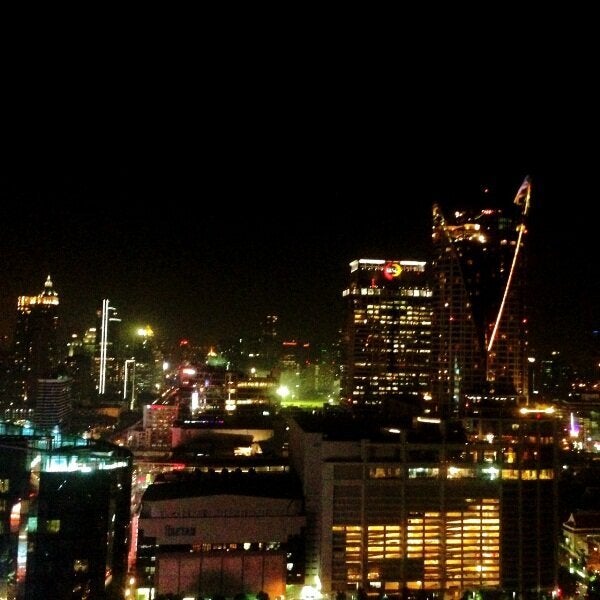 Back at the Amari Watergate, I wander out to the outdoor pool for an evening dip - the perfect antidote for the bustling market experience from earlier. Here, the sounds of car horns and traffic seem a world away and the bright lights of the Bangkok skyline provide the perfect roof-top view. My tranquil state doesn't evaporate when I head to an appointment at the hotel's Breeze Spa for a muscle-melting traditional Thai massage and Mango Sticky Rice body scrub (signature massages start from 1,400 Thai Baht, which is about £28 - bargain!)
Having enjoyed the city life, I leave Bangkok and head to the sandy banks of Hua Hin - just a two and a half hour drive... which brings me back to our spot on Takiab Beach, where my new friends and I are watching the sky switch from a velvety black to moody blue, and then to a smoky yellow and pink. The dawning of a new day has begun.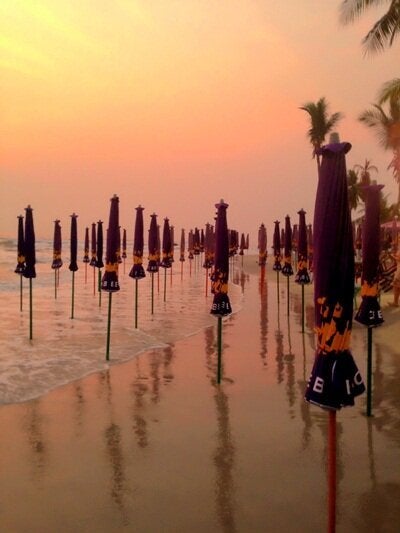 Once home to a group of farmers, Hua Hin rapidly developed into the town it is now following the arrival of the state railway in 1921. After the King set up his second home here in 1926, it became Thailand's very first proper beach resort, and led the way for the likes of Phuket, Pattaya and Koh Samui Island. These days, Hua Hin is alive with visitors throughout the year, but it's not nearly as party-centric as the islands. This means the pristine, wide golden beaches, great accommodation and wonderfully exotic surroundings still feel relatively uncluttered - in fact, this tiny beach bar, which goes by the mysterious name 'Ask For Moon', is the only one of its kind here and is still a local secret.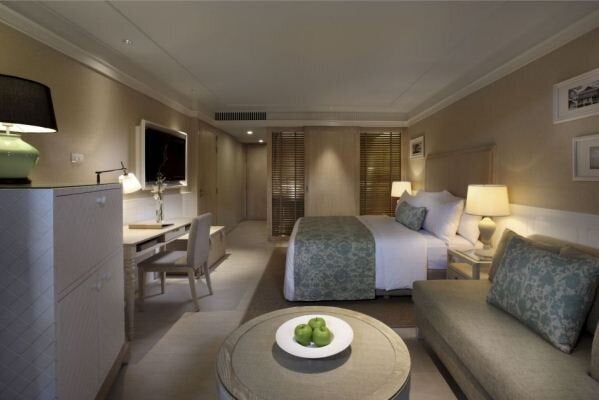 An hour-and-a-half later, after a slow sandy stroll back to our hotel, I'm tucked in under the crisp white sheets of my bed at the Amari Hua Hin; the balcony door and curtain slightly open so the rising sun gently streams in along with a fresh morning breeze. My room has light-wood panels, creamy walls and is accessorised in beige and blue furnishings, meaning it's bright, modern, airy and sunny - and it has a monsoon shower that I spend way too much time in. I drift off in seconds. 'Wang Klai Kang Won.'
After a much-needed power nap, we head out to the 560-acre Hua Hin Hills Vineyard. This winery offers activities to suit everyone - from simply tasting the home grown reds and whites over lunch to taking a tour of the vineyard itself - either by bike or on elephant back. There's also the chance to paint your own label and personalise a wine bottle of your choice. If you're there for harvest, ask about helping out with grape crushing.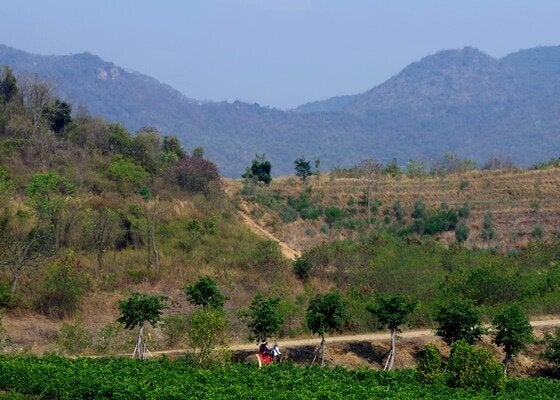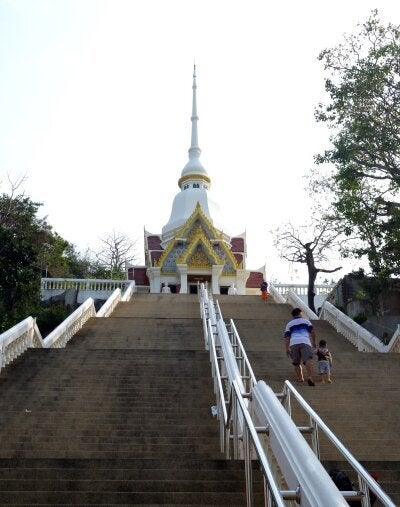 Closer to town, we visit the Buddhist shrine ('Monkey Temple') on Khao Takiab Mountain, which shows off the beautiful hillside vistas of Takiab Beach. Beware of the monkeys as you climb the 100-plus steps; they have reputation for stealing cameras, wallets and getting vicious when they see food. Follow the mountain back down to the sea and you'll end up at the turquoise waters of Takiab Bay, a tranquil spot looked over by a towering gold Buddha statue stands on the rocks. The particularly adventurous can jump on a boat here to Koh Singto (Lion) Island, where the sea life is colourful. Don't forget a snorkel.
To end another glorious day by the sea, sip on colourful cocktails at the Amari Aqua Bar and watch the hotel's friendly philosophy of sharing experiences come to life as guests and staff naturally mingle, clinking glasses and exchanging tales from their day. Then take the short tuk-tuk ride to local eatery, Supatra by the Sea, and order the mud crab to enjoy in the fairy-light lit outdoor garden. However, if the beach walks, temple visits and wine tastings have knackered you out, retire to the laid-back Amari Shoreline Beach Club for a seafood and meat BBQ, along with butter-drizzled corn cobs and veggie platters. The best thing - bed is only five minutes away.
Room prices at Amari Watergate Bangkok and Amari Hua Hin start from £60 per night, depending on season and availability. To book visit the Watergate at amari.com/watergate and Amari Hua Hin at amari.com/huahin. The Breeze spa menu is available at breeze-spa.com/
EVA Air flies non-stop daily from London Heathrow to Bangkok, with fares starting from £610, including taxes. To book, visit evaair.com. They also run codeshare flights with Bangkok Airways to Koh Samui, Phuket and Chiang Mai, offering passengers a choice of three classes of cabin service: Premium Laurel Class (business class), award-winning Elite Class (premium economy) and Economy Class.
PICTURE CREDIT: KAREN EDWARDS