Heading to the sunshine for a special occasion? Or perhaps you're just tired of the backpacker digs? Whether it's a cosy boutique hotel in the jungle, a shack by the sea or a pampering palace you're after - you can find exactly what you need in Thailand.
There, even the most luxurious accommodation remains competitive in price and some of the loveliest of places can be bagged at great rates. Here are a few favourites...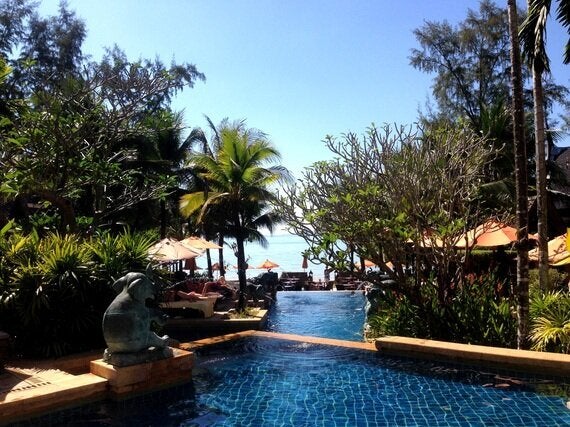 Krabi has long been known as a coastal hub, but away from the backpacker crowd of the main town and the family resorts in Ao Nang, lies a very still stretch of beach called Tub Kaek.
This is where you find Amari Vogue - surrounded by the trademark jagged cliffs and golden sands - a resort where you can spend your day strolling between the calm blue sea and the refreshing in-house pool. If you're feeling particularly indulgent, opt for a pool villa which comes loaded with an indoor Jacuzzi bath and private outdoor pool. The Breeze Spa offers muscle meltingly serene mood massages. Bliss.
Amari Vogue offers 'The Great Escape' four-night package for THB8,755 (£163) per night, which includes airport transfers from Krabi Airport, a three-course set dinner at Bellini, free use of the hotel kayak and a 60-minute signature mood massage at Breeze Spa.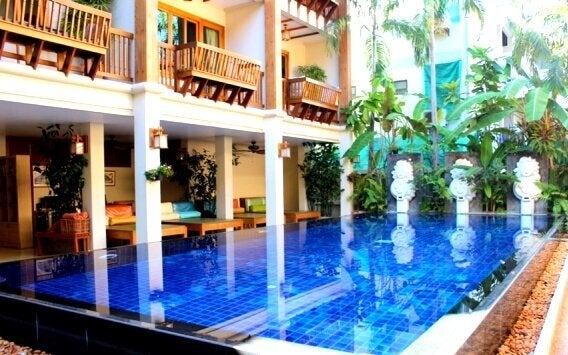 The old city of Chiang Mai is a lovely place to kick back for a few days - especially if you are arriving post-trek. With buses and trains heading south in abundance, your stopover allows time to plan the next leg of your trip while in the pool or sipping a cocktail on a balcony.
Located in the centre of town, the Vieng Mantra on Soi 1 is a little bit of luxury in an otherwise busy city. The traditional Lanna-style house oozes old school homeliness- but it's the lush gardens and courtyard pool that envelope you into relaxation.
Rooms are set around the bright courtyard - and if you're looking to make some new friends, this is the perfect place to get chatting over a beer. Staff are on-hand to help with travel bookings.
Hotel D'Artistes, Khao Yai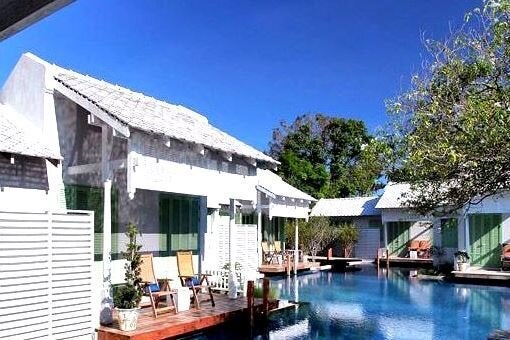 A wonderful boutique hotel just a few minutes away from the Khao Yai National Park. Hotel D'Artistes brings in a touch of French-colonial beauty to Thailand's exotic wilderness - but it's not as random as it sounds.
The pastel-coloured rooms with wooden shutters are a touch of elegance, and when the jungle sounds of buzzing insects and bird-calls take over the quietness of dusk, you'll feel relaxed as you sip on cocktails (or hot cocoa) outside your poolside villa.
There is a café on site, but it's worth venturing out to the roadside eateries for street-style pad-thai and steaming curries - although lapping up the in-house breakfasts of fresh fruit and bread is a must.
Once through the northern gates of Khao Yai (a five minute drive), there's a mystical world of forest and grassland to discover - home to elephants, gibbons, wild pigs and cuckoos. Don't miss the 80-metre high Heo Narok waterfall, where Leo DiCaprio frolicked around in, during The Beach.
Double rooms at the Hotel D'Artistes start at THB3,000 (£65) per night. To get there take a bus from Bangkok's Mo-Chit terminal to Pak Chong (THB180, £4) and take a local songthaew to the hotel.
Amari Residences, Bangkok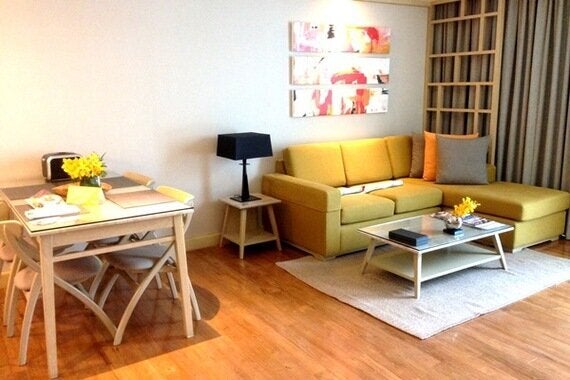 Another thumbs up for Amari. This laid back hotel has a very different feel to others - firstly, it's located in a quiet backstreet area away from the bustle of nearby Thong Lo (yet it's just five minutes from the famous street brimming with restaurants and bars), and secondly it's popular with locals.
Rooms are big with in-built living room and kitchenette areas - and you have the option of staying a few nights, or moving in more long-term (you wouldn't be the first to do this in Thailand).
When you're not trying every menu in town, you'll only be a stroll away from nearby Sukhumvit station, where you can jump on the subway to other Bangkok hotspots. Chatuchak Market, Siam Square and Phaya Thai for the Khao San area are all less than 30 minutes away.
The Amari Residences 'Super Saver Package' starts from THB2,970 (£56) per night and offers a minimum two night stay in a studio room, 2pm check out, 10% discounts at the in-house Buttercup Café, Soma Restaurant and on laundry. Free transfers are available to the BTS and MRT stations.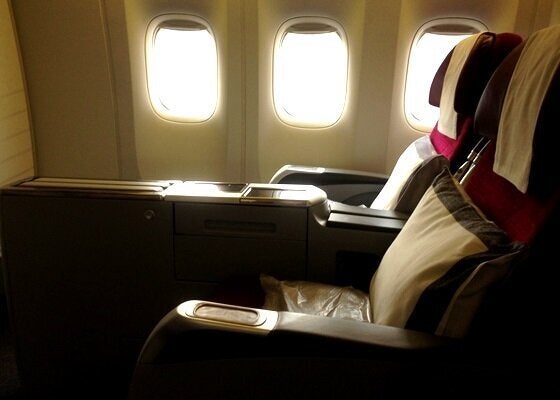 If you're going the whole hog and thinking of a flight upgrade, check in with the lovely crew at Qatar Airways. Service is impeccable from the moment you book - with lounge access available on the day and plenty of food and drink to choose from as you wait to board.
On the plane, the lemon and mint juice is a menu highlight (that's if you're not making use of the free bar), and the cabin crew are more than happy to let you eat when you fancy - so you won't be woken up from your slumber for a meal (although the cheese plate is totally worth it).
When the lights go out, the super soft cushioned seats transform into a bed and before you know it you're... zzz.
Flights to Bangkok with Qatar Airways (0333 320 2454), start at £535 for an economy return and £1,957 for a return business.
Domestic carrier, Air Asia, flies to Krabi from £25.
PICTURE CREDIT: KAREN EDWARDS