When Colonel William Light finalised the location of South Australia's new capital city in 1836, he calmly and wisely told his followers that he would leave it "to posterity, to decide whether I am entitled to praise or to blame".
It turns out, his decision was a stroke of genius - because nearly 200 years later, Adelaide - a now colourful, cosmopolitan capital - has been fondly nicknamed the 'the 20-minute city' - with everything from the rugged coastlines to great hills located just a short drive from the centre.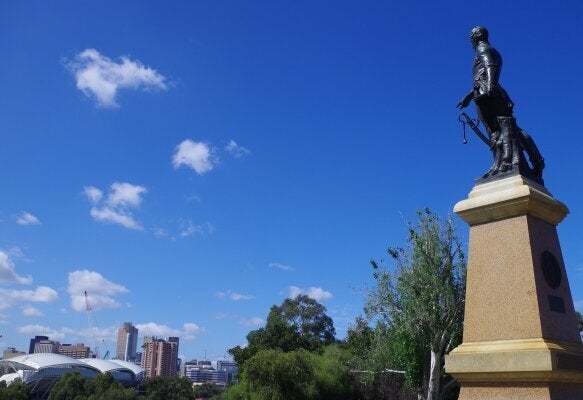 Arriving late on a Tuesday night, I watch wide-eyed as my taxi makes the short transfer into town - taking the small crowds of friends jovially spilling out of restaurants after a mid-week meal. Keen to be a part of this infectiously warm vibe, I ask the driver where he would recommend for dinner. He promptly diverts me to Gouger Street, where a whole string of Asian restaurants light up the pavement with their flashing 'Open' signs. They sit comfortably next to relaxed seafood joints, elegant wine bars and even the odd Internet café, and I immediately feel at home in this not-too-big and not-so-strange city.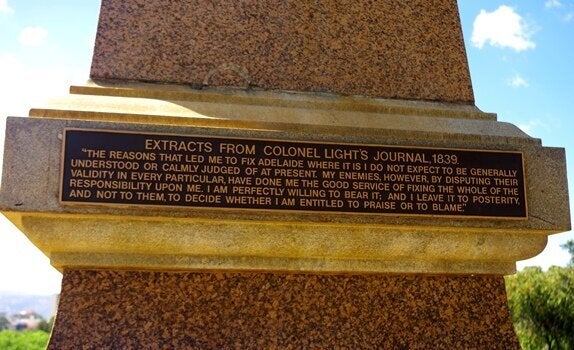 The following morning, I meet my guide - the bubbly Mary Anne Kennedy, owner and operator of the company 'A Taste of South Australia'. She immediately takes me by the hand and promises to show me the true spirit of her wonderful home. Within minutes of setting off, I am struck by the rare locality of this '20-minute-city'. We have barely crossed a few roads and we are already on the edge of town, looking down from Montefiore Hill - a place known as 'Light's Vision Lookout'. It is here that the Colonel had made his speech about posterity 177 years ago. It is here that a statue of him, looking over his city, now proudly stands.
Mary Anne explains to me how Light had chosen to build Adelaide further inland so that it could be protected from invasion by the surrounding hills - in fact, the initial proposition was to build around the small coastal town of Glenelg. His brave decision to 'move' the city, which was not met well by many people including the city's first governor, meant that Adelaide now had space to grow with the increasing numbers setting up home here. He made the right decision we conclude, while Mary Anne tells me Adelaide has been voted the most liveable city in Australia by the national Property Council for two years running. The 1.23million people who have settled here seem to agree.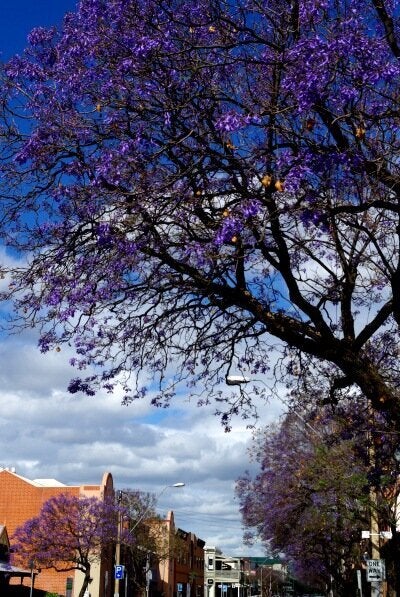 Located less than 12 miles from the south coast, Adelaide is superbly easy to negotiate thanks to its gridded layout made up of wide boulevards and pretty purple Jacaranda-tree lined streets, large public squares and a surrounding ring of parks. O-Bahn buses travel along the central King William Street to the North Terraces, while more active sorts can jump on a Boris-style bicycle for around $4.80 to get around.
Shoppers, I'm told, instinctively find themselves drawn towards Rundle Mall in the East, while the soft coffee-bean and sweet cake aromas of the southern bakeries attract everyone from teenage friends to yummy mummies. Culinary enthusiasts inevitably end up at the Central Market, inspecting fresh organic fruit and veg, alongside lean cuts of kangaroo, crocodile and buffalo meat, while sports lovers find an open-air haven at the picturesque Adelaide Oval.
There are 748 churches here too, hence the apt moniker 'The City of Churches'. I'm staying at the Adina Apartment Hotel on Victoria Square and am right in the middle of everything. In fact, from my window I can see Victoria Square and the bunting being hung for an upcoming fete.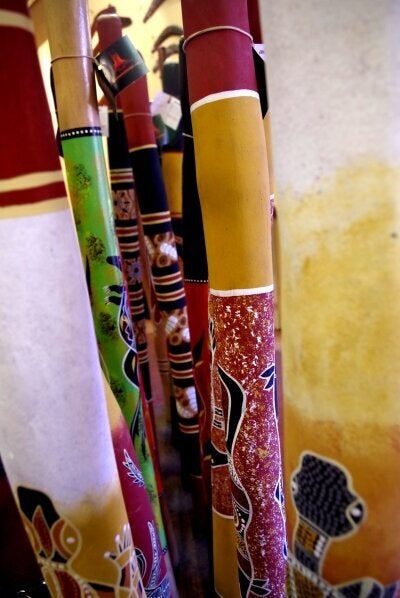 Back in town, I stop in at a large red-brick building called Tandanya, the National Aboriginal Cultural Institute. Visitors are welcomed to Tandanya and the Migration Museum at nearby Kintore Avenue, to learn about the local indigenous community. The fact is when Light set to work on the bushland here, he was actually building on the land of the Kaurna people - who had called this their home for thousands of years. At Tandanya, the heritage of this tribe is rightfully celebrated. A whole host of complex artwork line the walls; the rounded symbols and colours within the paintwork silently telling remarkable stories of history and belief.
On arrival, I'm greeted at reception by the community's much-loved Auntie Minnie, before being taken to the theatre, where at noon a traditional dance performance takes place. Of course, no visit here is complete without learning how to play the didgeridoo.
Having carefully grasped the instrument's basics (keep your lips loose and you'll produce that familiar droning sound) and viewed the complex paintings of the Kaurna men and women, Mary Anne suggests making the most of the blue skies at our next stop.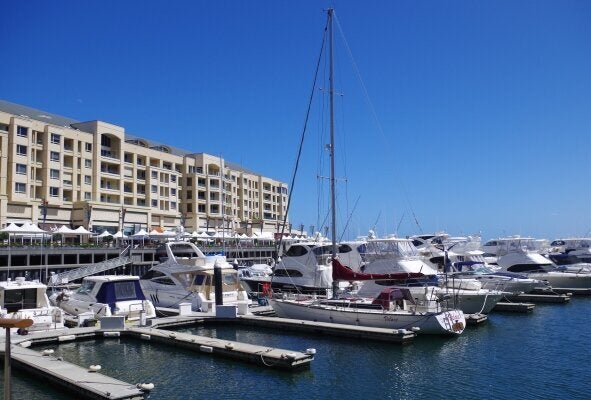 Twenty minutes later, we have made our way south-west on the Anzac Highway towards the Glenelg coast, where we call in at cosy art café, Zest, for peppermint tea and a banana smoothie. We meander by the beach, taking in views against the sound of gently splashing of waves. To our left is Glenelg marina - active with pristine white boats and young mums with pushchairs out for a stroll. Further down on Jetty road, the city tram comes to its final stop and empties out its young board-short and bikini-clad passengers onto the walkway. If the beach is too crowded, they can head further south to Somerton or Brighton, Mary Anne informs me.
With the gentle, cool sea breeze on my face, it feels like the perfect Spring day. The temperature is peaking at around 23ºC; the skies are clear and bright. I fill my lungs with fresh air and watch as Adelaide glows in the sunshine.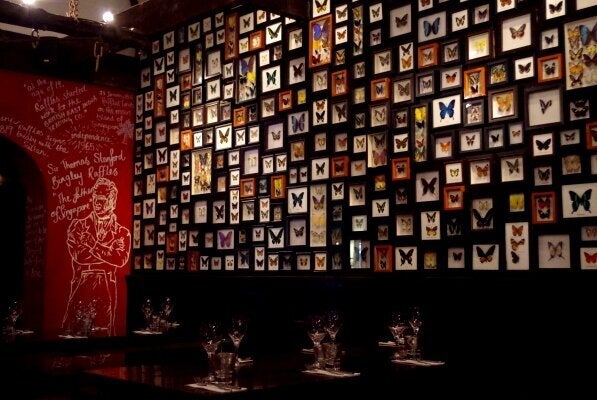 We return to the centre of town in the afternoon, for a tapas-style lunch in the Butterfly Room at Frewville's Singapore House and we both eagerly wolf down the braised duck in plum sauce, crispy soft-shell crab with green apple salad and steamed prawn and chive dumplings in a black vinegar and chili oil placed in front of us. Then to work off the delicious meal, I wander through the unofficial West End art district, immediately noticing the posters for 'SPLASH' - a city-wide scheme bringing night markets, pop-up street food stalls, live music and even an incredible 'Imagination Playground' to town. The latter, I was interested to learn, allows younger children to build and play with giant foam blocks, mats, crates and fabrics to create their own constructions. Impressive, was an understatement.
On the corner of Morphett Street, the Jam Factory showcases the work of post-graduate art and design students as they sell their creations at their own stalls. It's inspiring to see these ambitious, up-and-coming talents begin the careers, their seriousness to succeed evident as they perfect their displays and sales technique.
For dinner, I meet a lovely friend called Jess who treats me to a delicious meal at Cos on Leigh Street. The succulent fillet steak, which comes with fresh oysters, buttered spinach, fondant potatoes and mixed mushrooms is a must, but if you're up for something a little simpler, the baked fresh gnocchi is mouth-wateringly perfect. I test out Jess' steak before tucking into my pasta. Lovely!
The next day, I meet Mary Anne for a relaxed day of driving through the Adelaide Hills. Our first stop is the small German settlement town of Hahndorf, where we go strawberry picking at the 19th Century Beerenberg Farm. Having gathered enough fruity snacks for the day, we explore the town - taking in the cheese shops and boutique clothes stores.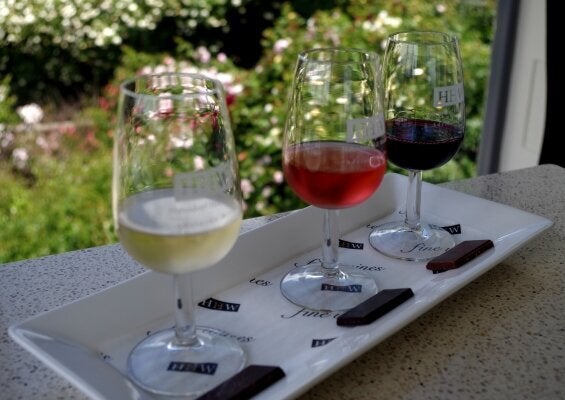 The Hahndorf Inn invitingly glistens in the sun as we pass, and the Ye Olde Ice Creamery looks far too good to resist. We somehow refrain - instead holding off for our visit to the Hahndorf Hill Winery, where I take part in ChocoVino tasting.
It's usually the Barossa region that gets the credit for South Australia's most famous wines, but Hahndorf has earned its fine reputation in recent years - and the full-bodied Merlots and Sémillon-blended Sauvignon Blanc go down easily next to their 'matched' cocoa slabs. This being my favourite experience so far, I vow to return one day soon, perhaps with friends to enjoy the full benefits of a day in the hills surrounded by wine and chocolate.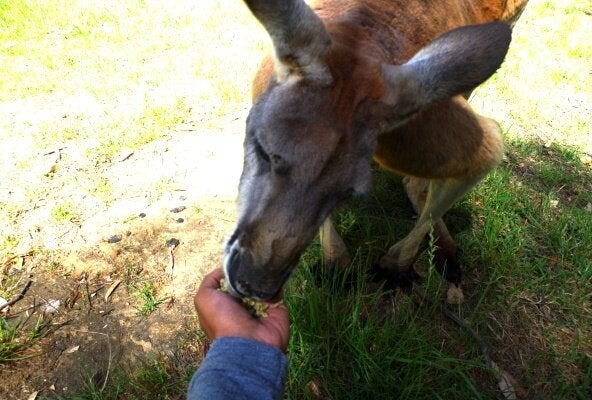 Further up the winding road, we find ourselves at the gates of Cleland National Park and as soon as we park, we spot a wild kangaroo scurrying into the bush. Excitement sets in (no, it's not the wine), we're about to meet some cuddly creatures. Under the shelter of the fruit trees, are 20 to 30 red kangaroos, lazing in the heat. A flash of the food and I'm accosted by one granddad male, who spends half an hour feeding out of my hand and 'hanging out' next to me. Further into the park, koala bears are spotted hiding amongst the tall branches of a Eucalyptus tree - but in the koala centre, there is one rather gorgeous fella giving out hugs. I get a hug.
After such a wonderful morning (wine, chocolate and koala hugs - what more could a girl ask for?), we head off for a farewell lunch at Port Willunga. As we pull up at the Star of Greece (no idea why it's called that as it's a seafood restaurant), Mary Anne shows me the un-developed, rocky coastline of the south Adelaide sea, and we both marvel at the deserted sands and mighty swell. Inside, we take our place at our table by the window and both order the chef's traditional fish and chips.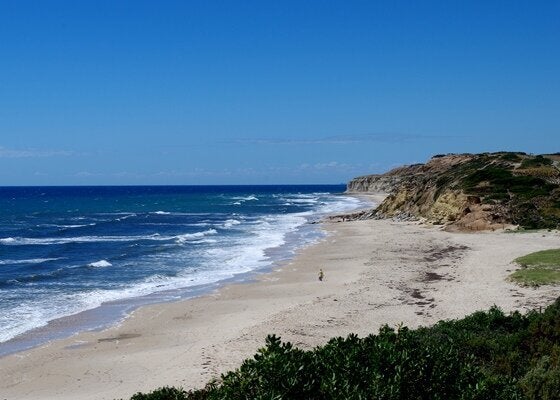 Looking back at my time in South Australia's capital, I can't help but recall how magnificently diverse and inspirational this tiny city is. In my short time here, I've learnt about Adelaide's history - both indigenous and European, been taught the basics of playing the didgeridoo, eaten lunch by the sea and photographed deserted beaches. I've watched as the City's new generation put their creativity to work and are rewarded for it and I've sampled the local grapes and fed and hugged native marsupials. And I've done this all in two days. Just imagine if I had two weeks here...
Qantas fights to Adelaide start from £1,100. To book, go to qantas.com
For details on the 'Taste of South Australia' tours, head to tastesa.com.au/
PICTURE CREDIT: KAREN EDWARDS