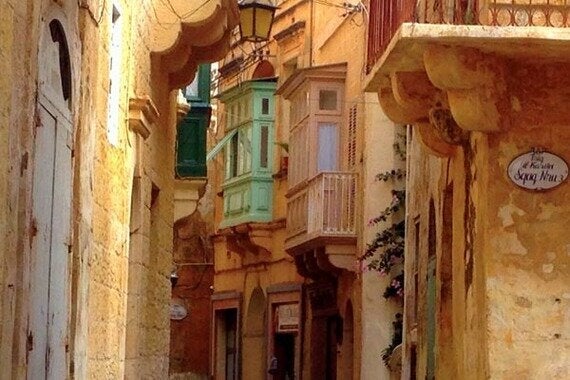 The sky is a brilliant shade of blue. The sun pours through from behind the extravagant steeple of the Rotunda Church. A few old boys are playing cards at a rickety wooden table outside the bar. It's the only business still open, and probably the only bar in town. A few toothless grins exude contentment. It's a sunny Friday afternoon on the island and life is good.
It's taken a while to get my head around Gozo. There's not a lot to do here. But within a few hours of arrival, I feel rested and my pace has slowed. This is how holidays should feel like. There's no pressure to be anywhere, to do anything and relaxation in the sunshine is positively encouraged by the lack of arranged activity. No wonder everyone's in a good mood.
Located just 20 minutes north west of Malta by ferry, Gozo is just 26 square miles in area and home to 37,000 people. The land is sparse; in the dry heat of the summer, the brown-red dirt seems to stretch for miles - right up until it hits the sea. Local guide Darryl tells us that it hasn't rained for months. He says even just a few hours will change the colour-scape to a lush green.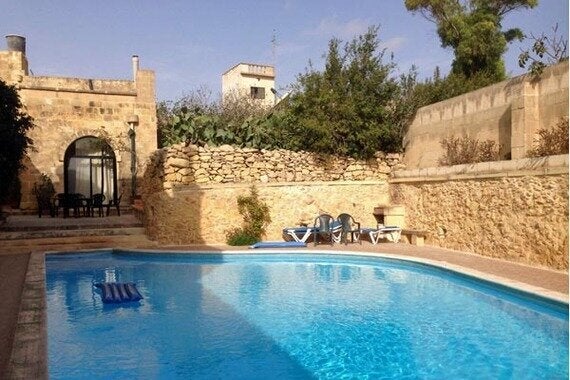 Each morning, we wake to the sound of church bells. The Il-Marhab farmhouse, our home for four days, is simple but lovely. Built in the early 17th Century, the uneven stonewall creates a rustic feel. The sound of the kettle whistling on the stove is comforting. Outside, a small swimming pool glistens in the morning sun and the great big prickly pear tree casts a welcome shadow over the breakfast table. Glorious pink bougainvillea tumble like a waterfall over the sand-coloured limestone perimeter.
Once we've tucked into a homemade breakfast of eggs, ham and toast. Darryl informs us that everything is just '10 minutes away by car'. Most of Gozo's towns are centred around a small square, often with a baroque church at its head. Restaurants, bars, fishmongers, ironmongers and bakeries are often dotted around. In Victoria, the island's capital, a small market seeps across the town, selling everything from 'I love Malta' t-shirts to lace, tapestries and fruit.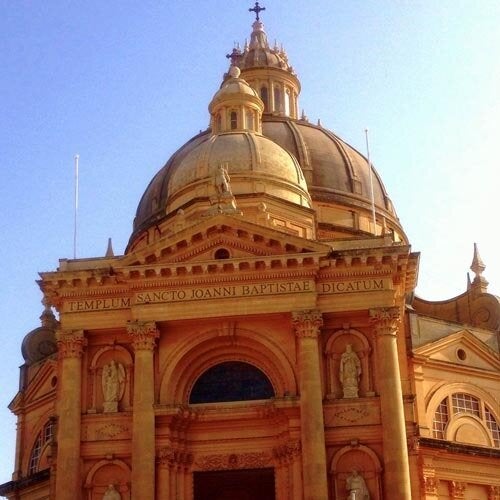 We make our way southwest to Xlendi, a quietly buzzing emerald bay surrounded by locally run hotels and restaurants. It's the place to lazily make your way through platters of antipasti and freshly cooked fish... or scuba dive. The visibility is 30 metres on a dry day.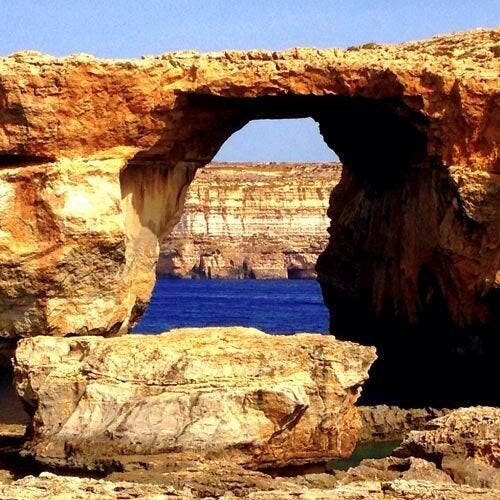 On the east coast, the rugged rocks of the Azure window form the perfect backdrop for pictures. In fact, the area's raw beauty has captured acclaimed Directors' minds too - the first episode of Game of Thrones was filmed here. And Brad Pitt and Angelina Jolie are currently filming their new movie By The Sea further south at Mgarr ix-Xini. When Hollywood isn't calling, families settle on the rocks with a picnic.
Back inland and on top of a hill in Xaghra, we wander through the UNESCO World Heritage site ruins of the world's second oldest manmade religious structure, the Ġgantija Temple. Here, carob trees sprout sporadically into the horizon; olive trees line the paths and pomegranates and tomatoes grow just feet away.
My favourite activity on the island came in the form of a Segway tour. Down at Maselform Bay, Kevin Grech and his pal Peter spend their days showing off the island's rugged coastline by machine - and they are nice and easy to manage: lean forward to gain speed (they won't exceed 20kph) and lean back to slow or break. Most important instruction: don't jump off while moving.
We zip along the roads (there are so few cars, you feel perfectly safe), making our way through to the Xwejni Salt Pans where Emmanuel Cini earns his keep by harvesting sea salt. His family has been doing it for five generations, now he welcomes crowds of tourists to share his story.
We end close to the valley of Wied L-Għasri - a secluded and narrow bay of swirling, silky, emeralds and blues. A few others have discovered it too and are basking in the luke warm water. Later, we meet Mark from Gozo Adventures for a sea kayaking session around the coastline. This place is bliss.
Air Malta flies from Heathrow, Gatwick and Manchester to Malta from £74 one-way. For more information visit airmalta.com
Il-Marhab is a four-bedroom farmhouse. Prices begin from €998 per week. Go to firstgozo.com for more information. Segway tours can be organized through GozoSegway.com
PHOTO CREDIT: KAREN EDWARDS