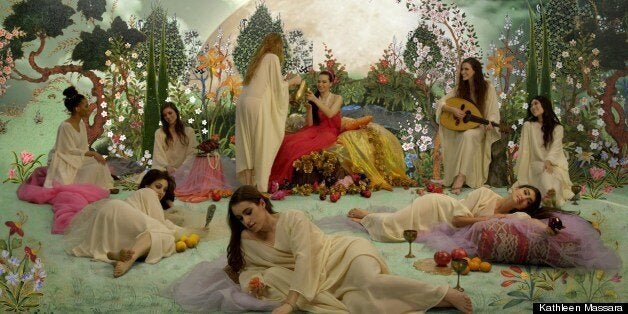 A fortnight later, the magic of Venice has not left me.
Just today, someone asked me if it was a good idea to visit the Biennale. "Oh my God!" I said. "Don't miss it!" It is the best moment of the art calendar, and it is in fabulous Venice!
It is interesting to write about it with a time delay because you are not influenced by the clamor of the crowd, because your memory has an unconscious mechanism of keeping alive the best you have seen, or the worst sometimes.
But really there are as many descriptions of the fair as there are viewers because each one has to create their own path of discovery in this maze of art, in the labyrinth of old city treasures... you can read and you can follow the best advice but sometimes it's miraculous to let yourself be guided by the magic of the city and the magic of the Biennale.
As you walk through the pavilions let yourself be guided by your own intuition to different and unexpected countries' exhibitions. I can remember an Egyptian artist showing his bronze vessel, or the artists who crafted the Venetian pavilion with Venetian glass or Fortuny fabric...
These are my personal Venice highlights:
Stingel has done his amazing choreography. He has covered all the walls with the same carpet with a Turkish inspired pattern. Imagine this huge palazzo covered with red and white carpet from top to bottom. It gives you an immediate feeling of a spiritual place with a hypnotizing effect. On the walls he is showing his silver paintings - my favourite - and on the first level are another series of dark religious paintings - which almost conquer me, but not yet - I love the quote of the curator Elena Geuna:
"the feeling of containment and the sensory experience that the visitor discovers when entering this 'labyrinth' prelude to a trip into the Ego with its repressions and illusions, where each painting contributes to forming a topography of the unconscious."
Definitely true. As I was completing the visit on the upper floor I started to feel this feeling of urging claustrophobia... I had to flee, Stingel on the walls or not.
I still struggle to remember the enormous amount of great artists works I saw in the Encyclopedic Palace. This whole exhibition was vibrant and exciting. I discovered so many unknown artists. And at the same time could recognize talents I have admired before. My heart goes to Phyllida Barlow the British artist with her huge stones hanging in a corner.
I loved the living installation/performance of Tino Sehgal which brought to life an energy that was floating in the pavilion. It felt like a celebration of art!
I loved the huge golden metal tubes of Walter De Maria, the triple row of long screens in the video installation from the Chinese artist Kan Xuan, the massive sculptures like fossils of Roberto Cuoghi, the great pieces of Marisa Merz... It feels that describing it, rather than experiencing it, to talk about one or even a few artists, in some way takes away from the impact of the whole and the accomplishment of this group showing.
Very much criticized, "oh this year it is poor...". Well I enjoyed it. I love the building anyway, the curating is, for sure, very personal to Mr Pinault who has done for me such an amazing collecting and exhibiting job in Venice. The star is Roni Horn with her huge glass pieces. And Mark Grotjahn's Turkish forest room.
Just when you wanted to escape from these blockbuster exhibitions, you could wander in the maze of the city and try to find the delicious church Sant'Antonin where Ai Weiwei has shown a striking installation of 2/3 of man sized cells. They were like 6 huge cubes where inside you could see his life as a detained prisoner living 24-7 under the supervision of two army supervisors. There was a striking opposition of religious grace versus human oppression. No intimacy, permanent pressure. Again a feeling of containment and claustrophobia... again political art...
Yes, as the critics said, many pavilions were using Venice as a political starting point. But how can art be anything but political? Ai Weiwei's work was an interesting but quite literal vision of politics. I was moved by his installation in the German pavilion of hundreds of wooden stools where you could loose your sense of equilibrium.
This is one of the pavilions that arrested me the most. Inevitably I will praise Gilad Ratman's work as the Outset fund - of which I am a member - has supported his work for Venice. He delivered a huge installation mixing sculpture and video to express his point:
"the Workshop's site-specificity reflects on the Biennale as a utopian model of nations' connectivity."
Another political message...
After several days and two sore feet I realised that the Venice Biennale is as much about what you see as what you miss!
I missed the Angolan pavilion who won the Venice Biennale Golden Lion award for the best national participation. I missed Camille Henrot's video which won the silver Lion prize. I missed Madame Prada's exhibition of Arte Povera and that was a big mistake!
I cannot wait to go back and have my breakfast on the Grand Canal and maybe check on the winners that I was not able to check out.
Many people will never have been to the Biennale. Most will never go. But if you ever get the chance: scrimp, save, beg or borrow - but, please, go.