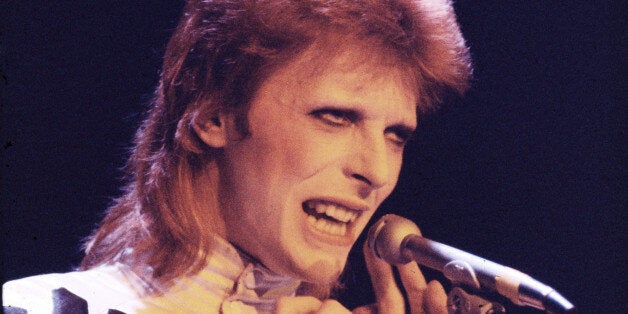 My intuition tells me, I am not yet ready to listen to David Bowie's Black Star album. Something else has to be done first.
Music moves us, in so many ways.

Music can explain, offer shelter, a community.

Music can be the voice we do not have.

Music can intensify feelings until we burst and scream or sob.

Music can caress in the dark and lonely hours.
Listening to a piece about David Bowie on the radio, I became aware of a familiar shuddering deep inside.
I have noticed it before, since his death, when most pieces I hear about him appear to be accompanied by an extract from his song 'Lazarus' from his last and final album Black Star.
I have often thought about buying the album, or at least sampling it on YouTube. But I can't - yet.
I trust my intuition, though I do not always honour it, and then pay the price.
Something is blocking me. And the message sounds like "not yet".
It feels like, I am not yet ready to be moved by Black Star; because moving me, it will do, certainly.
I could speculate, whether this is a reflection on my relationship with my own mortality, and my own experience of cancer, and my uncertainty whether / when / how I might die from it, or not.
Perhaps avoiding Black Star is a way of denying these possibilities. On balance, I think not.
Perhaps part of me thinks this album is best listened to, when I, too, get ready to die (assuming I will have time). Again, I do not think so.
Every day I wake up and get ready to live and die the best I can. Some days with a lot of focus, some days with none. That's the way it is.
It feels like I need to do a bit more growing and maturing on my own terms and through my own lived experiences.
I think the listening and feeling experience of Black Star will be powerful and will catapult me to a new position on my path.
It feels like I need to grow a bit more muscle to make the very best of the impact.
I noticed you can buy Black Star T-shirts. I have never bought such merchandise. But it was interesting to really tune into the feeling I had looking at the piece of clothing.
I felt an immediate pull and desire to put it on. The feeling was one of wanting to be enveloped and covered by safety, wisdom, knowledge, strength, determination, a celebration of individualism and growth - even when facing death, because that is what David Bowie and Black Star stand for, for me.
Part of me, and probably part of all of us, is yearning for all that, and yearning for a strong teacher and healer.
My feeling is, that I would want to be symbolically covered by the garment on the outside.
The music will cover and grow inside, but the inside is not ready yet.
Karin Sieger is a psychotherapist and writer. Her blog is Between Self and Doubt. For her newsletter sign up here.