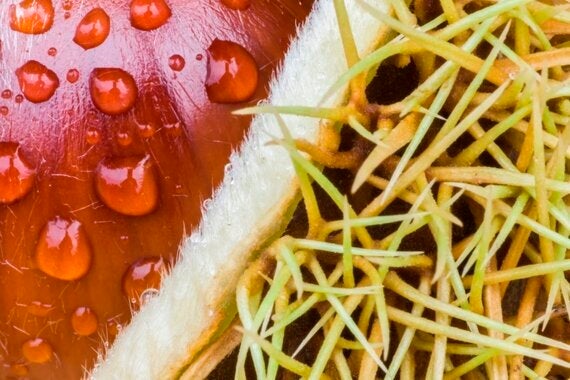 I feel at my most animal in the autumn. Although my Leo sign says sexy, roaring and feline, at heart I identify with much smaller, quieter creatures. Right now, I have an inner hedgehog calling me to stay under the duvet, curled up in a cosy ball. Meanwhile, the squirrel in my soul wants to stock pile food. That means only one thing, eat, eat, eat warm and comforting stodge.
I'm not alone. In fact, scientists have found indications that Seasonal Affective Disorder (SAD) may be an evolutionary throwback to hibernation. SAD affects a few percent of the population, but many of us feel lazy, sluggish, hungry and a bit miserable as the day length decreases and winter's chill approaches.
On the other hand, providing they are pre-teens, kids don't usually react in the same way (although they can get SAD). They like getting up before the sun and unless zoned out in front of a screen, duvet days don't appeal.
Adults could learn from them. Whilst more snuggle time is lovely, it doesn't always help you feel better. You and your children need exercise and fresh air to feel energised and time outdoors in daylight is very important for beating winter blues and helping tackle SAD.
So how can you fight that urge to hibernate and keep those kids active outdoors instead?
It's a bountiful time of fruit and nuts in our hedgerows and woodlands and foraging gives a walk purpose. Children are natural hunter-gatherers, with their sharp eyes and dexterous fingers. Blackberries make a good start, and then you can try these gorgeous muffins.
Then, become a squirrel and go foraging for nuts too. Right now you will find sweet chestnuts in deciduous woodland and hazelnuts in the hedgerows.
Look out for sloes, the fruit of the blackthorn. They look like large blueberries, and whilst they are yucky to eat, they are responsible for grown-up Ribena, aka the warming, fortifying tipple of sloe gin. Here is a good recipe.
My timesaving tip is to freeze the sloes first rather than prick each with a pin - it has the same effect.
We tend to think of sowing wildflower seeds in the springtime, but to create a robust, vibrant display for next year, get planting now and involve the children. Try oxeye daisy, corn poppy, ragged robin and viper's bugloss for a range of colours and shapes. You don't need much space, a mini-meadow is lovely too.
You'll create a beautiful nectar filled area that will attract butterflies and bees in spring and summer next year. For inspiration, read Jo Cartmell's story of how she transformed her boring lawn into nature heaven.
It's also time to plant bulbs which provide much needed early nectar for bumblebees. They love the exotic-looking but hardy snake's head fritillary which makes an interesting variation on the usual daffs.
Make the most of darker evenings
You could sit indoors stagnating on the sofa ... or you could dress up warmly, get your body moving and discover nocturnal wildlife. As dusk falls, look out for bats before they disappear for their winter hibernation in late November. It's the mating season in early autumn so there will be lots of activity and the children's sensitive ears may be able to hear the purrs, clicks and buzzing noises of the bats communicating.
Listen out too for the 'too-wit too-woo' of the tawny owl. Your owl fact of the day is that this is the male and female owl calling to each other - the lady owl makes the 'too-wit' sound and the gentleman promptly answers with 'too-woo'. If only it was so polite in my house.
If you're not going to hibernate, you can help someone who is. It's easy to build a hedgehog hibernaculum to keep a hedgie cosy all winter and give these declining creatures a hand.
Take a cardboard box (about 40 by 40 cm) and cut a 15 cm diameter entrance in it. Line the inside with newspaper, dry grass or straw and place near a hedge or fence. Then cover with a bin bag or two, keeping the entrance clear and then make it snug and weighed down with logs, stones, leaves and grass. This will last for one year. If you want a more permanent option, you could construct a similar structure from wood, like this one out of a wine crate.
You can also leave out food for hedgehogs to fatten them up for hibernation. It's best to use cat or dog food (meat not fish), but not bread and milk, as it gives them a poorly tummy. If other animals are helping themselves too, try placing the food under an upturned plastic storage box, with a 15 cm hole cut in for the hedgehog.
It's natural to feel different as the season changes, and I love any reminder that we are actually more connected to our planet than our insulated, protected lives would indicate. We do need plenty of snuggle, duvet and hot chocolate time, but it is so much sweeter and healthier when balanced with fresh air and outdoor discovery.